The 'Placard Man' has touched many a wounded soul with his simple message
27-October-2011
Vol 2&nbsp|&nbspIssue 43
At one of the busiest traffic junctions of Mumbai, stands a man with a placard that reads 'Apne dharm par chalo. Sab se prem karo.' (Follow your religion, love everybody.)
For almost three years, I have seen him stand there. Come rain or shine, he is there from morning to evening, holding the placard and smiling to everyone who passes by.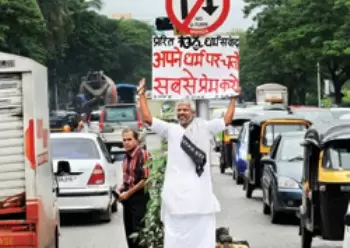 Spreading love: An industrialist once offered to gift a house to Krishnadas, but he told him he was happy living in his hut (Photos: The Sunday Indian)
Why does he do this? Among all the noise, in all the traffic, in the middle of this crazy urban cacophony? I decided to find out.
Getting him to talk wasn't very difficult. He was very excited to be interviewed. We fixed a date and time. I meet him at the same traffic junction; dodging the traffic, I reach out to him on the road divider.
I follow his bicycle in my car till we reach a small cluster of huts. Little kids in their torn clothes chase him for biscuits and he gladly obliges. We sit down for a chat outside his little hutment by the sea.
Krishnadas (the 'Placard Man' finally had a name for me) is from Gwalior. My guess is that he is in his late 40s. He talks passionately of giving up formal education after tenth grade, almost converting to Islam in his youth, accidentally attending a seminar of Morari Bapu and finally, finding his calling.
It was at a World Religious Conference that was attended by several prominent religious leaders of the world, including The Dalai Lama, where he found what he wanted to do. After listening to them talk all day, he realised that all religions basically preach the same thing, that is, to love all.
Then why all the misinterpretation of religious texts, wars and differences? Maybe the world just needs some reminding.
He believes that if the world understands and follows just this one thing, it would become a truly beautiful place to live in.
For the numerous problems he cited with our world, from broken marriages and estranged families to bad education system and lack of empathy, he believes that the only way out of this mess is for people to understand this one thing, 'Apne dharm par chalo. Sab se prem karo.'
Although he has been living in Mumbai for almost a decade, it was a rather aimless existence. He knew he wanted to do something for the society but couldn't figure out what exactly. Until the barbaric terror episode in Mumbai on November 26, 2008.
He wanted an outlet for his thoughts but didn't have any. On an instinct, he wrote a placard and stood at a prominent junction in Goregaon (a suburb in North Mumbai).
People read and began reacting. Many came and thanked him for making their day.
Encouraged, he began roaming Mumbai with this placard – from Colaba to Bandra and Mumbai Central to Andheri. And then he stumbled upon his big idea.
The Juhu Circle, where he has been standing for almost three years now, is a very strategic location – it's the corridor to Andheri from the rest of Mumbai. Andheri is the heart of the film and television industry in India.
It's here that people make movies and television shows that influence our billion plus population. He conjectured that if he could reach out to these people, his job would become easier. And it did.
First a handful, then a hundred and now lakhs of people not only notice him, but also smile, talk and often share meals with him. He is quite a celebrity. It's not uncommon to find him chatting up with people under the blistering sun, laughing and offering some glucose biscuits.
He eats very little. His dinner is at a small eatery that has offered to give him free meals for the rest of his life. Why? Because they feel that he's doing a noble deed and they'd like to do their bit to help him.

I wonder how he sustains himself. He reads my thoughts, smiles and says, "I live off charity and the kindness of people. Sometimes, people donate money, some offer meals. I never have more than 20 rupees in my pocket.
"In fact, a prominent industrialist even offered to buy me a house but I refused. The day I have a brick home, I wouldn't be able to do all that I want to. I am happy in my hut. You see, I can breathe more freely here."
But haven't you ever faced resistance, I ask him. "Of course not!" he exclaims. "I've got threats to stop standing there. People complain to the police too, that I am a menace. But the cops know me now. They know that all I want to do is spread love so they leave me alone. Once, I was told to write my placard in the local language but I refused. Why should I write in a language I do not understand?"
He has captured the imagination of many a people. A group of young filmmaking students is making a documentary on him. He has just returned from China where he went as a sponsored candidate for a religious seminar.
As I sign off and thank him for his time, he merely smiles and tells me to share a copy of the story once it's printed. "I need it for my record. It'll help in the documentary."
I leave, amazed at the positivity this man has filled me with. While you read this, Krishnadas, sitting in his little hutment by the sea, would be smiling, knowing well that his message of love has reached many people.
Published by special arrangement with The Sunday Indian

Trending Now: