Uttam Teron wanted to teach Karbi children, now they want to learn more

Kavita Kanan Chandra
&nbsp | &nbsp Mumbai
18-August-2011
Vol 2&nbsp|&nbspIssue 33
It was born in a cowshed. The humble beginning notwithstanding, the school, 'Parijat Academy' is today a ray of hope for the Karbi tribes of Assam as their children are poised for a better future.
The people of Pamohi village had been sceptical about educating their children when Uttam Teron started the school in the tribal village in 2003. But Teron had started the school in a cowshed with just four students, driven by a desire to provide quality education to the children.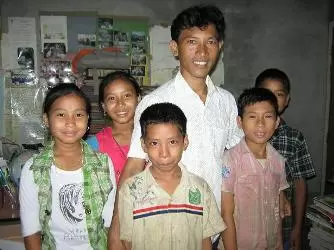 Real hero: Uttam Teron believed in the children's right to education and went on to start a school in his village
Now Parijat Academy has tin-roofed and bamboo walled classrooms and most of its 508 students are girls.
Children from nine tribal villages - Pamohi, Mahguapra, Deosutal, Garchuk, Mainakhorong, Dhalbama, Nowagaon, Garoghuli and Garbhanga – attend the school. The school has added standard XI from this academic year onwards to enable the 16 students who had passed their tenth standard to continue their studies.

Parijat, which provides free education and focuses on developing qualities of kindness, and compassion in the children, was originally started with the aim of eradicating child labour. "I was saddened to see children of my native village loitering around or working in fields instead of spending their time in school," says Teron.

Parents did not have the resources to offer their children good education. When their livelihood depended on selling rice beer, cutting wood, cultivating fields and daily labour, quality education for their children was a distant dream. With only one Government school in the vicinity, where the students could not even read and write Assamese, school dropout was high.

However, Teron, son of a train driver, who was lucky to get higher education in the prestigious Cotton College and Arya Vidyapeeth College in Guwahati, firmly believed that education was the birthright of every child.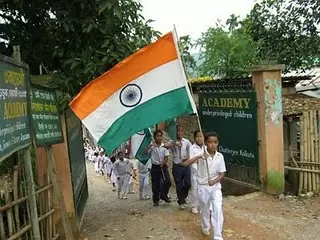 Children of Parijat Academy celebrating Independence Day
The success of Parijat's students spread by word of mouth and mothers from neighbouring villages came to him to enrol their daughters at his school. Now Parijat Children Education Trust – where primary education from Class I to IV is provided - can also be spotted in villages like Garbhanga, Pahamjila and Natun Garbhanga.
Parijat's students also take part in extra-curricular activities. They participate in drawing competition, learn music and even go rock climbing.
"A volunteer, Henry D Teron, who had learnt rock climbing from Darjeeling, took the kids for a rock climbing session near Ganeshpara and the kids were thrilled," said Teron.
At school, the children study subjects like Assamese, Hindi, English, Social Studies, Environmental Studies, Maths and Science. Teron is grateful to his 17 teachers and 3 other staff members who bear with him through thick and thin and the not-too-prompt payments he makes them.

Funds are scarce. Some welfare organizations provide them with textbooks or they collect used books from schools in cities.
A one-time donation of Rs 30000 from the Buddhist Welfare Organization in Thailand helped in providing school uniforms to the children.

Young volunteers sometime chip in to teach the students.

"Everything was impressive and I could clearly see the hard work of so many who worked day and night for the children," said Bhaswati Bhattacharya, an Economics graduate from LSR College Delhi, who worked at the school as an intern for a month.
Teron wishes to start vocational training centres for the kids. "My future plan entails developing a residential school in Pamohi as villagers from far off places want to educate their kids here," he said.
Teron's parents, who had wanted him to have a secure job in a city, are now content to see him become a harbinger of change in the village. Teron was one of the recipients of this year's CNN-IBN Reliance Real Heroes award. He had also been in the list of India Today's 35 youth icons of India.


Trending Now: