Magsaysay award winner Harish Hande lights up rural houses with solar power

Kavita Kanan Chandra
&nbsp | &nbsp Mumbai
04-August-2011
Vol 2&nbsp|&nbspIssue 31
When a young girl, a topper in the Karnataka Board exams, wrote to SELCO (Solar Electric Light Company India) that she was able to study only because her parents installed solar lights in her house seven years ago, everyone at SELCO was absolutely thrilled.

Nothing brought them more joy than making such a positive impact on someone's life.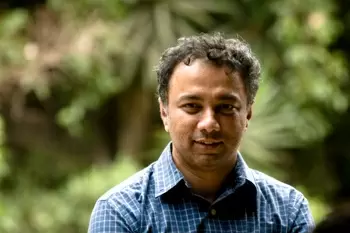 The illuminator: Harish wants to take solar power to another 2 lakh customers in the next five years
For, SELCO is basically a social enterprise, which has been in the business of providing solar power to remote villages and even urban slums that are off the power grid since 1995.

In recognition of the good work, its managing director and co-founder, Dr Harish Hande has been chosen for the 2011 Magsaysay award.

Hande (44), an alumnus of IIT, Kharagpur, felt that small scale standalone installations were the best way to reach remote dark villages in India, while he was in Dominican Republic and Sri Lanka, working for his PhD from the University of Massachusetts.
"My experience in those countries taught me the usefulness of solar systems for the poor. So I changed my thesis to work on rural energy service delivery from solar tracking technology," says Hande, who started SELCO in 1995 to provide clean sustainable technology to the rural poor, forgoing plum opportunities in the US.

He went from village to village in Karnataka spreading awareness about solar lighting. During the initial days he stayed for days in a village and played the role of a technician too, installing the solar panels himself.

At that time the Government had installed solar powered street lights in rural Karnataka and many lights had failed to work. It made villagers sceptical about solar power and convincing them was a hard job.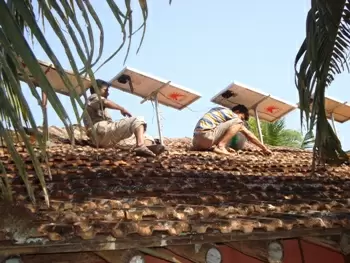 Solar powered: SELCO technicians installing solar panels on a rooftop
However SELCO's approach of customized products, doorstep financing and a strong service network made them successful. Today, SELCO lights 120,000 households, micro-enterprises and community facilities.

The success of SELCO lights spread by word of mouth and the company does not have a marketing division even now.

"We faced many challenges. One of them was convincing the bankers," says Hande. It took almost two years till Malaprabha Grameen bank (now Karnataka Vikas Grameen Bank) first relented.

"K M Udupa, the bank manager was the first person to have faith in the venture and financed hundred houses initially. Today the same man is a director at SELCO," says Prasanta Biswal, who has been with the organisation for the last 6 years.

Slowly other banks followed and when Karnataka started solar loan portfolio in 2001, it gave a tremendous boost to SELCO.

The solar lights could cost anywhere between Rs 8240-Rs 10670. A basic set-up consists of 4-7 watt compact fluorescent lights (CFLs), a photovoltaic (PV) cell mounted on rooftops of huts and a lead acid battery that stores electrical power generated by the PV cell. In this way the solar energy could be used both during the day and night.

"There was no concept of social entrepreneurship when we started in 1994-95. What we wanted to create was a holistic organization with equal importance to social, financial and environmental sustainability. Terms like social enterprise came later," says Hande.
When rural India uses solar technology, they are powering everything from lights to pumps and in the process conserve fossil fuels, stop climate change and also reduce their carbon footprints.
SELCO's goal is to reach another 200,000 customers in the next five years and to have a product for a person who earns less than Rs 1000 a month.


Trending Now: