Karnataka's Lokayukta has done a phenomenal job busting corruption

Gauri Lankesh
&nbsp | &nbsp Bangalore
20-May-2011
Vol 2&nbsp|&nbspIssue 20
He has just two more months to go as Karnataka's Lokayukta. Looking back, when Justice Santosh Hegde took over five years ago, there was widespread skepticism and many wondered if he would live up to the 'standards' set by his predecessor Justice Venkatachala.
But the gentlemanly and mild mannered Hegde proved the skeptics wrong by bringing to light many corruption cases and even forced a State Minister to quit. In fact, he has been doing his best from day one. Unlike Ventakachala, who had made it a habit of going on 'raids' with a dutiful media in tow and 'catch' corrupt officials 'red handed', Hegde let his officers do their job, making it clear from day one that he was made of a different mettle.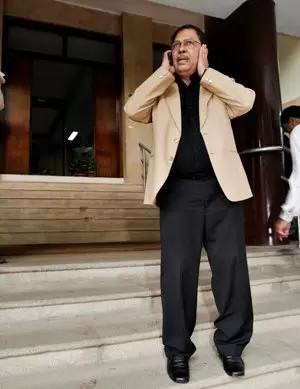 Standing tall: Justice Santosh Hegde has acted resolutely in a number of corruption cases (Photo: S Radhakrishna)
While nothing much ever came out of Venkatachala's raids other than free publicity for the Lokayukta helping him acquire a `paper image' as a `crime buster', Hegde sat in his office and went about his job meticulously, fact by fact, document by document, far away from the media hype.
As time progressed, hundreds of corrupt officers were raided by the Lokayukta officers. The Lokayukta's office also ensured that a corrupt corporator was sent to jail. Subsequently, the jailed corporator's father - who was a senior minister in chief minister B.S.Yeddiryurappa's government - had to resign from his post. Most importantly, the Lokayukta team took on the politically powerful lobby involved in the extremely profitable iron ore mining.
This discomfited the BJP government so much that it started persecuting honest officers working with Hegde to expose corruption in high places. At one point Hegde got so frustrated with the duplicitous tactics of the Yeddiyurappa government that he publicly threatened to throw in his resignation.
Naturally, there was an uproar. The media and the public rallied behind Hegde, who became an icon and is today seen as the epitome of the public's desire to fight corruption.
Yet the office of the Lokayukta is not totally autonomous, nor has it been given enough powers to take suo moto action against the corrupt. Which is why the Lokayukta has not been able to book the corrupt mining barons even though it has sufficient evidence. Above all, it has not been able to go ahead and investigate into allegations of disproportionate wealth against Yeddiyurappa since he has got a stay from the High Court against such an investigation. Is it any wonder that now Lokayukta Santosh Hegde finds his hands and feet tied by the corrupt government's machinations?
Corruption today is so well entrenched in our system that no Act of Parliament, or good intentions of people such as Justice Hegde or Anna Hazare can eliminate it. Our very system has to be changed and several checks and balances put in place to ensure that at least the fear of exposure is instilled in the minds of the high and mighty.

Well then, what of the Lokpal bill? Shall we just say `something is better than nothing'?

Gauri Lankesh is editor and publisher of Kannada magazine Gauri Lankesh Patrike

Trending Now: