A 22-year-old social entrepreneur impacting lives of Ranchi street food vendors tells her life story

Tanishk Shyamya
&nbsp | &nbsp Ranchi
24-December-2010
Vol 1&nbsp|&nbspIssue 17
My entrepreneurial journey had begun when I was 14-years-old, but I was not aware of what I was getting into and what entrepreneurship was all about. This journey was not as easy as I thought to be, but definitely ended in the most satisfying profession that many may want to take up.

It was 2005 when my board exams were about to start and everyone at home was worried, because they always found me busy! Not with the books, but with the school going children of my colony, of my age group and few juniors who used to come to my house to learn painting after school hours.

Slowly and steadily, the portfolio of skill sets which were being offered increased with tutoring in literature, advising on science projects and other subjects being taught in schools. This eventually turned into a learning center commonly known as "PPP" – which means "Play, Paint and Padhai (studying)" – that functioned just outside our rented house in a small verandah.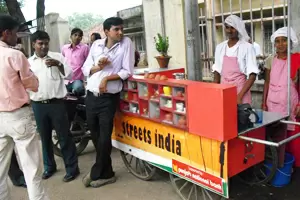 Streets India has transformed the lives of about thirty street food vendors in Ranchi, whose profit has increased by 35 to 100 percent
We let small children, who were rag pickers to join this fun place. They used to be very keen in playing cricket and badminton with us. We also managed to teach them the basics of these sports. I felt so satisfied seeing them play like any normal kid. I was touched when they used to thank me every day and this was when I decided that I had do something for these underprivileged children in my career ahead.

Hailing from a small town in Bihar, from one of the middle class families, where most of the bread winners are into government jobs, my parents had similar expectations from me and my other siblings - an elder sister and brother. My father was the eldest brother in his family and also took additional responsibility of his four siblings, after the death of my grandfather. He was my idol from whom I learnt all the moral values of life, dedication, sense of responsibility, pride, and dignity. From humble beginnings as a typist, he had got a job in a bank. My mother was a housewife.

My parents wanted me to join Civil Services or an MNC, as they had been struggling throughout their lives. They wanted me to get a good job and be happy and content. But I always wanted to live my own dreams!

During graduation, I chose "media" as my subject of specialization. Since my first year in college – I studied Mass Communication in St Xavier's College, Ranchi - I started working as a freelance journalist for the Hindi daily newspaper Dainik Jagran. Then I joined IBN-7 as an intern. I always secured good marks in my exams and did extremely well during my internship.

Everyone from my family and friends were pretty sure that I was going to do wonders in my media career and as expected it started happening. I got an offer from a National FM Radio Station and became radio jockey at the age of 18. I started doing prime time evening shows and become the most popular RJ in the region with the highest listenership in a very short span of time.

With such a wonderful time, which any teenager would want to live through, I was happy, but something was always troubling me. I was confused. My heart kept telling me that I had to contribute something for the downtrodden.

During my reporting days, I had to work day and night, with no time for a proper meal. In such conditions, street food was the only option. Though I never had a liking for street food - due to hygienic reasons - I had no choice. I always used to be surprised seeing a large number of people in queue, waiting to have street food, despite the fact that it was not hygienic and clean.

This is when the idea struck me! Voila!! "Hygienic, Cheap Street Food with a Brand" can draw larger crowds and larger revenues; the returns can go back to the vendors, who can be made beneficiaries in this solution, with some training and supervision. In order to hone my entrepreneurial skills, I joined IIM Bangalore for a diploma in entrepreneurship.

Then began the journey of "Streets India" and there was no looking back. I took a lot of time to understand this unorganized sector and kept on exploring all the related facts and statistics. I was amazed when I got to know the size and volume of this sector which was ignored by most governments. When I started discussing this idea with some close friends, they rejected it outright. As usual I always loved to tread the uncharted path.

The negative responses of my friends hardly made any difference to my thought process. I did not lose hope and kept continuously working in this focused direction. Whenever I visited any street side vendor, I always used to ask them many questions as to where they lived, how much they earned, and so on. It took me some time to gain a complete understanding of this sector before I formally gave a structure to the venture.

Now the challenge was to execute the plan in reality. It was a huge challenge convincing the vendors and getting the bank to finance the initiative. Finally, I got a small office and launched our project in June 2010 from Patna. But we were asked to vacate the office before the project could have taken off. The reason was very obvious - nobody wanted to see street side vendors at their place.

But I was quite enthusiastic about my work and within two weeks I found a new place for my office. There has been no looking back since.

Tanishk Shyamya (22) founder of Streets India, is The Weekend Leader's Person of the Year.

Trending Now: