'We can generate Rs 500 billion worth of revenue from paddy stubble'
29-November-2022
Vol 13&nbsp|&nbspIssue 48
The practice of burning paddy straw by farmers in Punjab and Haryana, which has caused high pollution levels in the National Capital Region (NCR), can be stopped if the stubble is properly utilised to produce energy and gas, said Dr Ratnesh Tiwari, Founder of Noida-based Koshish Sustainable Solutions Private Limited, recipient of The Weekend Leader - VIT Person of the Year (2021) Award.

Ratnesh said around 150 mega tonne of paddy straw is produced in the country annually and out of it around 100 mega tonne is being burnt in the fields.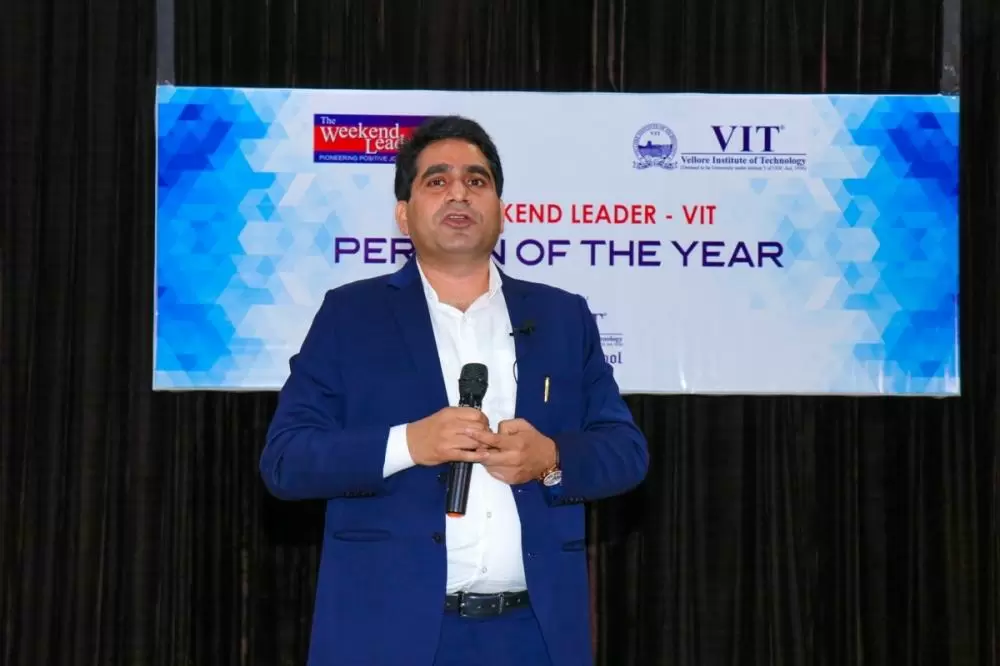 Dr Ratnesh Tiwari is the 11th recipient of The Weekend Leader - VIT Person of the Year award (Photos: Bosco)
"Per tonne of paddy straw can give 100 kg of gas equivalent to LPG and 200 kg of bio fertilisers. We can produce 10 billion kg of Bio-CNG from 100 mega tonne of paddy straw and generate Rs 500 billion worth of revenue from this waste," said Ratnesh.
Earlier, Dr G Viswanathan, Founder - Chancellor, VIT, presented
The Weekend Leader - VIT Person of the Year
Award to Ratnesh at a function held at Vellore Institute of Technology (VIT), Vellore.
Appreciating Ratnesh for his work in the field of waste management, Viswanathan spoke about the imperative need for India to achieve energy sufficiency and urged VIT Business School students to work for a change as future leaders of this country.
"In this country there is always shortage of energy and power. Around 12 to 13 states have shortage of power. If you go to advanced countries I have never seen anywhere power cut or power shut downs. Can we change this situation? Any developed country must have uninterrupted power," Viswanathan said.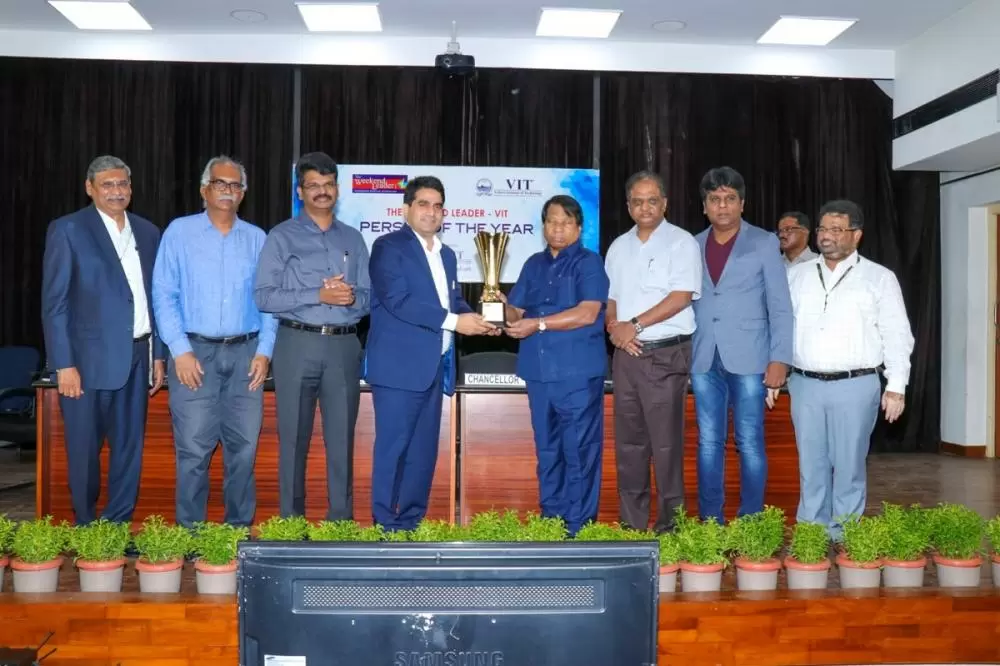 Dr G Viswanathan presenting the award to Dr Ratnesh Tiwari. (From l to r) Dean, VIT Business School, Dr V V Gopal, VIT Vice Chancellor, Dr Rambabu Kodali, VIT Vice Presidents, G V Selvam, Sankar Viswanathan, TWL Editor, P C Vinoj Kumar, VIT Pro-VC, Partha Sharathi Mallick
He said India was dependent on coal for power production and coal was always in short supply as it was being imported from Indonesia and Australia. He pointed out that the maximum loss suffered by state governments is from their electricity boards.
Viswanathan lauded Ratnesh for his work in converting organic waste matter into gas and power.
The Weekend Leader's Editor P C Vinoj Kumar challenged the students to find a purpose in their life and contribute to the betterment of society. He said the common thread binding all the recipients of
The Weekend Leader - VIT Person of the Year
award, which has seen 11 editions so far, has been the service rendered by them to society.
"Money alone will not give you happiness. Find a purpose in your life. It will give you a reason to wake up every morning with energy," he said.
Earlier, Dr V V Gopal, Dean, VIT Business School, welcomed the gathering. VIT Vice Presidents Sankar Viswanathan and G V Selvam, the Vice - Chancellor Dr Rambabu Kodali and the Pro VC Dr Partha Sharathi Mallick were the special guests of honour.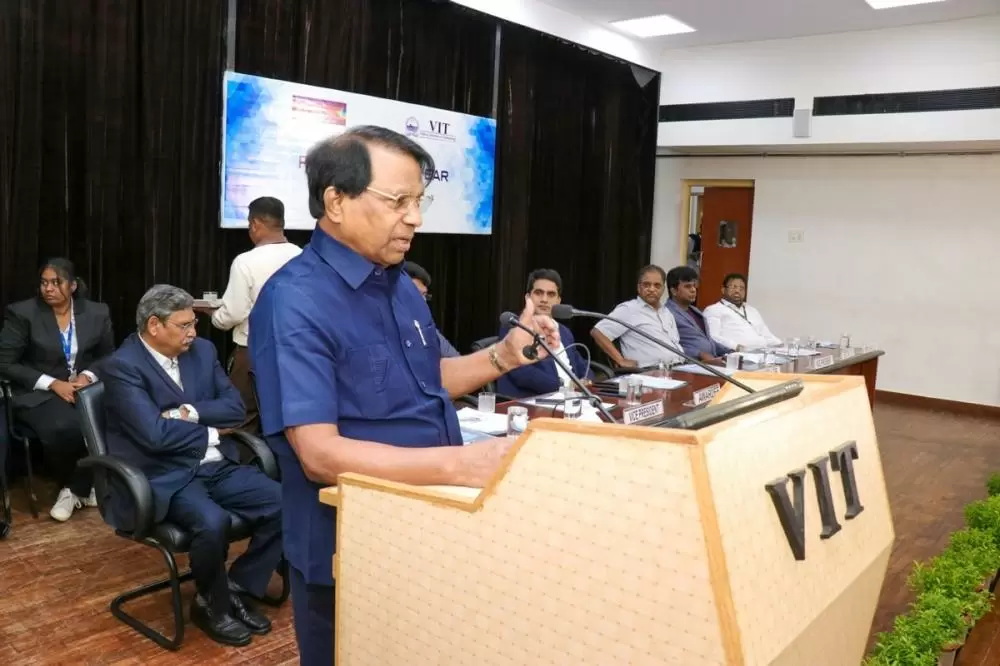 VIT Chancellor Dr G Viswanathan lauded Ratnesh for his work in converting organic waste matter into gas and power

After the function, Dr Ratnesh interacted with VIT Business School students and MBA first year students Somaaskanthan and Nagashree presented their start-up ideas.
Citation
Dr. Ratnesh Tiwari fits the description of a social entrepreneur. He identified a problem when he saw people struggling to dispose of organic waste and he built a business around it.
Ratnesh grew up in a village in Uttar Pradesh where lakhs of pilgrims visited a local temple every week and littered the place with garbage.
Years later, Ratnesh completed his Ph.D. in Biomass Energy from IIT Delhi and decided to work on waste management.
He launched Koshish Sustainable Solutions Pvt. Ltd, an environment friendly company that builds biogas units making use of biodegradable waste such as cow dung, poultry litter and agriculture waste, from Noida in 2019.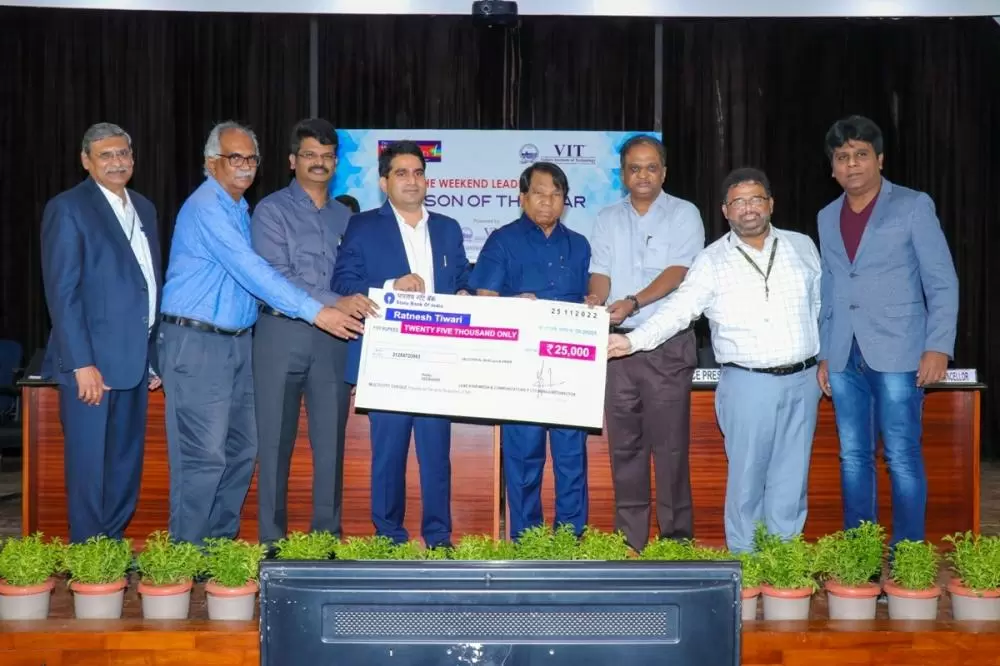 Dr Ratnesh was presented with a citation and cash award of Rs 25,000
The biogas produced from the units is used for cooking, power generation and Bio-CNG production. The company has installed around 100 domestic biogas units and 40 commercial biogas units across the country.
At a piggery farm in Guwahati, their unit not only meets the farm's power needs, but also turns piggery waste into odourless, nutrient-rich organic manure.
They also refurbish non-operational biogas plants set up by other companies and make them functional. In recognition of his work in the field of waste management, Ratnesh has been chosen as
The Weekend Leader – VIT Person of the Year
2021. - TWL Bureau

Trending Now: