Plunging into history by making India's first BASE jump

Padmaja Shastri
&nbsp | &nbsp Pune
04-November-2010
Vol 1&nbsp|&nbspIssue 10
When Lt Col Satyendra Verma, an officer in the Corps of Signals of the Indian Army, jumped off the 450-feet high deck of Pitampura TV Tower in Delhi at dawn of October 29, 2010 he created history. It was the first ever BASE jump performed in India.

A BASE jump involves an advanced form of free fall from fixed objects - buildings, antennae, spans (bridges) and earth (cliffs) - with an unopened parachute. It is far tougher than skydiving as the height is less. So are the airspeeds, which give jumpers less aerodynamic control over their bodies.

Since he would have hit the ground in four seconds if he remained in free fall, Verma had just 1.5 seconds to do all that he had to – give a free fall, give a delay and open the parachute. And all this, while hurling down at the speed of over 40 metres a second. Even if he was a second early or late in opening the parachute, it could have opened in the wrong direction and struck him against the building. Didn't he get scared?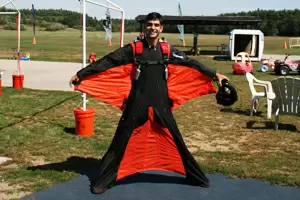 Superman of the Indian army: Satyendra Verma, captain of the Indian army's skydiving team, has performed over 1200 skydives around the world
"Naturally, I did. But as I stood there, I put fear aside and just focused on doing it right. You cannot think of anything else," says 41-year-old Verma, who is the captain of Indian Army's skydiving team which represents the country in global competitions and performs demo sky jumps and formations in air during special national events.

While hundreds of spectators, including his colleagues and friends watched the spine-chilling performance, his family decided to stay put at home and pray. "I was so nervous and worried! But now I am happy for him," says Monika, his wife.

His mother Rajbala was at the time observing the Hoi Mata Vrat, a fast done for the welfare of children. Popular legend has it that a mother who had lost her seven sons was able to get them all back safely after observing this fast.

They need not have worried so much. Verma had been practising meditation to keep his mind still during the crucial 90 seconds before he stepped off the edge. He had also been preparing for the event meticulously. He chose a location ideal for the jump - the DD TV Tower, for its height, observation deck overhang, bowl shaped top that would keep the body away from the building and the adjacent cricket ground which can be used for landing. He also obtained the required permissions, tested the parachute many times, packed it perfectly and studied how winds behaved between 5 am and 8 am atop the TV Tower for three days prior to the jump.

He is a seasoned skydiver, who has performed over 1200 skydives across the world – the US, Switzerland, Russia and Malaysia, apart from India - and never had any mishap. He has also trained with expert BASE jumpers – Tom Aiello of the US and Capt Aziz Ahmed, an ex-Malaysian Air Force officer – and has 21 jumps from Perrine Bridge in Twin Falls, Idaho, US and nine from the Telecom Tower in Kuala Lumpur, Malaysia to his credit.

The communications expert is also passionate about computers and has a patent in his name for developing a software system to build flexible sand models using GIS (Geographic Information System) data. "With his expertise, he can make a lot of money if he gets into the corporate world. But he's always been more interested in adventure and even when in college used to perform activities like helicopter slithering during NCC camps," says Maj Padamsingh Verma (retd.), his father.


Trending Now: