Once a slum dweller, he now tells the urban poor to organise themselves for their good

Kavita Kanan Chandra
&nbsp | &nbsp Mumbai
29-October-2010
Vol 1&nbsp|&nbspIssue 9
A beacon of hope for millions of poor people in Mumbai, where more than 50 percent of the seven million population live in slums, Jockin Arputham is now striving to bring succour to the urban poor worldwide. For the 63-year-old man, who was awarded the Raman Magsaysay award for Peace and International Understanding in 2000, it had been a relentless struggle trying to bring some dignity into the lives of slum dwellers.

Having lived and worked for more than four decades in Mumbai slums, his experience in working from within the system has taught him that the urban poor have to participate in the Government's programmes to improve their living conditions. Through his organizations - the National Slum Dwellers Federation (NSDF) that has around two million members across 72 cities and the Slum Dwellers International (SDI) that networks in 33 countries to work towards slum rehabilitation - Jockin has been able to successfully partner with governments and international agencies.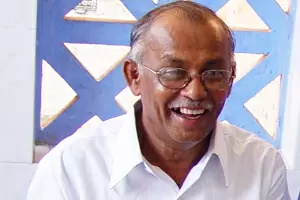 Jockin has discovered the power of organising communities and working with the government for their benefit
The NSDF office that once used to be in a shanty is now housed in clean rooms in one of the buildings constructed in Dharavi to rehabilitate slum dwellers. Recently slum dwellers at Bombay Port Trust, Thane to Dewa and Central railway were rehabilitated. More than 30000 families have been rehabilitated so far in Mumbai. Internationally they have recently built 500000 houses in Namibia. Melinda Gates Foundation and Cities Alliance have facilitated rehabilitation in Uganda and Ghana. Jockin has facilitated rehabilitation work in Africa and Latin America.

When he resettled Bangladeshi refugees in the early seventies, he first organised the community and trained volunteers to build their own houses, drainage and other facilities. There were about one lakh twenty thousand refugees in Kolkata alone. "I trained more than 10000 volunteers among the refugees," says Jockin.

Stressing the need for organising the community, he says that though the masons, carpenters and plumbers who actually construct houses live in slums, they work individually. If they are organised, they can collectively demand facilities from the authorities or take charge and become agents of change, he says.

He did it first in Janata colony slums, where he landed in the sixties from Bangalore. Born to Tamil parents he got good education for a while in Kolar where his father had a good job. But a twist in fate forced him to work. At Janata slums he organised informal schools for children, installed water connections and organised collection and disposal of the garbage with cooperation of the locals and the municipality.

As the municipality had turned a blind eye to a garbage dump at Janata colony, Jockin organised a procession of children procession. Each child hid some garbage in a newspaper and threw it near the municipality office one Sunday morning. The municipality were forced to take notice. This was the first lesson in mobilising the community.

Jockin also learnt another lesson when he had mobilised support against the eviction of Janata colony's 70000 inhabitants - he even met Prime Minister Indira Gandhi- but could not prevent the demolition in 1976. That prompted him to start NSDF.

Trending Now: