Turning his back to blood and gore, he goes on to help criminals turn a new leaf
Ketan Vaidya
&nbsp | &nbsp Mumbai
08-February-2020
Vol 11&nbsp|&nbspIssue 6
"Crime is a mental disease and nobody is born with it." So says 40-year-old Laxman Ghole, who should know better as someone who had expended the first youthful part of his life as a dreaded criminal, only to turn a Gandhian in 2007 and start delivering lectures expounding peace in schools, colleges and even jails.
"While the environment makes one a criminal, it is self-thinking that brings the reformation within him or her," says Ghole, perhaps out of personal experience.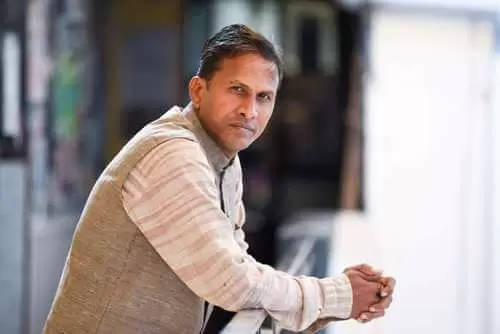 Laxman Ghole, a former Mumbai don, is now a practising Gandhian (Photos: Manoej Paateel)

Undoubtedly it was the environment in which he grew up – at a slum in Mumbai's Kurla, a hub for gangs indulging in extortions, petty fights and fisticuffs – that pushed him into crimes, rather in a spectacular manner, a vignette worthy of being copied into a celluloid thriller.
A 15-year-old Ghole was walking back home from school when a melee drew his attention. A woman was being verbally and physically assaulted by a local bully.
"As bystanders watched in silence, the woman cried for help and asked the crowd if they would have reacted in the same way if it involved one of their family members. It is when I lost it, picked up a knife from a nearby salon and I stabbed the man in his neck," recalls Ghole, widely seen as a real-life Munnabhai.
He never looked back and went on to make a living out of violence in the next one and a half decades until something more dramatic than his induction into crime happened in Nashik jail: His reading of Mahatma Gandhi's autobiography 'My experiments with truth'.
The book proved to be a game changer in Ghole's life and his hitherto 'experiments with violence' turned into 'experiments with truth'.
He started his new experiment by sitting on a fast in jail with 88 other convicts, wrongly incarcerated under the Maharashtra Prevention of Dangerous Activities Act (MPDA) and kept on solitary confinement. But it was just the beginning.
"Later, as I stood before the Sessions Court Judge, I confessed to all my crimes. The Judge told me that my confession would entail me a sentence of seven years. I agreed to it. Impressed, the Judge reduced my sentence to three and a half years," explains Ghole, who spent those years in various jails of Maharashtra before his release in 2007.
Today, he conducts Sarvajanik Sadbhavna Pariksha (Public Morality Exam) in collaboration with a Gandhian organisation for surrendered Naxals in the Naxalism impacted district of Gadchiroli in Maharashtra.
"Society has to play a role in accepting reformed criminals," says Ghole, who was pulled into the vortex of crime by an insensitive society and a callous police after he stabbed the neighbourhood bully as a 15-year-old.
When he was arrested, the police recorded Ghole's age as 18 and put him in Arthur Road Jail because there were fewer remand homes at the time. And it was in the jail he came face to face with members of dreaded gangs like the one headed by Amar Naik.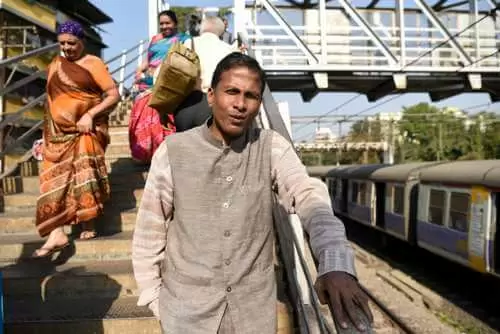 Ghole is teaching Gandhian ideals to surrendered Naxals in Gadchiroli district of Maharashtra

The gangsters saw in the young boy a potential hardcore criminal given his dare-devilry in picking a knife and stabbing a rowdy in public. They also started treating him with respect.
But when he returned home after two and a half years in jail, the attitude of neighbours had changed. "They advised their kids to stay off me," says Ghole.
To complicate matters further, he was again arrested because he accompanied a gang to witness a physical attack. Though he did not take part in the assault, he was back in jail in six months, earning the sobriquet, 'Kala Topi', (black cap) meaning a frequent visitor to jail.
In jail he also learnt more such terms known to criminals - like laal patti(red ribbon) referred to someone who flees the jail often and Peeli patti ( Yellow ribbon) used for one who is serving a life imprisonment.
After going to jail twice, he found society turning against him, giving him no option other than becoming a full time criminal. So, between 1991 and 2007 he spent more than six and a half years in different jails, facing 18 cases related to IPC 506 (threatening), IPC 37 (Keeping weapons) and IPC 384 (Extortion).
He had threatened beer bar owners and drug suppliers to extort money from them. Ghole's reign of terror gradually started spreading in and around Kajupada and Sakinaka area and he became an active leader of an overnight slum construction gang. They would build unauthorised structures using tarpaulin sheets.
"A grilled chicken, alcohol, and a thousand rupees were enough to keep the local police at bay. We promised the politicians of votes to ensure we got water connections. We stole power from the nearby meters," explains Ghole.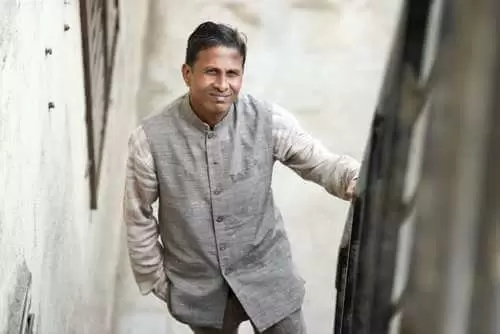 Ghole speaks about Gandhian thoughts at schools, colleges and even jails

Using the money earned from crimes, he evaded arrests and stayed incognito at various places like Nepal, U.P., Bihar and Valsad.
"The police also discouraged me from reforming, in a strange way", he states. "They would implicate me in false cases. They stood between me and the world and didn't allow me to reform myself," adds Ghole.
Now as a changed man, he has launched his own NGO, Saksham Foundation, which works closely with Sarvodaya Mandal, a Gandhian organisation, in spreading peace ideals.
Though he has studied only up to class eight, Ghole has delivered lectures in more than 350 schools and colleges and has also spoken in 52 jails across the country, including Hubli, Dharwad, Shimoga, Thane and Taloja, as a reformed inmate and peacenik.
He has conducted Gandhian literature exams for more than 10,000 inmates. "Two of them went ahead to complete their LLB exams to become lawyers and an education counsellor", says a proud Ghole.
He has delivered two TED talks, one in BITS Pilani and another at a college in Vile Parle. DD National followed his work for three years and has made a 51-minute documentary on him.
He ekes out a livelihood as a certified Kaizen change management trainer for corporates like Milton Plastic. He is also as a life coach and trainer for positive thinking.
Wish to share your story?
Trending Now: