This Govt. School teacher pledged jewels worth lakhs that she couldn't redeem to build smart classroom for her students
P C Vinoj Kumar
&nbsp | &nbsp Kandhadu (Tamil Nadu)
26-September-2019
Vol 10&nbsp|&nbspIssue 38
Annapurna Mohan's classroom in the Panchayat Union Primary School in Kandhadu village, Villupuram district, Tamil Nadu, shatters the stereotype of ill-equipped government-run schools, which are plagued by low-enrolment. (For the record, around 1950 schools with less than 15 students and 45 schools with no students are facing the threat of closure in the state.)
Kandhadu school is a picture of contrast, with Annapurna's class packed with an enthusiastic bunch of children, who are in absolute love with her phonetic English and watch her every move with awe and admiration.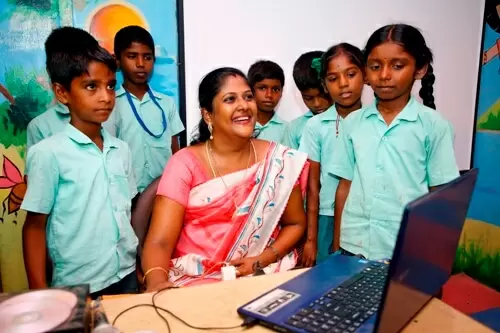 Annapurna Mohan, a government school teacher, has trained hundreds of rural children in good spoken English (Photos: Bosco)

"The children love me and pick up every word I speak to them," says Annapurna, 38, who converses with her students only in English to help them learn the language. They speak in English too and it is a big feat in villages, where children, especially those studying in government schools, dread English and many fail in the subject too.
The parents are mostly uneducated, and even the educated lack sufficient knowledge of English to train their children at home.
Annapurna has made a difference in the lives of hundreds of rural children who have studied under her since she joined the school in 2004, with her passionate teaching using phonetics and other innovative methods to teach English.
The classroom ambience, with the walls painted in bright colours and carrying pictorial art to develop the learning skills of the children, who are seated on comfortable chairs with tables in front of them, is on a par with any private school in Chennai.
Annapurna uses a smartboard to teach the students, many of them first generation learners or children of daily wagers. She had spent Rs 1.70 lakh of her own money – which she raised by pledging her jewels - on the smartboard, furniture, flooring, and painting of the classroom two years ago.
"I wasn't able to redeem the jewels, but that's not important," says Annapurna, moving from the topic, and sharing how her English training methods became known to the world and brought her recognition and fame.
Her favourite method of teaching English is to convert the lessons into scripts, which the children would enact as a drama. It makes learning simple and interesting, she says.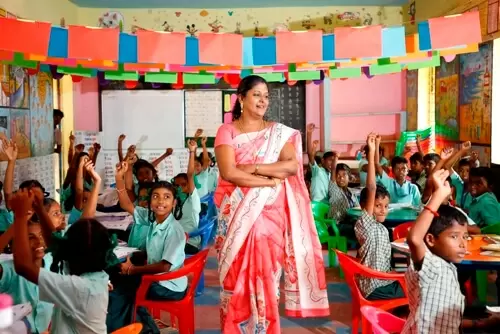 Two years ago, a higher official asked her not to teach phonetics to the children, but she is continuing the good work

As she was trying out different teaching methods, about two years ago a higher official in the education department poured cold water on her initiatives by asking her to stop teaching phonetics and advised her to teach 'normally' like the other teachers.
Devastated by his words, Annapurna decided to quit her job. "It hurts when superior officers discourage you," she rues. "My students take videos of all the skits we make on mobile phone and watch their own performance and enjoy it very much. When that incident happened I decided to upload all those videos on Facebook before quitting."
It proved to be the turning point in her life, catapulting her from obscurity to the limelight. The videos went viral, bringing the spotlight on her and the school. "People were astonished that children of a government school in a village could speak such good English," she recalls.
"English is not our language; it is the language of the British. The language has a set of rules and we need to follow those rules," explains Annapurna on the importance of training the children in phonetics and teaching them to speak English the correct way.
In 2008 she had also attended a phonetics workshop organised by the government. "The training only reinforced my love for English, which I had been using to communicate with my students from the day I joined this school in 2004."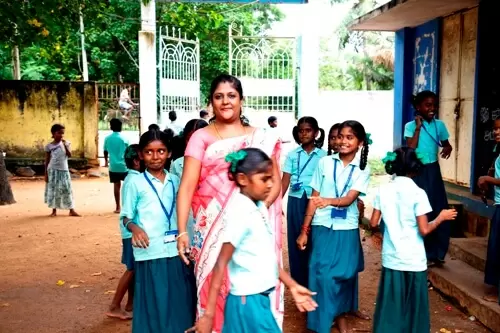 The children are in awe of their teacher and watch her every move with admiration

For this committed teacher, who grew up in a nearby small town called Tindivanam, about 35 km away, from where she commutes daily to the school, a teaching career was the last thing on her mind as she took the class 12 board exams in the year 2000.
"My dream was to become a doctor and serve the people," she says. Her father, a retired army doctor, had a clinic in the town. "He was doing free service for the poor. Later he charged a consultation fee of Rs 2, which he increased to Rs 10 after his marriage. In 2000 his fee was Rs 50," says Annapurna, who missed her medical seat cut-off by just half a mark.
Her father was unable to pay Rs 1.5 lakh for a medical seat under management quota. "I did a two-year diploma in teacher education and got a job through the employment exchange. My first posting was at Kandhadu, where I am still working," says Annapurna, adding that she had wept on her first day at the school seeing the condition of the rural children and cursing her fate.
"I hated the children. I didn't like them. I wanted to quit the job and leave, but my father advised me to stay on until I found a better job," she says candidly. In fact, her idea of talking to the children in English was initially to prevent them from getting close to her.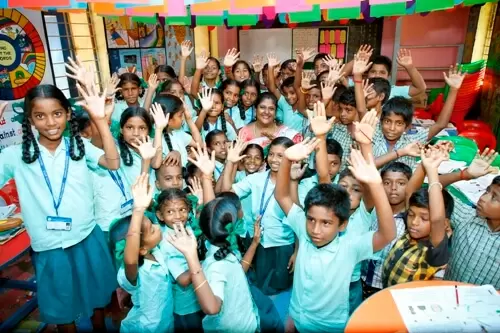 Annapurna surrounded by her class children

But the very barrier that was meant to separate her from the children brought her closer to them. "It was one particular batch of sensitive children who won my heart and changed my life forever," she shares.
"Now I look at this job as service, and I am able to understand what joy my father would have found in serving the people. My anger against him for not being able to pay Rs 1.5 lakh for my medical seat has vanished. Instead, I think of him every day (he passed away in 2014) and thank him for every good thing that happens to me."
Annapurna's husband Ram Mohan is also a school teacher and the couple is blessed with a one-year-old daughter Andrea.
Wish to share your story?
Trending Now: