Chasing her husband's dream, a woman runs a health care initiative that has helped 22 lakh poor
Gurvinder Singh
&nbsp | &nbsp Kolkata
13-July-2019
Vol 10&nbsp|&nbspIssue 28
Presiding over a Rs five crore social enterprise, Falguni Nevatia may be taking affordable health care to 30,000 poor patients every month but is humble to admit that she had no such aspirations for social work when she was young.
When Rural Health Care Foundation (RHCF), a non-profit health care in Bengal, was started in 2007, its monthly outlay was just Rs one lakh. But today, under the leadership of the 55-year-old Nevatia, its annual expenditure has surged to Rs five crore as it offers its services through 20 centres, 15 of them in rural areas.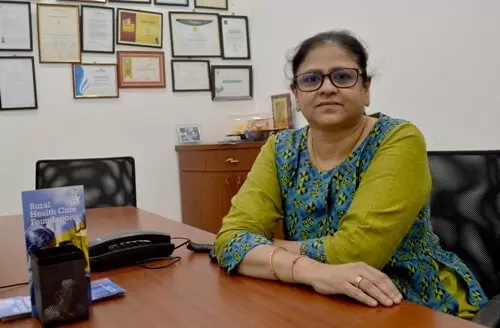 Falguni Nevatia's Rural Health Care Foundation is offering affordable health care to thousands of poor people in Bengal (Photos: Monirul Islam Mullick)

Nevatia's first brush with social service, as a student of St Xavier's College, Kolkata, led to her first meeting with classmate Arun Nevatia, which progressed into an extraordinary romance against all odds and finally into nuptials.
And it was that love story that scripted the spectacular journey of the woman, who was born in an upper middle-class Gujarati family of Kolkata, into the world of social service, bringing her laurels and accolades from far and near.
RHCF was granted special consultative status by the Economic and Social Council (ECOSOC) of United Nations in 2013 and presented a certificate of excellence by the Bihar government in 2014.
But it all started from her father-in-law, Shyam Sundar Nevatia, donating medicines to poor at a dispensary in Mayapur, located about 130 km from Kolkata.
"After his death in 2005, we continued to give free medicines and extended the one day clinic to three days in 2007," she recalls her initiation into charity. "We had an ophthalmologist, dentist, general physician and a homeopath. The consultation fee was just Rs 5 and it covered up the cost of medicines for one week," she says, adding that the footfalls soon swelled to 900 patients on a consultation day.
"It was a huge success," recalls Nevatia. "We had never imagined that it would become so popular. Our entire family would leave for Mayapur from Kolkata every Friday and we would stay there till Sunday. We made the registration cards for the patients and did all the work during the three days."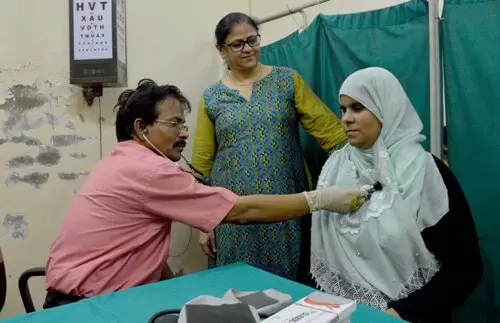 RHCF currently operates 20 clinics in the state

But it was her husband's death in 2013 that pushed her into her present mission: To make health care affordable for the poor and marginalised sections of the society, and for those living in the remote areas of Bengal.
The first time Nevatia saw a crisis from close quarters was when her husband had to take treatment for cancer. "He used to keep telling me that he was fortunate to have spent money on treatment but it was not possible for others who didn't have the financial resources," she says.
Arun was first diagnosed with cancer at the age of 10 and was undergoing treatment for the second relapse in 1984 when they met in college. Despite knowing about his health condition, the young Falguni decided to spend the rest of her life with him.
"Obviously, there was a bit of resistance because we belonged to different castes. The family was also worried about his ailment but I was firm in my decision," she says. In 1990, the couple got married but Arun had a third relapse within three months of marriage. He recovered but slowly he became diabetic and also developed hypertension.
Falguni with her brother-in-law Anant Nevatia (centre) and nephew Shreyas Nevatia

"The illness of my husband didn't deter my work. We opened new centres every year. The second centre was at Basirhat in North 24 Parganas in 2009 and the next one came up in Namkhana in Sundarbans in 2010," she says, going down the memory lane. "Our goal was to ensure that our clinics remained open on weekends to ensure that people got treatment when doctors are generally not present during holidays in other health care facilities."
In 2013 her husband developed resistance to medicines and passed away in June that year. "I was mentally shaken but didn't give up," she shares. "Somewhere, in my mind I had seen it coming. I decided to intensify my efforts in realising the dream of Arun in providing affordable health care to poor." Indeed, the number of centres that stood at five in 2013 has now touched 20.
Her husband's 26-year-old nephew, Shreyas Nevatia, who has been assisting her in the charity, reels out the figures: "Around Rs 2.5 to 3 lakh is spent on running a rural centre and about Rs 80,000 on an urban centre that is open for only two hours a day and has just two departments - General Medicine and Optometry. So the total expenditure works out to around Rs 45 lakh per month for 20 centres, which is more than Rs 5 crore annually.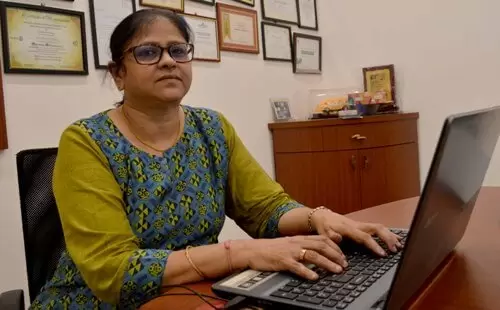 Falguni has refrained from hiking the consultation fees at the centres in the interests of the poor

The fee has been hiked between Rs 70-90 (at rural centres) to meet the increasing cost of medicines and salaries of 138 medical and non-medical staff. On an average, around 25,000 patients are treated every month in their various centres.
"The breakeven can only be achieved at a rural centre if the number of patients rise up to 5,000 every month," says Shreyas, adding that their project is supported by the Sita Devi Malhotra Charitable Trust, the CSR unit of SAR Group, Delhi, and a few other sponsors.
Falguni Nivetia, who resents the idea of increasing the modest fee at the centres, has a message for those willing to work for the society: "There is room for improvement across various sectors such as primary healthcare, women empowerment and education among others. One has to be determined and passionate and willing to devote time and resources towards betterment of the community."
Wish to share your story?
Trending Now: