Having built 350 check dams benefitting 400 villages, she has now set a goal of 3,000 dams in her lifetime
Vedika Chaubey
&nbsp | &nbsp Mumbai
06-July-2019
Vol 10&nbsp|&nbspIssue 27
Though born with a silver spoon in her mouth, Amla Ruia's heart bled seeing the sufferings of people due to acute water shortage. Flipping television channels, Ruia froze at the images from a village in Rajasthan that was then reeling under a severe drought in 1998.
The otherwise charitable woman suddenly realised that sending money and clothing to victims of disasters was not a permanent solution. She set out of her wealthy home with a mission to create water sources and today her Aakar Charitable Trust has built 350 check dams, impacting 400 villages.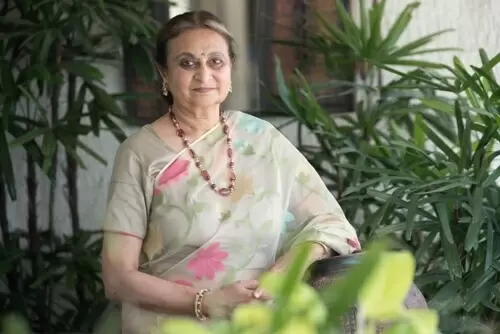 Amla Ruia set up Aakar Charitable Trust to create water sources for drought stricken villages of India (Photos: Manoej Paateel)

Ruia has involved the community in the successful initiative and makes them contribute 20 per cent of the cost of a check dam. Her trust funds the balance 80 per cent money. "The villagers take ownership of the dams when they invest the money. It benefits them for generations if maintained properly," says Ruia, who is now 73-years old.
Her check dams have brought back prosperity to the villages. Farmers are growing three crops a year, cultivable land in the villages has increased, farm workers who migrated to cities in search of jobs have returned home, women have been spared the drudgery of finding water, girls have started attending schools, and health and hygiene levels in the villages has improved.
For Ruia, this has given great satisfaction and the motivation to build more dams. In the early days, she had no idea about solving the water woes that was causing widespread starvation, deaths, and despair among the people, particularly women. She then reached out to the award winning 'waterman of India', Rajendra Singh, who runs Tarun Bharat Sangh, for guidance.
By 2003, she set up the trust. "I was groping in the dark initially but now my team is established and I can build 30 check dams a months," she says, adding, "my dream is to complete 3,000 check dams before I leave this earth."
Funds to the tune of Rs 11 crore from sponsors and Rs 4.7 crore from public have been spent on the project, which has helped beneficiaries earn a net income of Rs 500 crore, as per estimates of the trust.
Though most of the check dams are located in Rajasthan - from where the Ruias originally hail from - there are a few built in Uttar Pradesh, Madhya Pradesh, Maharashtra, Bihar, Haryana and Odisha as well.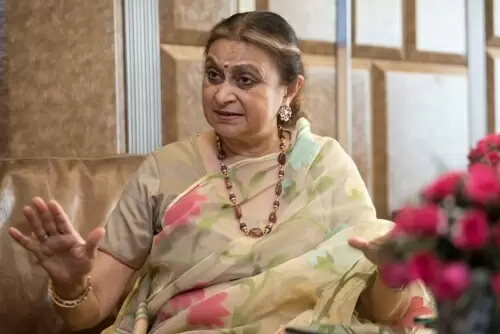 Amla wants to create 3,000 check dams in rural India in her lifetime

Ruia began her work from Rajasthan. "The farmers in Rajasthan were very upset and sad for years because rains were constantly failing," she recalls. "I thought of starting from Rajasthan as it was our home state, though, it was an unknown terrain for me."
She started her work from Ramgarh village in Rajasthan, where the terrain had no scope for runoff. It was like a bowl where all the rain water went right in. Finally, after six years of making drinking water 'kunds' (tanks) in Shekhawati area the situation changed.
"Then, in 2006, through our investigation and search, we came across a hilly area in Sika district that was suitable to build a check dam. I couldn't do it in Shekhawati because the terrain was not suitable," says Ruia. There was no looking back after that.
"Initially I started with my own money and funds from our relatives. After sometime, Rotary club came to our support and then big organisations helped us," she says. In the first year she could build 2-3 check dams and in the next year it increased to 6-8. Now, Ruia takes up at least 90 check dams a year.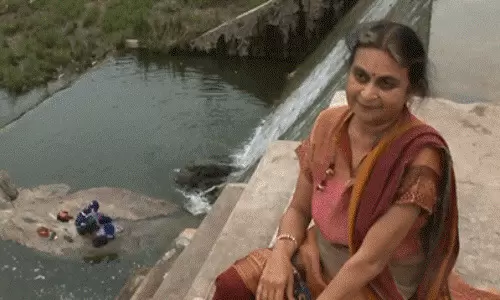 When a village becomes water-sufficient, it impacts the socio-economic life of the people, feels Ruia (Photo: Special Arrangement)

"In Rajasthan there is a huge demand that I am not able to cope with. So I have scaled up my project and doubled the manpower," she shares. When she started off in the year 2006, the cost of a check dam was Rs 2.5 lakh to 3 lakh but now it has gone up to Rs 25 lakh depending on the size of the dam.
Among the dams built by Aakar trust, the one at 'Gunda Berra' in Pali district of Marwar region in Rajasthan is the biggest. Interestingly, an earthen check dam was earlier constructed there at a cost of Rs 74 lakh by the government. But it was washed in the first rains.
"The villagers then approached us and we built a proper one - a 130 ft long head wall that is 10 ft high with a 10 ft tall and 10 ft wide foundation – at a cost of Rs 36 lakh. We contributed Rs 25 lakh and the villagers put in Rs 11 lakh," says Ruia.
In the very first year, the dam gave a return of Rs 54 crore to the villagers and impacted seven villages i.e. approximately 7000 people. While constructing the dam, too, the villagers are fully involved in the work, providing labour and so on.
"We don't start the work until the villagers make their contribution. We have made this a rule just to give them the feeling of ownership," she says.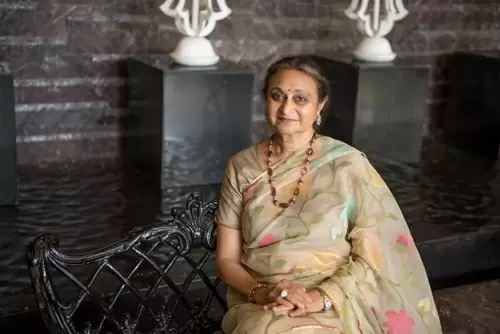 Amla received complete support from her husband to take up the water conservation work

The check dams that Aakar trust has built has transformed several dry and arid villages into green patches. "Check dams 'check' the flow of water. We hold the water for three to four months in a huge reservoir spread out over several square kilometres," says Ruia. The water seeps into the ground through capillary action of the soil, reaching the wells situated in the villages turning the land fertile.
Ruia has a dream to revive the culture of farmers looking after their own water resources. But till she realises the dream, her team would keep searching for locations where check dams are required and build them using the best quality material to ensure that the structure stands strong for 500 years.
But how did Ruia, a descendent of the wealthy Dalmias who built the Dalmia Nagar in Bihar, and was married into the Ruia family, which owned the Phoenix Mills in Mumbai, manage to get out of the confines of home and work in the heat and dust of arid Rajasthan?
Initially, there was some objection from the family. One day she told her husband: "Once I had a dream to see the wonders of the world but you didn't take me around. Now it's my dream to go and help the villagers of India and you have to support me" And her husband relented. Amla would go on to become one of India's foremost water heroes.
"It's because of his large heart and support I could do this work, helping lakhs of villagers," adds Ruia, who lived in Uttar Pradesh at her parents' home before her marriage to Ashok Ruia in 1964. The couple has three children. Two daughters are married and her son Atul Ruia owns the chain of Phoenix and Palladium Malls.

Trending Now: