Spurred into social work by the agony of burn victims, she moved on to train first aid providers
Radhika Sudhakar
&nbsp | &nbsp Chennai
04-July-2019
Vol 10&nbsp|&nbspIssue 26
Chucking a cushy job with Hewlett Packard to be a full-time volunteer of an NGO was not something that Kala Balasundaram might have dreamt of doing when she started attending office on OMR, the IT Expressway in Chennai. But social work subsumed Balasundaram slowly and steadily that she today heads 'Alert', an NGO that trains people to be first respondents at an accident site.
The bustling OMR (the iconic Old Mahabalipuram Road on which many IT majors have their offices) opened her eyes to the need for rushing first aid to accident victims.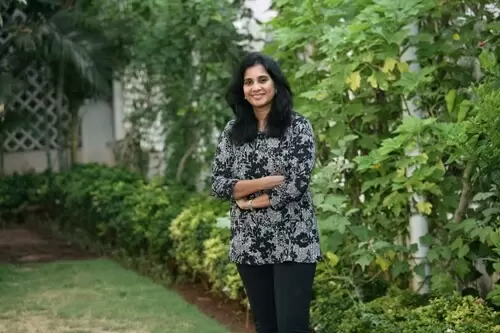 Kala Balasundaram, founder of Alert, left a high paying IT job to get into full time social service (Photos: Ravi Kumar)

"I was witness to accidents as routinely as once in two weeks and it left me sleepless," she recalls those days prior to the launch of 108 Ambulance Service in Tamil Nadu when she was already into social work while working for IT services firm Xansa Steria in a top position.
Her personal awakening took place much earlier at the Kilpauk Government Medical Hospital in 2002 when she had to take her son to a doctor whose consultation room was within the Burns Ward.
"The first thing that hit me was the unbearable smell," she says. "The patients were disfigured and in deep pain while the temperature within the ward was too unbearable as there was no air conditioning."
As someone who had grown up watching her mother running an old age home, Balasundaram wished to be of some help to the patients as the images from the Burns Ward refused to go out of her mind.
"When I asked the doctor if there was anything I could do, he told me that even contributing a saree would help some very poor female patients who would not have another saree to change into after recovery," recalls Balasundaram.
Soon, she started volunteering at the ward during weekends with a colleague, Rajesh R Trivedi, who would later become a co-founder of Alert in 2006.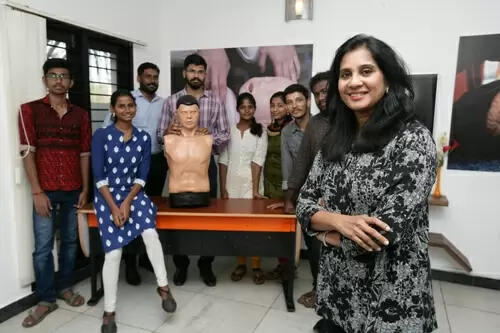 Alert comprises a team of seven full time paid workers and hundreds of volunteers

Alert was started with just two volunteers. "We only intended to give free training in first-aid, as it was given at a cost at that time, and to provide ambulance service, none of which existed in 2006," remembers Balasundaram, who shared her concern about the lack of immediate medical attention to accident victims with a lot of people.
"I spoke to many people including doctors and my husband," she says. "I was advised to not fret and focus on my profession, but I continued to talk and it was Dr J S Rajkumar, Chairperson of Lifeline Hospital who appreciated my concerns."
Dr Rajkumar subsequently became a co-founder of Alert. The idea then was just to have an ambulance on call and give first aid to accident victims. Today, Alert has a complete simulation lab, the only one of its kind outside a medical college in India.
Unlike the earlier days, Alert volunteers are now equipped with a first aid kit and a flash card which recognises them as trained "first respondent" in an accident site. The NGO is a full-fledged registered organisation with a curriculum devised with the help of doctors and recognised by the Indian Medical Association (IMA).
Alert has trained 84,396 people and partnered with 215 institutes. It has 1,500 registered volunteers and 600 first responders in Chennai alone. "We seek to create 3,000 first responders in Chennai, which will still not be sufficient," says Balasundaram, now 52.
In their 13 years of operation, Alert volunteers have attended to about 1000 accident victims as first respondent.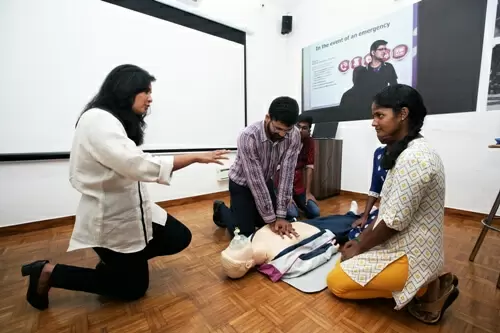 An Alert volunteer demonstrates CPR on a mannequin as Kala watches on

"The most important training in first aid is situational leadership. Addressing the mental state of a person to respond when they see a problem is the most challenging part of this program," stresses V M Muralidharan, one of the five trustees on board who had joined the team in 2016 and a strong proponent of the view that one in a family should be trained as first respondent.
"This is a training that should start ideally in school," says Muralidharan, owner of a Chennai based IT company.
"For eight years we had no office and met where we could, be it a government school corridor or a class room. Then, a volunteer came forward to give us a room in Thyagarayar Nagar, which we found out much later belonged to Kandasamy Bharadan, son-in-law of (popular film director late) K Balachander. He came in as a trustee later on," says Balasundaram.
Initially, Balasundaram, Trivedi and another colleague Karthik, visited various medical departments like cardiology, anesthesiology and so on to meet the doctors and compile information on first aid in a trauma situation to develop their syllabus for training. They have come a long way now. Recently, Alert tied up with Apollo Hospital for doctor assessment of a trainee in first aid and certification.
Besides Balasundaram and Trivedi, the NGO has seven full time paid workers and is self-sufficient. "Raising funds is not easy so we need full timers. I do not blame organisations and individuals being sceptical of an NGO, because there are bad ones, too," she says.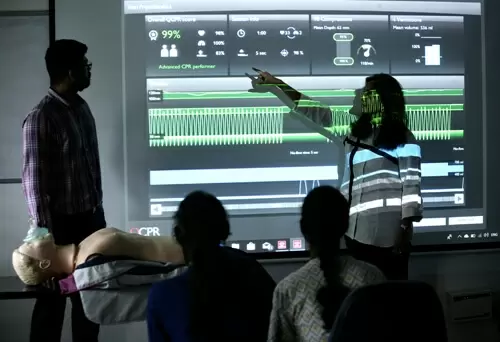 Alert's simulation lab is the only one of its kind outside a medical college in India

Apollo Hospitals in Chennai is a funding partner and Alert has other tie-ups as well, including one with IIT for a three credit programme for training IITans in first aid. IIT has also produced a patented prototype mannequin for training purposes costing Rs 5,000, while those available in the market costs around Rs 2.75 lakh.
But what happened to Balasundaram's weekend visits to the Burns Ward? "I spoke to some of my colleagues at Xansa Steria to contribute for the weekend visit," she recounts. "We would buy fruits, glucose, dates and clothing for the patients. Being the daughter of a textile businessman, I sourced clothing for a good price."
An unexpected call from her boss, the MD of Xansa Steria, changed everything. "He called me one day and asked where I was and when I told him I was at the burns ward, he asked if he can visit. When he came he was shocked at what he saw.
"He gave whatever money he had immediately and went back and spoke to the global head on adopting the burns ward. It was approved immediately as a corporate social responsibility act and the head office immediately sanctioned Rs 25 lakh. It enabled us to completely change the ward."
"We bought air conditioners, rebuilt the toilets and renovated the place, besides contributing for the patient's livelihood after recovery. Xansa continued the support."
Balasundaram inherited the penchant for social service from her mother Saroja Sadasivam, who runs an old age home at Sriperumbudur called the Vishwa Shanti Old Age Home for the past 27 years now. Like her mother, she too is poised for a long innings in social work.
Photojournalist, a life saver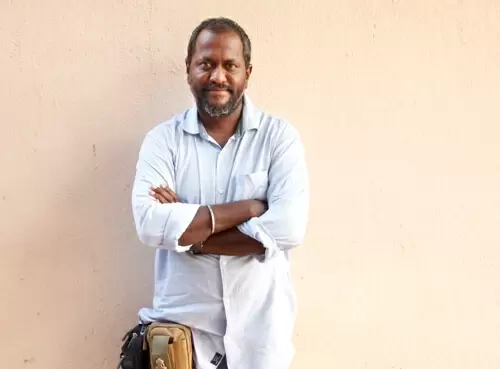 In an age when dying moments make for sensational photo ops and videos, photojournalist P Ravi Kumar put humanity even above duty and saved a life

It is more than a coincidence that the photojournalist, P Ravi Kumar, who shot pictures for this story, is a trained first aid provider.
He earned accolades on Holi day this year when he saved the life of a 12-year-old boy who was pulled out of a pool constructed to celebrate Holi in an unconscious state. Ravi, who was on the spot covering the event, administered CPR (Cardiopulmonary Resuscitation) to the boy.
Though there was a phalanx of photojournalists covering the festivities and a huge crowd of revelers around, it was Ravi who realised that something was amiss on spotting three or four persons floating head down on the knee-deep water.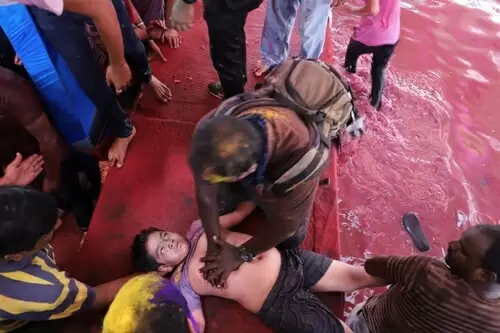 Ravi administering CPR to the boy

He switched off the power supply and the generator, which had raised an alarm. When one of the boys did not get on his feet after being pulled out of the water, Ravi administered CPR and mouth to mouth resuscitation till the ambulance arrived.
Ravi, who had undergone training at a mall where an NGO had organised free teaching of CPR administration, however, could not save his mother though he and his sister, a physiotherapist, did CPR while she was being taken to hospital following a cardiac arrest in January.
Wish to share your story?
Trending Now: