Meet 19-year-old Tamil girl with an IQ of 225, the highest in India, and among the top three in the world
P C Vinoj Kumar
&nbsp | &nbsp
14-June-2019
Vol 10&nbsp|&nbspIssue 24
A premature baby born in 2000 in the seventh month of her mother's pregnancy - a good 15 weeks ahead of the due date – and given just 30 days to live, is now a tech prodigy, all because her mother believed in the impossible miracle and her father supported the child's insatiable appetite for learning.
With the world's top networking certifications under her belt – CCNA (Cisco Certified Network Associate), CCNA Security, and CCNP Route are among the 13 international certifications she has acquired – the child K Visalini, now 19 years old, has an IQ of 225, the highest in India, and among the top three in the world.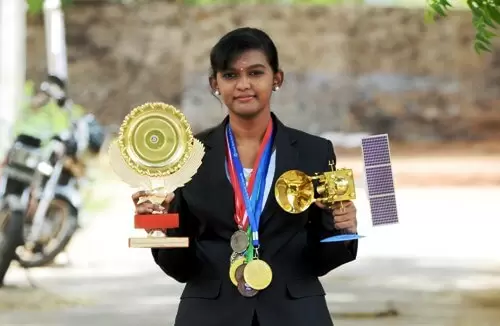 Pride of India: K Visalini has an IQ of 225. At 19 years, she holds a BTech degree and 13 international certifications (Photos: V K Sundar)

At 13, Visalini completed the Cisco Certified Internetwork Expert course and became the youngest in the world to clear the exam. She went to college after class eight, and completed BTech in computer science and engineering at 18 years with a GPA of 9.6.
Living in the small town of Tirunelveli in south Tamil Nadu, she has set big goals in life, but lacks the financial muscle and the funding required for her research.
"I want to start a networking company in Tirunelveli. I am also working on a dream project that has the potential to win a Nobel Prize," says Visalini, "but I need a few crores of rupees to set up a proper laboratory to pursue my research."
It may not be empty talk, for Visalini has been recognised and honoured by no less an agency than ISRO (Indian Space Research Organisation). Since the age of 11, she has delivered keynote speeches at several international computer and networking conferences, including the Google India Summit at Delhi in 2015.
As a 15-year-old, she had delivered a lecture on 'big data and artificial intelligence' at the ISRO headquarters in Bengaluru. Over 700 scientists listened to her and gave her a standing ovation at the end of her talk.
She also undertook a project for ISRO and completed it successfully. "I finished it ahead of schedule, in just 35 days. My project was named 'ISRO Satellite Centre - Visalini's Network Management System (ISAC- VNMS)," says Visalini.
Visalini addressed 700 scientists at the ISRO headquarters in Bengaluru

Dr. Mylswamy Annadurai, the then ISRO director, says the project networked all the computers in ISRO with a certain objective. Visalini stayed at the ISRO guest house along with her mother to work on the project.
"We wanted to gauge her skills and gave her around five months to complete the job, but she finished it very early," he recalls.
Mylswamy says if he had still been in office he would have inducted Visalini into ISRO and used her talents for the country. "When we invited her to ISRO she didn't have a degree, she was in school," he says, adding that Visalini is a big asset to the country.
Visalini has set her own path now. Her current areas of interest include artificial intelligence and machine learning, deep learning, cognitive neuroscience, virtual reality, networking and internet of things (IoT).
She says she has developed a solution to the ransomware virus attacks that shook the world a couple of years ago. The ransomware virus blocks access to data stored in affected computers and the victims are required to pay a ransom to the hackers to retrieve the data.
"A local videographer, whose computer had come under attack, was unable to retrieve any of his works, including four wedding videos he had shot," says Visalini. "His customers were very angry with him and he was in a very desperate situation when he came to me." She was able to recover the data within 70 hours without paying ransom to the cyber criminals.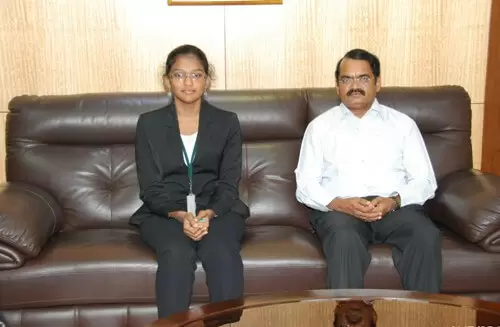 Visalini with former ISRO director Dr Mylswamy Annadurai

"We have provided her all the support within our means to give her the best education, but we can't fund the research projects she wishes to pursue," reveals Ragamaliga, Visalini's mother, a former All India Radio announcer. The family has spent many lakhs of rupees on her education that includes the expensive international certification courses.
Visalini's father Kumaraswamy, an electrical and electronics diploma holder, is the sole earning member in the family. "He is an electrical sub-contractor and Visalini's ATM machine. She turns to him for all her needs and he has funded all her studies," says Ragamaliga, who is Visalini's manager and constant companion.
"I handle all the emails and phone calls for her," she shares. "I quit my job in All India Radio in 2005 to take care of my daughter during her growing-up years. I was receiving a monthly salary of Rs 15,000 then, but Visalini's future became more important to me. We came to know about her high IQ when she was just three and a half years old."
Clinical psychologists who assessed Visalini's IQ advised the parents to take special care of her and told them that she was like a knife and that the knife could be used for either cutting a cake or a head.
Visalini's parents took these words to heart and brought up their only child - born seven years after their marriage - in a protected environment.
"We were told not to keep even servants at home to prevent any bad influence on Visalini. To this day we don't have one and I do all the household work myself," says Ragamaliga.
Visalini's mother Ragamaliga and father Kumaraswamy have made huge sacrifices to give her the best education and enabled her to pursue expensive courses

Visalini, a premature baby, was born through a caesarean delivery during the beginning of the seventh month of Ragamaliga's pregnancy.
The baby weighed just 1.5 kg at the time of her birth – against the normal weight of 3 kg of a newborn baby. Her mother remembers Visalini as a puny baby, and says she resembled a wooden (measuring) scale, with a lemon sized head.
"Doctors said she would live for only 30 days and that she will be speech-impaired even if she survived," says Ragamaliga. "I was shattered by the thought of putting my daughter in a deaf and dumb school while I worked as a radio announcer."
But Ragamaliga, a strong willed woman, gathered her wits and resolved to make every effort to make the child talk.
"The problem was Visalini's tongue had not developed fully. After we brought the child home, I began to consult doctors to find out if they could do some any surgery to make her speak," she recalls. But the doctors did not respond positively.
When the 30th day passed, and Visalini was still alive, it instilled hope in the parents and family members. Health issues, though, persisted for Visalini. "On the 41st day she had vomiting and loose motion. We took her to a child specialist, who was the first doctor to say that Visalini will be able to speak," recalls Ragamaliga.
He advised her to talk to Visalini about good, positive things continuously for not less than 20 hours daily. "He said, keep talking to her, whether she appeared to be listening to you or not, whether she was awake or sleeping."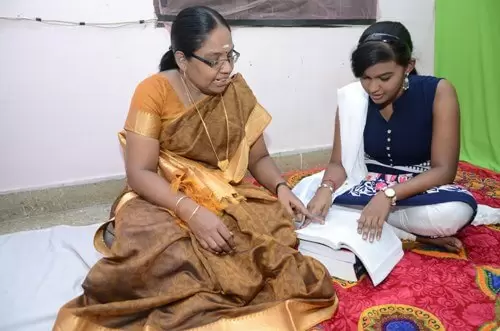 Ragamaliga is Visalini's constant companion and manager

Ragamaliga followed the advice diligently and it worked wonders. "I had prepared for the Tamil Nadu Public Service Commission (TNPSC) Group I exam when I was pregnant. So, I began to tell all those one word questions and answers to Visalini."
Visalini showed incredible progress, learning to utter words, and memorising quickly whatever was taught to her. At two and a half years, she attended a Rotary meeting where she answered 1,000 one-word TNPSC Group I questions, stunning the audience and catching the attention of the media for the first time in her life.
Ever since, there has been no looking back for her. Visalini secured double promotions twice in primary school and got admission into BTech in 2015 at Kalasalingam University, Virudhunagar, based on an international certification course she completed after class eight.
"She studied Cisco Certified Internetwork Expert course from an institute in Gurgaon. We both rented a house for a monthly rent of Rs 20,000 and stayed in Gurgaon for about two years until the completion of the course. The course fee was Rs 7.5 lakh, so you can imagine the money we had spent on this single course," shares Ragamaliga.
The family faced a lot of challenges in providing education to Visalini in regular schools. At one stage, the schools had even refused admission to Visalini, saying that they were unable to cope with her fast-learning abilities.
At Kalasalingam University, she studied five semesters along with other children, but completed the sixth, seventh and eighth semesters in six months under a special scheme, which helped her finish BTech in three years.
Professor A Saravanan was assigned to teach Visalini exclusively for about six months. "I had to keep pace with her, staying up late night, to prepare my lectures," he recalls. "She would have clarifications about how the subjects being taught could be put to practical use. I found her to be very socially conscious and wishing to do many things for the benefit of society."
Visalini is currently working on AI-assisted therapy for the mentally challenged, and a couple of lifesaving projects for soldiers of the Indian army and the fishermen. Will the state and central governments take note of Visalini and give her a helping hand?

This article is part of the 'Inspiring Indians' series

More Inspiring Indians

Navin Gulia
Wish to share your story?
Trending Now: