In Ludhiana, Industrial Workers Donate From Their Meagre Earnings to Create Library for Their Children
Jaideep Sarin
&nbsp | &nbsp Ludhiana
10-November-2018
Vol 9&nbsp|&nbspIssue 46
At first look, it is just another small room with one wall almost crumbling. But this 25-square yard space means the world for children of factory workers and labourers in Punjab's industrial hub Ludhiana.

Without any grant or support from corporates or the government, this education endeavour by workers and daily-wage earners living in the Rajiv Gandhi colony area of Jamalpur in Ludhiana's Focal Point industrial area, is making a sea of difference to the lives of children who come here every single day with their working parents.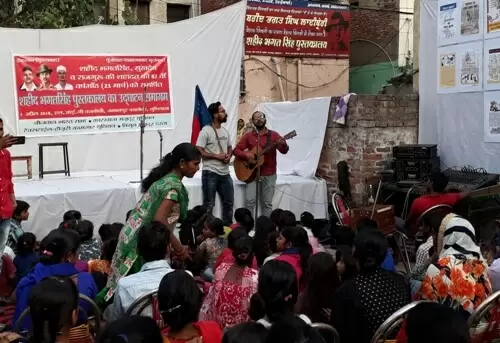 Messages from martyrs like Bhagat Singh, Safdar Hashmi and others adorn the walls of the library (Photos: IANS)

The Shaheed Bhagat Singh Pustakalaya has no fancy address, no high-profile CSR support and no big-time NGO dedicating its resources. Yet, it is on a mission -- to create a small education revolution by touching the lives of the many children coming here to study.

Messages from martyrs like Bhagat Singh, Safdar Hashmi and others adorn the walls of the library. "Behtar zindagi ka raasta behtar kitaabon se hokar jaata hai" (The road to a better life passes through good books) -- a board outside the room says.

"We established this library in April this year. It is entirely an effort of workers and labourers of the industrial units in Ludhiana, who live in the vicinity of the LIG (low income group) flats and Rajiv Gandhi colony," said Lakhwinder Singh, the man behind the mission to guide the workers' children to a better future.

The library has been set up under the aegis of the Karkhana Mazdoor Union by collecting funds from the workers. Contributions ranged from Rs 100 to Rs 5,000. Most workers themselves earn less than Rs 10,000 per month.

Lakhwinder, 33, who himself has done an advanced diploma in dye and mould making from a central institute in Chandigarh and has been living in Ludhiana since 2006, is the main force behind the library project. He is married but has no children yet.

"We began everything on a small scale. We have got no funding from the government or any corporate. The children coming here are not being forced to do so. They come here on their own and like the concept of teaching here," he pointed out.

Ludhiana, one of the largest industrial hubs in Asia, with a population of 3.5 million people, is known for its bicycle industry, textile units, auto-parts manufacturing and scores of other businesses. A majority of the workforce here is that of migrant workers from other states, especially Uttar Pradesh and Bihar, who have been living here for decades.

The library gets active from 4 pm to 7 pm every day when the children come here to get an education. Krishan Kumar, a teaching volunteer, uses hands-on concepts, including showing films, to create awareness and impart education. The library has over 500 books in Hindi and Punjabi stacked on iron shelves.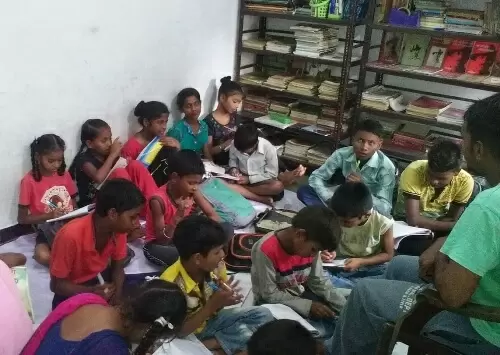 The library has over 500 books in Hindi and Punjabi and can accommodate around 30 children

"We make a lot of friends at the library. It is like a family," Arjun, 12, a student of class VI in a government school, said.

Lakhwinder pointed out that the parents of a majority of the children who come to the library have themselves not studied beyond Class VIII or are illiterate, but do not want their children to suffer the same fate.

"The room can accommodate over 30 children. At times, we have to put a stop on the numbers as the room cannot accommodate more children," Lakhwinder pointed out.

For an annual charge of only Rs 50, the children are provided a library card and are allowed to take two books home at one time. The fee is charged so as to make the children responsible for the books they take.

"The children like to come here. They are allowed to express themselves freely even when they are being imparted education," he said.

The children coming here are enthusiastic about what they are doing here.

"It's quite nice and refreshing to come here. Learning here is a lot of fun," Khushi, 13, a student of Class VII, said.

In its own modest way, this library is making a definitive change in the lives of the young ones.- IANS
Wish to share your story?
Trending Now: