Army Major Wages Heroic Battle in Flood-Hit Kerala and Rescues Hundreds of Marooned People
24-August-2018
Vol 9&nbsp|&nbspIssue 35
Major Hemant Raj from the Indian Army's 28 Madras Sapth Shakti Command loves action, even when on leave. His visuals have gone viral where he is shown organising tonnes of relief material in Chengannur, Kerala.

The Army officer, despite being on leave, mobilised a team of retired defence personnel and local fishermen to shift hundreds of marooned people to safety, learning about the well-being of his wife and parents much later.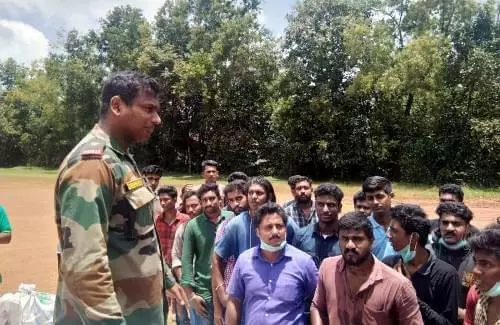 Major Hemant Raj headed rescue efforts at Chengannu village with the help of ex-servicemen and students (Photos Courtesy: Facebook)

His story began on August 18, the first day of what would have been his first day of leave.

"I was quite excited to go to my hometown in Kerala to attend Onam. My leave was sanctioned from Aug 18 and I had my flight scheduled for Kochi from Delhi," the Major said.

When he reached Delhi, he came to know about the massive destruction in God's Own Country.
"I got to know that my family members were in relief camps and my village was completely flooded. I was informed that my flight to Kochi was cancelled," said Major Raj.

"I requested IndiGo officials to accommodate me in their flight to Thiruvananthapuram. I told them that I was keen to serve my people. The officials respected my uniform. I reached the state capital around 2 am on Aug 19," he said.

In Thiruvananthapuram, he contacted Air Force officials and requested them to airdrop him at Chengannur where he found the situation pitiable: roads were flooded and there was no way he could have reached the interiors.

"Even the state government was unaware Chengannur's drowning," said Major Raj.

Near the helipad was a college where a relief camp had come up. "I came to know that my family members were also in a relief camp," he said. Mobile phones were not working.

"I met a few ex-servicemen and students. We set up our 'command centre' in Chengannur," says the Major.

"We came in contact with 13 Garhwal Rifles rescue units which faced language problem. We offered them one local retired defence person each for their units. Local fishermen, too, came forward to help," says Major Raj.

The teams went into the interiors of rural areas and returned with women and children who were waiting for help.

"I had a team of 35 ex-servicemen and students whom I was commanding," he said. "The local students brought laptops and phones and we set up a temporary operation centre. We started noting the addresses where help was required; we called back to check if details were accurate," said the Major.

In all these days, people who saw the Major engaged in relief work, posted his pictures on their facebook pages. "From these visuals, my wife, Theertha, came to know where I was and what I was doing."

"Soon Theertha contacted me and told me that she, our son Ayan and my parents were in Kottayam, another flooded town," said the officer. "I will be meeting them soon," he said.

In three days, the Major and his team arranged to drop 10 tonnes of food each day at accurate places. "Squadron leader Ansha helped us to drop the relief material at the right place."

There was no electricity, the phone lines were down and cellphones could not be charged.

"I know radio jockeys. We requested Anjali Uthup, who is renowned singer Usha Uthup's daughter, to appeal for power banks and high-power boats on her shows," the Major said.

Responding to the appeals, rescuers sent them high-power boats and power banks, which helped the Major's team to rescue scores of people who were stuck in the interiors of Chengannur relief camps.

"The flood situation is completely under control as of now but there are around thousands of people in rescue camps. Roads are badly damaged and connectivity is difficult," he says.

"I have been helping people since the first day of my leave, Aug 18. The damage is huge, but I am confident that we shall get over it," he says. - IANS

Trending Now: