'What is More Valuable than a Diamond; it's the Joy of Giving'
20-March-2018
Vol 9&nbsp|&nbspIssue 12
Once upon a time, a woman gave a precious stone that she had picked up on the way to a man, but the latter soon returned it to her and asked if she can give him anything more valuable she had with her. The poor woman replied she did have something more precious and said that it was the joy of giving.
Narrating the story during his speech at The Weekend Leader – VIT Person of the Year award function at VIT, Vellore, on Wednesday, G.V. Selvam, Vice President, VIT, urged students to develop the habit of sharing – whether it is knowledge or money - with the less fortunate people living in society.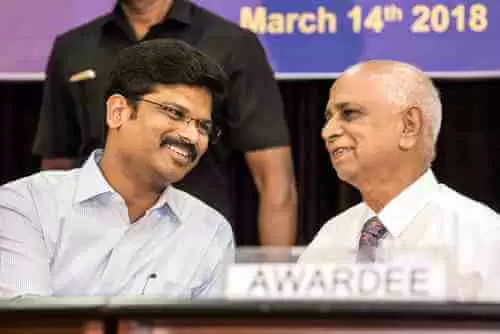 G.V. Selvam, Vice President, VIT, (left) with Person of the Year, Thiruvengadam Veeraraghavan (Photos: Manoej Paateel)

"Helping others is important," Selvam said, adding that the money one spent on a single visit to a restaurant could be someone's monthly salary. He suggested that even teaching the children of a servant maid at one's home is a form of service.
He appealed to students not to hesitate to render assistance to accident victims and recounted an incident when he and his driver helped a family that was lying with bleeding injuries on a highway around midnight after their car had met with an accident.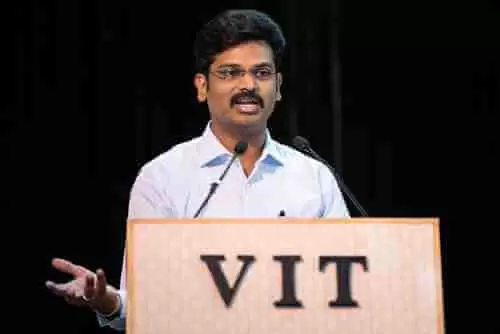 In his presidential address G.V. Selvam urged the students to help the less fortunate people in society

"People don't help accident victims… they are afraid of police cases. But there's a government order that says any hospital can treat accident victims," he said during his presidential address after presenting The Weekend Leader – VIT Person of the Year award, with a citation and cash prize of Rs. 25,000 to Dr. Thiruvengadam Veeraraghavan, a medical practitioner from Chennai.
Thiruvengadam was one of the unsung heroes showcased in The Weekend Leader last year. He was chosen as Person of the Year (2017) by a three-member jury from a list of five nominees shortlisted by the editors of The Weekend Leader.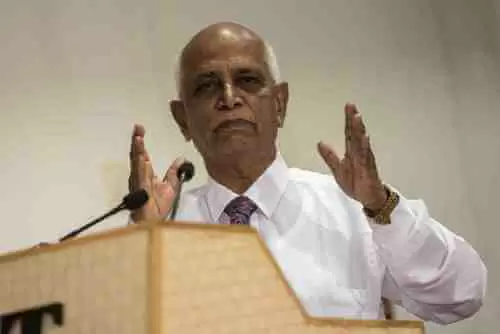 Dr. Thiruvengadam Veeraraghavan said he aims to provide ECG and CBG tests at Rs 5 and Rs 10 respectively

The citation lauded Dr. Thiruvengadam as a rare exception in his profession. "This exemplary doctor serves the poor communities of Sri Kalyanapuram and Erukkancherry in north Chennai, treating people free of charge and collecting a nominal fee of Rs. 50 from those who can afford to pay," the citation said.
It further added: "While the 67-year-old doctor's day job as an industrial medical officer in a corporate hospital provides him with a regular income, his private practice is selfless service to society. Barring Sundays, he is available every evening for his poor patients from 8 p.m. until midnight, motivated only by his desire for ministrations and not money. For his laudable and luminous efforts to live up to the ethics and ideals of the Hippocratic Oath, he has been chosen as The Weekend Leader – VIT Person of the Year 2017."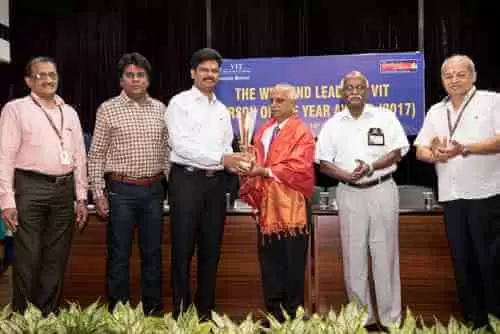 Dr. Thiruvengadam Veeraraghavan receives the Person of the Year award from G.V. Selvam. Also seen are Dr. D. Ashok (extreme left), P.C. Vinoj Kumar (second from left), Dr. Anand A. Samuel (fifth from left) and Dr. N. Jayasankaran

In his acceptance speech, Dr. Thiruvengadam said his ambition is to provide ECG and CBG tests for the poor patients who visited his clinic at Rs 5 and Rs 10 respectively. "I want to do house visits for ailing elderly people free of charge," he said. His daughter Preethi is a medical doctor too and his son Deepak is studying medicine at a college in Mauritius.
Sharing some words of advice to students, Thiruvengadam said no medicine will be required to those who do regular exercise. For healthy life he recommended daily walking and listening to melodious music, which he said would enhance immunity levels in the body.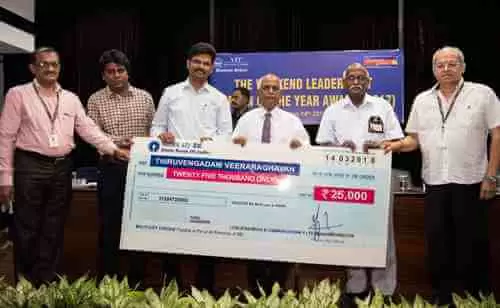 Cash prize of Rs 25,000 was presented to Dr. Thiruvengadam

P C Vinoj Kumar, Editor of The Weekend Leader, said it was the seventh consecutive year The Weekend Leader and VIT have come together to celebrate a real life hero.
"The Weekend Leader is trying hard to present real life role models to the youth of today and generally to the society. By celebrating people like Dr Thiruvengadam we are sending out a clear message that heroes do exist in real life and we are inspiring many youth to follow in their footsteps," he said.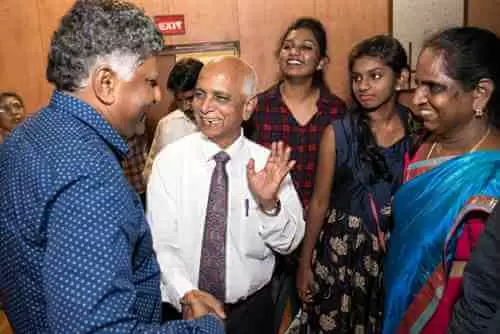 Family members and friends of Dr. Thiruvengadam attended the function to felicitate him

Dr. Anand A. Samuel, Vice Chancellor, VIT Vellore, Dr. D. Ashok, Dean, VIT Business School, Dr. N. Jayasankaran, Adviser, VIT Business School, also attended the award function and felicitated the awardee.
G. V. Selvam, Vice President, VIT, released the fourth issue of The Lead Star, an annual glossy print magazine brought out by publishers of The Weekend Leader and launched The Weekend Leader app on the occasion.
G.V. Selvam launching The Weekend Leader app. With him is The Weekend Leader editor P C Vinoj Kumar
G.V. Selvam released the fourth issue of The Lead Star magazine and the first issue was received by Dr. Thiruvengadam
– TWL Bureau

Trending Now: