Teaching auto drivers etiquette is his style of salvaging India's image

Partho Burman
&nbsp | &nbsp New Delhi
01-October-2010
Vol 1&nbsp|&nbspIssue 5
"Even a dog doesn't bark without reason" – the catchphrase has earned him recognition. The man, who propelled an anti-Honking awareness campaign in the streets of the nation's capital, recently conducted a sting-operation on auto-rickshaw drivers to teach them etiquette. He says he did that to save the image of the country during the Commonwealth Games.

Tall, muscular and a Taekwondo expert, 41-year-old Ravi Kalra, better known as 'No Honking Man' is founder president of the Earth Saviours Foundation (TESF). He believes that a small step taken towards social cause can bring reforms in the society. "During the Commonwealth Games, foreign guests and visitors from our own country will be taken for a ride by unruly auto rickshaw drivers. So I decided to go for the sting operation," says Kalra.

According to him, the auto-rickshaw drivers have never been respected because of their unruly behaviour. "They contrive various modes to swindle passengers. They refuse to ply on meters, purposely take long-route for shorter distance, stand in queue for filling gas while the passenger is on board and at the end of the trip show a fake printed card of inflated fare," fumes Kalra.

His sting operation revealed that 70 per cent auto-rickshaw drivers in the Capital were ill-mannered. The volunteers, both boys and girls, with hidden camera pretended to be strangers in Delhi and boarded autos from different spots. They asked the driver to take them to certain destinations. Many auto-drivers refused to go. Some overcharged, and some dropped them halfway, but a few were honest and helpful.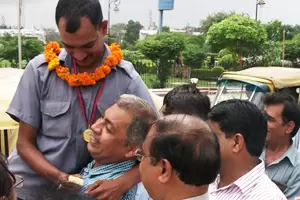 Kalra rewarding a well-behaved auto-driver
"We rewarded the honest and well-behaved drivers with Rs 500 in cash, gold medal, certificate, and a pack of sweets. But those who misbehaved were given lessons on good behaviour and warned not to mistreat passengers in future," says Kalra.

For Kalra, the Earth Saviours Foundation is his sixth nongovernmental organisation in the last sixteen years. It was registered in 2008. Kalra, who belongs to a middle-class family, started a business of Immigration Consultancy at Safdarjung after graduation. His business activities took him to 40 countries. "A civilized country has no noise pollution. The definition of honking in those countries meant that you have a patient in your car and you need to rush to hospital. Cars ahead will give you way to move," he claims. "Ninety per cent of noise pollution in our city is created by unnecessary vehicular honking."

His campaign drew Delhi Chief Minister Sheila Dikshit's attention, who instructed the Environment Secretary to coordinate with the organization over the honking issue. His message to the people: Devote at least an hour or two a day for social service.

Trending Now: