"I have planted more than 3 lakh saplings in last 30 years"

P C Vinoj Kumar
&nbsp | &nbsp Coimbatore
03-September-2016
Vol 7&nbsp|&nbspIssue 36
As a school student M Yoganathan fought against the timber mafia in the Nilgiris, pasting handwritten posters in public walls, identifying areas where trees had been felled with their survey numbers and urging the police and forest officials to take action against the offenders.

Thirty years later, at 47, he has the same passion for environmental conservation, but holding a government job as bus conductor, he has chosen the softer option of tree planting to express his love for nature.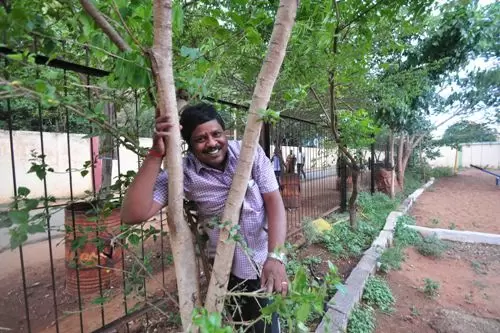 When he is not in duty, M Yoganathan is most likely to be planting trees at some school (Photos: H K Rajashekar)

"I started planting trees when I was in Class eight. I stopped my studies after Class 12 but continued to be involved in environmental activities as part of Tamil Nadu Green Movement," says Yoganathan, who is a conductor on route No 70 plying between Marudamalai and Gandhipuram in Coimbatore.

On Mondays, his weekly off-day, Yoganathan would most likely be attending a tree planting programme in some school in the state.

"I have planted more than 3 lakh saplings in last 30 years and visited over 3,000 schools spread over 32 districts in the state to conduct environmental awareness programmes," says Yoganathan.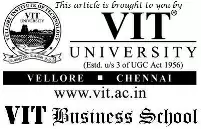 On June 5, World Environment Day, he says, around 5,000 schools in the state responded to his appeal to take an oath to protect the environment and plant at least one sapling in their campus.

"I appointed coordinators in all the districts and wrote letters to about 18,000 schools asking them to take a pledge to avoid non-eco friendly products and plant saplings.

"About 2,000 schools planted saplings and in 3,000 others students pledged to avoid using nail-polish, lipstick, and firecrackers during Diwali," says Yoganathan, adding that tending the saplings is a greater challenge than planting them.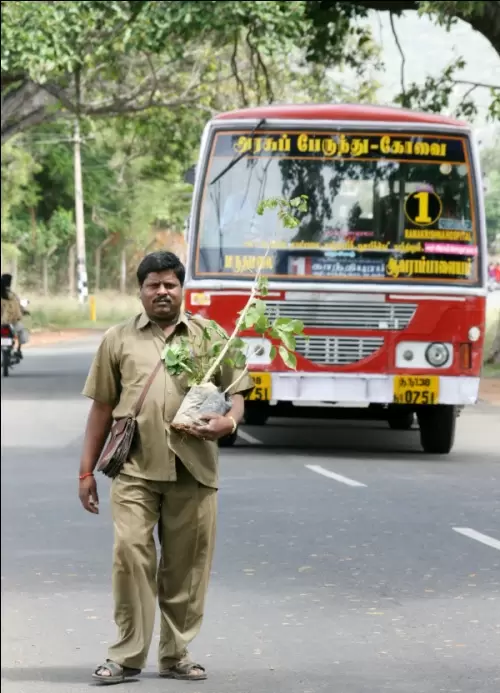 Yoganathan has been planting trees since the time he was studying in Class eight (Photo by special arrangement)

"I would say in my case at least 50 per cent of the saplings I planted have grown into trees."

Yoganathan was born in a poor family in Mayavaram, Thanjavur district. He lost his father when he was just one and a half years old. His mother moved to Nilgiris district to work in the tea gardens, and he stayed with his elder sister's family to continue his studies.

In those early childhood years, he used to visit his mother in Nilgiris only during the holidays. When he came to class 11, he joined his mother and was admitted into a government school in Kotagiri.

In Kotagiri he became closely associated with green activist Jayachandran of Tamil Nadu Green Movement, and his association with him only increased his interest in nature conservation.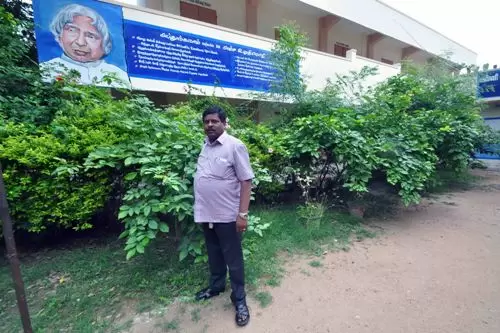 Yoganathan at a government school in Coimbatore where he has planted several trees

"I loved to explore forests. I was known to be a dull student, but if anyone tells me anything about nature, I would quickly grasp it," says Yoganathan, chuckling.

He avidly gobbled up information on flora and fauna, which he now shares with the children he meets in schools.
"When I ask a child to plant a sapling, I name the plant after the child. Suppose Ramu plants a pungai (Indian beech) sapling, I would name it Ramu pungai and ask the boy to treat the sapling as his sibling and give it water daily.

"I ask the children to collect grass and lay it around the plant. I explain to them that it is grass mulching. Similarly, I ask them to bring dry leaves and put it around the plant. I tell them it is leaf mulching," says Yoganathan.

These days he carries a LCD projector that he purchased for Rs 37,000 from a PF loan to schools for his environmental awareness programmes, where he shares interesting facts of nature with the children.

"It's lightweight, just weighs 2.5 kilos and very easy to carry. Earlier, I had a slide projector, which was heavier," he shares.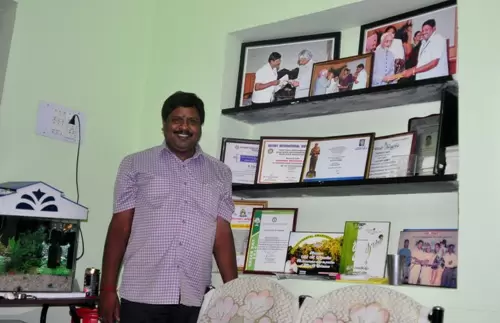 At Yoganathan's home in Coimbatore the awards he has received from various organisations find a pride of place

Yoganathan says that he has planted saplings outside of school campuses as well and insists that we visit one such place, the railway quarters at Podanur in South Coimbatore.

The trees that he has planted here have grown up to 15 to 20 feet.

Yoganathan joined the Tamil Nadu state transport corporation in 1999. In his 17 years of service as bus conductor he has been transferred 40 times, because of his frequent absence from work.

"If I take leave it will be only for planting trees. I don't take leave for personal reasons," he clarifies.
After he received Earth Matters' Eco Warrior award from then Vice President of India, Hamid Ansari, in 2008, life has become better for him, with officials taking a more lenient view on him since.

At home, wife Valarmathi, a housewife, daughters Monisha, 24, who works as a cashier in a bank, and Sathyapriya, 18, studying B Com second year, have always been supportive, he says.

This Article is part of the 'Unsung Heroes of Tamil Nadu' series
More Unsung Heroes
Wish to share your story?
Trending Now: