"She was in tears and explained how she had shut herself out from society after losing her hair"

Usha Prasad
&nbsp | &nbsp Bengaluru
30-May-2016
Vol 7&nbsp|&nbspIssue 22
At his modest two-room 130 sq ft shop located in a small bylane of JC Nagar in Kurubarahalli, Bengaluru, the 39-year-old wigmaker Marishetty Kumar is busy at work.
Deftly running the comb through the long tresses to detangle them and weaving the strands of hair, he is designing a wig that might soon bring cheer and light up the world of a cancer patient somewhere.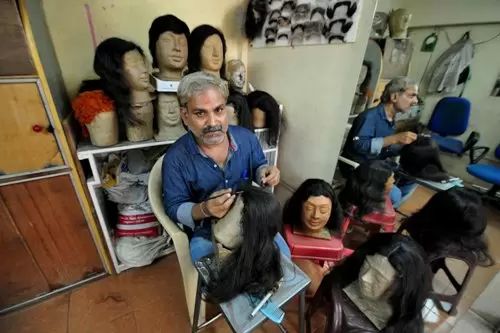 Marishetty Kumar has made close to 6,000 wigs for cancer patients and prefers to work on natural hair (Photos: H K Rajashekar)

Not too long ago, Marishetty was excited about makings wigs for actors in tinsel town, but not anymore. He has found greater satisfaction making wigs for cancer patients who have suffered hair loss due to chemotherapy.
Marishetty, with just the help of his wife Lalitha, has so far made 6,000 wigs for cancer patients. Though he makes no effort to advertise his work, he has built his clientele through word of mouth.
The wigs cost between Rs. 10,000 and 15,000 depending on their thickness and length. But he offers them at concessional rates of around Rs. 8,000 for cancer patients and other poor customers.
Marishetty says he is able to reduce the price by forgoing his profit.
"My wigs have even helped many prospective grooms who had turned bald at a young age find their match," he says.
Marishetty, who hails from Belakwadi in Mandya district, is the youngest of eight siblings. An eighth standard dropout, his life was never easy. Having two meals a day was a big challenge for his family.
In the 1980's and 90's, song sequences of Kannada films were shot at the famous Gaganachukki water falls in Shivanasamudra close to his village.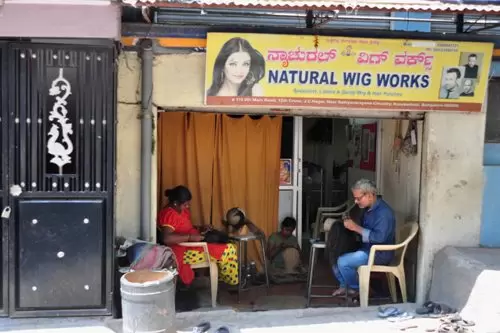 Marishetty works out of a 130 sq ft two-room shop with his wife and an assistant
Marishetty, along with his friends, would go there to watch the shootings. During one such shoot, he met Shivaji, a hairstylist in the crew who was changing wigs of actors for each costume.
Enamoured by his work, young Marishetty asked Shivaji if he could join him as an assistant to earn his livelihood. The latter agreed and Marishetty went with him.
"I left my village when I was 19 without informing my family members. I asked my friends to herd the cattle back home. That was my first journey from my village to a city like Chennai," recalls Marishetty.
He stayed in Shivaji's house in Chennai for almost six years. "In addition to letting me stay in his house, he gave me two meals a day and paid Rs. 500 a month. I not only served him as his assistant but did all the odd jobs at his house.
"I used to keenly watch him make different hairstyles for movies. Whenever he went out, I would try to weave small patches of the wig without his knowledge and slowly mastered the art of making wigs," he says.
Later, he moved to Bengaluru and joined another hairstylist. Marishetty made wigs for both male and female actors in the Kannada film industry as well as the small screen. He fondly recalls the wigs he made for actors in the Kannada tele serial Ramayana.
His stint in the film industry in Bengaluru too ended in five years.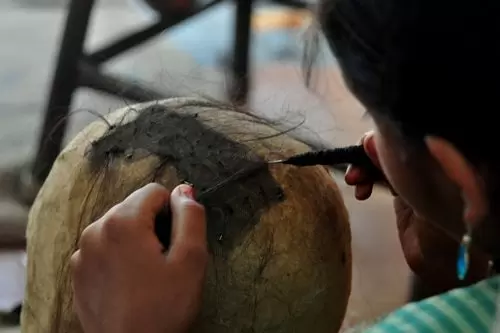 Strands of natural hair are deftly woven and made into a wig

"People in the industry no longer respected our work. I decided to distance myself from them and be on my own," he says.
That's when Marishetty opened Natural Wig Works in 2005. "As I understood the difference between wigs made out of natural hair and that of synthetic material, I decided that I would make wigs only from natural hair. They look very natural and are easy to manage," he explains.
One day a cancer patient visited his shop. "She was in tears and explained how she had shut herself out from society after losing her hair. She requested me to make a suitable wig for her.
"That's when I understood the seriousness of cancer as a disease, the ill-effects of chemotherapy and the accompanying hair loss," says Marishetty.
"When I fitted the wig on her, she was absolutely elated. That's one of the most unforgettable moments in my life. I got more references from her doctor, who appreciated my work," he adds.
Marishetty, who buys natural hair from dealers in Tirupati, where devotees get their head tonsured, admits that it's a challenge to compete with synthetic and factory-made wigs.
To make a normal wig, Marishetty needs at least 250 gram of raw material. One kg of natural hair costs between Rs 25,000 and Rs 50,000. It takes at least four days to complete a wig depending on its length.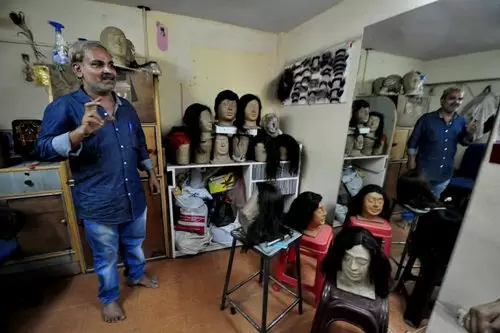 Marishetty has worked on low margins to do his bit for cancer patients who go through great pain and trauma

Marishetty's wigs have takers not only in Bengaluru, but from different parts of the country and abroad.
He now takes orders on Whatsapp as well to help customers from far off places. "I ask them to send me one recent picture and an older one with hair.
"I instruct them on how to take the measurements and send it on whatsapp. Once the wig is designed, I send it by courier," he says.
After delivering the wigs, Marishetty regularly interacts with his customers and guides them on maintaining the wigs. "If maintained well, a wig lasts for at least four years," he says.
Though Marishetty thinks of expanding, he is unable to find people skilled enough to hire. His concern now is to pass on the art to the next generation.
"I know making wigs is not a lucrative business. But someone has to take the legacy forward. I want to train youngsters in this craft, but nobody is interested," he laments.
"It has been 10 years since I opened my shop. Though the margins are low, I have no regrets as long as I am making others happy," says Marishetty.
Wish to share your story?
Trending Now: