A female health worker has performed over 3,000 deliveries and related procedures with zero failure
Vishal Gulati
&nbsp | &nbsp Chamba (Himachal Pradesh)
25-April-2016
Vol 7&nbsp|&nbspIssue 17
In spite of advancing years, health worker Kaushalya, whose name roughly translates into "ability to do something well", is showing the light to women in one of the remotest areas of Chamba district in Himachal Pradesh.
She has, in fact, dedicated 31 years to propagating institutional deliveries and providing health services like intrauterine contraceptive device and other contraceptive methods.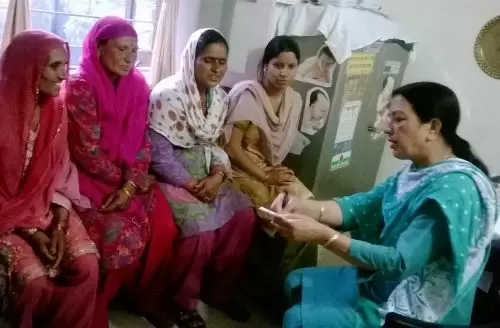 Kaushalya has performed over 3,000 deliveries and related procedures, without a single case of either maternal or child mortality or foetus abortion (Photo: IANS)

Kaushalya, 58, has been posted at the Kalsuin health sub-centre, 17 km from this town, some 450 km from the state capital Shimla, for the past 28 years.

"It's only the self-motivation and my inner spirit that drive me towards someone who's in labour and needs my help. I didn't mind working odd hours and in hostile weather. I love to provide 24-hour maternal healthcare facilities," said a beaming Kaushalya.

In her profession as a female health worker, she has performed over 3,000 deliveries and related procedures -- without even a single case of either maternal or child mortality or foetus abortion.

At times, she also faces, with determination, the sensitive topic of female foeticide and the bias against the female child.

In recognition of her efforts to promote female reproductive health in the area, dominated mainly by the marginal and small farmers, the state government has designated Kalsuin sub-centre in the Churi block as the only "delivery point" in the state.

The five-bedded centre, which has a labour room and a baby-care room, has a provision for one male and one female health worker each.

According to her, in the past one decade she has conducted over 2,500 institutional deliveries and 257 intrauterine contraceptive device insertions at the Kalsuin centre, which caters to 18 villages with a population of around 2,000.

Most of the time she is the lone health worker posted there, despite the provision of a male health worker. There is no provision of a gynecologist or pediatrician.

She has handled many emergency cases as the specialist services are far removed from the Kalsuin centre.

"I can handle both antenatal and postnatal care," said Kaushalya, who is retiring in December.

In 1985, she joined the state health services as a female health worker at Dalli in Chamba district's Bharmour block.

Three years later, she was transferred to Kalsuin. At that time, the health centre was functioning from the panchayat building and lacked proper infrastructure.

It was because of her efforts that the health centre was shifted to a new building equipped with proper facilities.

Kaushalya, who was trained by Hindustan Latex Family Planning Promotion Trust in reproductive and child healthcare, started midwifery in 1995 by facilitating deliveries at homes. Since 2005, she has been performing institutional deliveries at the Kalsuin centre.

Her contribution was recognised by the state government by conferring on her a district-level award in 2010 and a state level in 2011.

Himachal Pradesh is the only state in the country where 89.96 percent of the population as per 2011 census lives in rural areas.

To appreciate the enormity of Kaushalya's contribution, one only needs to read the latest report of the Comptroller and Auditor General of India, which states that Himachal Pradesh has failed to provide 24-hour maternal healthcare facilities at 84 percent of its primary health centres under the National Rural Health Mission (NRHM).

Of the 500 primary health centres, only 81 (16 percent) have been upgraded to provide round-the-clock delivery services but none of these had basic obstetric and nursing facilities like availability of a gynecologist, staff nurses and skilled birth attendants, the report said.

It said that out of the 500 primary health centres, labour rooms and newborn care units were not available in 308 and 493 centres.

During 2010-15, a total of 668,442 pregnant women were registered in the state.

Only 354,022 (53 percent) institutional deliveries were ensured in government institutions against the targeted 467,909 (70 percent), the CAG added. – IANS
Wish to share your story?
Trending Now: