A teacher's encounter with two girls high on dendrite adhesive changed many lives
Dipanjana Dey
&nbsp | &nbsp Kolkata
02-November-2015
Vol 6&nbsp|&nbspIssue 44
It's not uncommon to see children begging on platforms or loitering around in groups at railway stations across India.
Whilst many people may pause for just a moment to wonder how the little ones get by without any money, education and parental guidance, very few actually take time out to help them build a future that does not involve battling destitution, drug addiction and crime.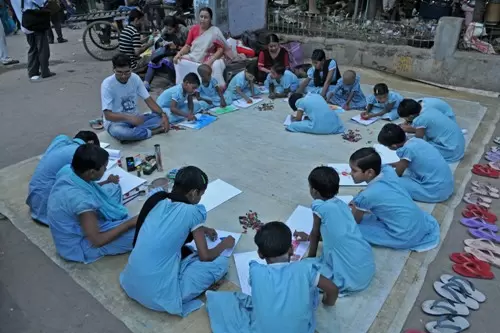 Kanta Chakroborty (in sari), a government primary school teacher in Kolkata, has opened a small, informal school for orphaned and abandoned girls in the parking lot of the Dum Dum Junction station in the city (Photo: Soumya Das Gupta\ Drugs to Education)

Kanta Chakroborty, a government primary school teacher in Kolkata, West Bengal's state capital, is one of them. She has opened a small, informal school in the parking lot of the Dum Dum Junction station where 20 girls gather every evening at 5 pm to learn to read and write in Bengali, Hindi and English.
Chakroborty uses a part of her monthly salary to run her school and while the orphaned and abandoned girls have found a mentor in her, the hardworking teacher, who doesn't have children of her own, has got her very own loving daughters.
A defining moment one evening in 2007 changed Chakroborty's life. As she arrived at the Dum Dum Junction station to catch a train back home to Bediapara two urchin girls came up to her to beg for money.
The observant woman noticed that they were high on dendrite adhesive, a common addiction among street children, so she refused to give them any cash.
Instead, at the spur of the moment, she told them that she could teach them if they were interested. The youngsters accepted her generous offer and then quietly left.
Of course, Chakroborty forgot all about her promise soon enough and so she was really taken aback when two days later one of the girls walked up to her and asked: "What happened? Why haven't you come to teach us?"
Rendered speechless Chakroborty apologised to her and told her that she would work something out. That evening she discussed the idea of teaching two girls at the Dum Dum Junction station with her husband, who backed her endeavour wholeheartedly.
Next day, armed with a few textbooks, writing pads and pens, Chakroborty sought the girls out and began taking lessons on the railway platform.
Initially, she taught the duo to read and write in basic Bengali. Later, she introduced them to English and mathematics. In a matter of weeks, from two she had eight girls studying in her makeshift classroom.
"Most of the children hanging around at the railway station are either orphaned or abandoned. They get hooked to sniffing dendrite adhesive and spend their days either begging or rag-picking.
"When I started taking classes I asked my students to give up the bad habit and take their studies seriously. They have not disappointed me so far. As word spread, I had many more girls coming up to me to ask if they could join in so I shifted base from the platform to the station's parking lot," she reveals.
Today, Tia, Monya, Priti, Doel, and several other girls have managed to get over their years of substance abuse and are working towards building a better life.
Monya can't remember how and when she got addicted to sniffing dendrite adhesive but she knows that those days of hunger and helplessness are well in the past.
"Earlier, my day used to start by picking up trash from the streets, which I sold to earn a few rupees. Nowadays, the first thing I do after I get up is to pick up my books and get ready for school. Kanta 'didimoni' has made sure that we are enrolled into proper schools. We owe her a lot," she shares.
Adds Tia, "Those who live on the streets get addicted to dendrite adhesive mostly because it kills the hunger pangs. It's difficult to give up but with Kanta 'didimoni's' help we have kicked the habit. We want to do well in school and make her proud."
Chakroborty's diligent pupils, who are between seven and 15 years old, have been accepted into nearby government schools such as Kasturba Kanya Vidyapith Dum Dum, Muktadhara Vidyalaya and Kesto Lal Hindi Academy. In fact, Priti, who is admitted to Kesto Lal Hindi Academy, will be among the first in the group to give her Class Ten exams in 2016.
However, the girls don't spend all their time reading course books or attending the extra classes that their beloved Kanta 'didimoni' still takes every evening. Their week is carefully planned out so that they get to enjoy various extra-curricular activities as well.
Fun-filled weekends are kicked off with dance classes on Friday evenings. Saturday mornings are reserved for karate coaching "because girls should know self defence", while they hit the swimming pool at a nearby club at 5am every Sunday.
Chakroborty pays half of the fees for the dance, karate and swimming lessons while the rest is absorbed by the institutions themselves. And it is certainly money well spent as the girls are doing exceedingly well.
Whereas three have a yellow belt, the rest of them have advanced to an orange belt in their karate training. Besides, Dipali and Bulbuli from this talented bunch have become proficient state-level swimmers.
Over the last few years, aside from giving them the priceless gift of education, there's a lot that Chakroborty has done for "my 20 lovely daughters" so that they have a secure living space.
She convinced the railway authorities as well as the Dum Dum Hawkers Union to give up the small retiring room they had been given at the station for their use so that it could be converted into a "safe, homely area" for the girls.
"The Hawkers Union willingly gave up their room for the sake of the girls and their kindness did not end there. They have arranged for a woman to come and cook two basic meals for them and often send over biscuits, milk, tea and even medicines when the need arises," elaborate Chakroborty.
Indeed, hawkers like Lal Kumar confess that they feel really "happy and content doing such good work" and want to help the wonderful teacher in any way they can. In fact, Kumar personally makes sure that the girls are properly looked after, well-fed and that they don't feel insecure or threatened.
Assistance from Good Samaritans like Lal Kumar and others has kept Chakroborty going. "People often donate money so that I can buy better clothes, books and food for the girls. A fellow teacher, Nita Das, is volunteering her time and has taken the responsibility of teaching a few subjects.
"Institutions have also come forward to lend a helping hand. The Bengali Shangha Barrackpore, for instance, has given a school van so that the girls can go to their schools and extra-curricular classes safely. The club even pays for the van driver," says the devoted educator.
Indeed, Chakroborty has proven to be the perfect mother and teacher for the girls.
Monya concludes, "She is the one who encouraged us to break free from our life of destitution and addiction and introduced us to books, colours and the joy of music and dance. We feel loved and blessed to have her in our life." - Women's Feature Service
Wish to share your story?
Trending Now: