Giving a 'dirty' bird its place of pride in people's mind and cultural conscience

02-November-2015
Vol 6&nbsp|&nbspIssue 44
Despite a name that comes from its stiff military gait, the Greater 'Adjutant' Stork in Assam needs protection due to its seriously dwindling numbers.

To its rescue has risen an unlikely guardian – Purnima Devi Barman, 37, of the NGO Aaranyak – whose impassioned campaign has influenced public opinion and boosted the chances of survival of this rare species.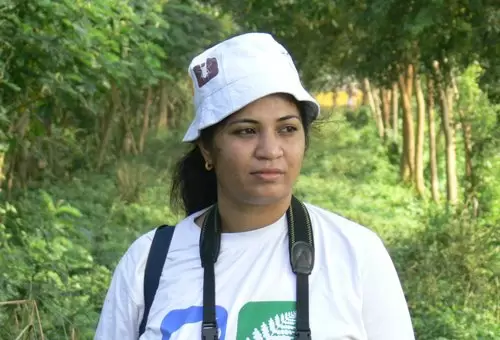 Purnima Devi Barman has campaigned relentlessly for the conservation of the Greater 'Adjutant' Stork since 2009. The results are being seen in the increase of their numbers

This is the real-life story of a bird and a little girl called Purnima, who lived, about 30 years ago, with her grandmother in Pub Majir village on the banks of the river Brahmaputra.

Her father Bhabani Kanta Sharma was an army officer, always stationed in faraway places.

Purnima was born in Jamshedpur and lived in Nashik till she was seven, after which she was sent to live with her grandma, away from her mother and siblings.

Living close to the Palababari and Deepor Beel wetlands, the lonely girl found solace in nature.

Walking a kilometre to her school, she crossed paddy fields where she spotted many birds - she wondered what they were called and where they flew to. One of these was the Lesser Adjutant Stork, common in the rice fields where she played.

There was always another quirky-looking bird – a huge, dark stork with a massive wedge-shaped bill, a pendulous neck-pouch and a white neck-ruff. But the girl didn't know its name.

It was this bird the little girl would grow to befriend and protect - the Greater Adjutant Stork.

Once widely found in the northern and eastern parts of India, and South and South East Asia, now the Greater Adjutant Stork is confined to a few scattered pockets in Assam, Bihar and Cambodia.

Of the nearly 20 stork species in the world, the Greater Adjutant Stork is the rarest.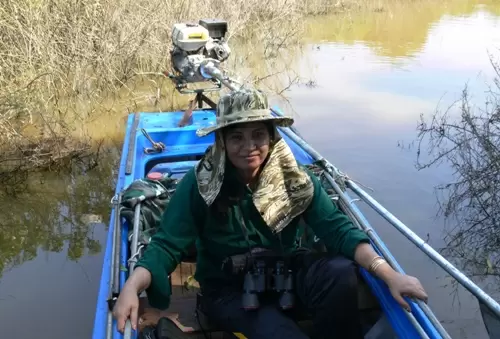 Purnima began her work in Deepor Beel, the largest wetland in Assam, because she had grown up there

Of the 1,200 of them left in the world, Assam's Brahmaputra valley alone has the highest concentration of this bird, mentioned in the IUCN Red List as an endangered species. A recorded 80 percent of them are found in a few nesting colonies in this State.

Neither conventionally beautiful, nor prized for anything much, the Greater Adjutant Stork was disliked by the locals as it was a scavenger bird, much like the vulture, and considered 'dirty'.

Its local name 'hargila' itself meant 'swallower of bones'! During the breeding season, these birds feed on small prey, but most of the year they scavenge on garbage dumps.
As they live in trees amidst human habitation and drop bits and pieces of rotten and stinking food below, they are unpopular with village folks. Irritated with the foul smell, the need for regular clean-ups, and the general cacophony made by the birds, the villagers would cut the trees to get rid of the birds.

Meanwhile, unknowing of this, Purnima finished her schooling from Dakshin Kamrup College, Mirza, and graduation from Pandu College, Maligao.

While pursuing her Masters in Zoology, with a specialization in Ecology and Wildlife Biology from Gauhati University, in 2002 she began volunteering for Aaranyak, an NGO working on biodiversity conservation and wildlife.

One of her professors, Parimal Chandra Bhattacharjee, pushed his students to attend a lecture by members of Aaranyak.

"I was highly motivated by it and decided then and there that I had to do something for wildlife," says Purnima.

However, it was from another professor, Prasanta Kumar Saikia that she heard about the declining population of the Greater Adjutant Stork (Leptoptilos dubius), that strange-looking bird from her childhood.

Purnima went with Aaranyak to the largest wetland in Assam, Deepor Beel, close to where she grew up. Soon, she joined Aaranyak as their first lady staff, working on projects related to biodiversity conservation and wildlife.

"In Deepor Beel I realized I could convince the local community very well," said Purnima.

With her deep connect with the land and people, Purnima was determined to become a guardian angel for this bird, a scavenger that was an important link in the food web.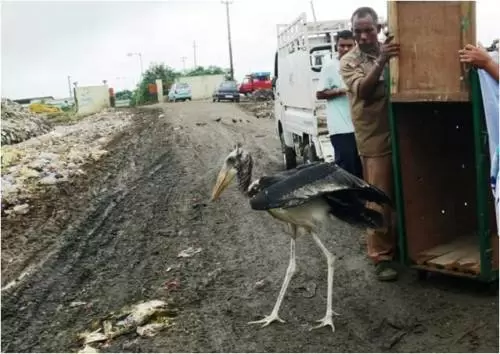 Greater Adjutant Storks are rescued by the Wildlife Trust of India and care and treatment to chicks is rendered by the Assam State Zoo

She campaigned relentlessly for the birds' conservation since 2009. The Indian Wildlife Protection Act, 1972, protects the species, but not its habitats and nesting colonies; so one could be booked for harming the bird, but not for destroying its homes.
The survival of these birds was linked directly to the owners of the trees on which the birds nested.

In 2009, Purnima received a Conservation Leadership Award for her initial work towards the protection of Greater Adjutant Stork.

The Conservation Leadership Programme, UK, is a partnership between Birdlife International, Wildlife Conservation Society, Conservation International, and Flora and Fauna International, and the award entailed a project for which she went for conservation training to China.

The training there was so fruitful that it launched her conservation career. It was a turning point in her life and the lives of hundreds of Greater Adjutant Stork who got a lease of life.

It was tough decision to leave her five-year-old twin daughters, Sampriti and Sanskriti, behind to go to Beijing for over a month, but her husband convinced her to go.

In 2004 Purnima had married Dr. Rathin Barman, then the Vice President of Aaranyak. "My work entails a lot of travelling and if not for his support, I could not have done it," says Purnima of her husband, who is now posted in Kaziranga as the Deputy Director, Wildlife Trust of India.
Back in India, Purnima's project in the Dadaria and Pacharia villages in Kamrup district involved changing mindsets, and converting the local people who disliked the birds into a community of conservationists.

"The Greater Adjutant Stork lives among human settlements," she explains. "Its conservation is impossible without the cooperation of local folk who own the trees where the hargila builds its nest."
The hargila nests on tall trees like Kadam ( Anthocephalus cadamba), Semul or silk-cotton tree (Bombax ceiba), Dewa ( Artocarpus lacucha), jackfruit (Artocarpus heterophyllus), Paroli (Stereospermum chelonoides) and the Devil Tree or Satiana ( Alstonia scholaris).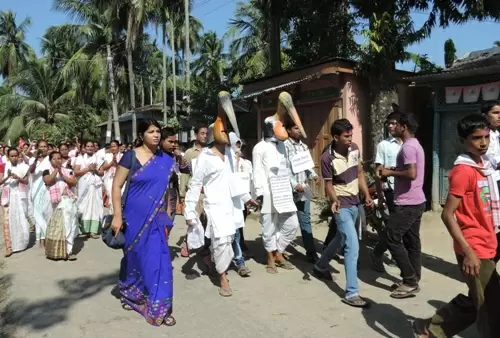 Purnima succeeded in changing mindsets of the people, and converted the villagers who disliked the birds into a community of conservationists

Purnima and Aaranyak members befriended each tree-owner family, especially the women, and won their confidence through meetings and other interactive activities such as cooking and craft competitions.

Next, they sought allies in the next generation at local school, Sankardev Sishu Niketan in Dadaria.

Gradually, as the villagers understood the importance of the hargila in the ecosystem, the local weavers even started weaving motifs of the bird on their traditional towel-cloth, the gamocha.

As a tribute, the children made a large clay model of the hargila in their school and regular prayers were held for its survival.
The second step was the rescue and rehabilitation of the baby storks that fell from their nesting trees.
The rescue facility is provided by the Wildlife Trust of India and care and treatment to chicks is rendered by the Assam State Zoo.
The villagers, who celebrate every rescue now, then release them in the wild. In a brilliant and inclusive gesture, many of these birds are named after the children of the tree owners, perpetuating an extraordinary bonding between the people and the bird.

In fact, the Dadara community is now an exemplary role model for community conservation. And Purnima has deservedly received the sobriquet of 'hargila baideu' or Stork Sister.

In 2014, she completed international field training in a remote forest area in Cambodia on nesting monitoring and biology of the stork at the Prek Toal Bird Sanctuary, situated on Tonle Sap Lake, the largest freshwater lake in Southeast Asia.

Just back from a recent event in Sensowa and Khutikotiya villages of Nagaon district of Assam in October 2015, Purnima is brimming with the characteristic enthusiasm she is known for.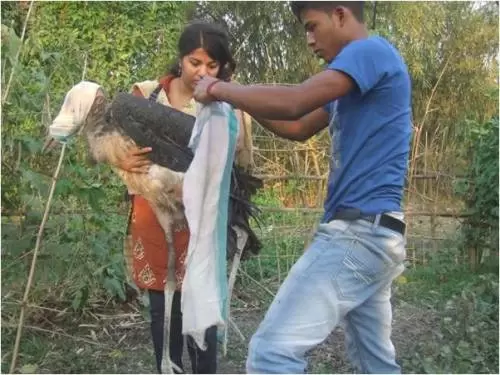 Purnima's rescue and conservation efforts are yielding results on the ground. According to a survey, there were 28 nests in 12 trees in 2006 in Dadara, which had increased to 171 nests in 55 trees in 2014

Fifteen years ago Nagaon district had a large colony of Greater Adjutant Stork, but today only a few trees remain for them to build nests. The schoolchildren and residents there have now taken a pledge to protect the hargila.
Along with local conservation groups and the school, Aaranyak had felicitated three residents as 'hargila mitra' (friend of the Greater Adjutant Stork).

"I have made up my mind to protect the hargila all my life," says Nirola Bora, a 'hargila mitra' from Khutikotiya village. The silk-cotton tree she protects houses five nests.
Purnima is happy about the 14 new nests currently being built on trees protected by the villagers.

Things are looking up for the Greater Adjutant Stork. In 2015, Aaranyak has received the Future Conservationist Award. Significantly, according to a survey, in 2006, there were 28 nests in 12 trees in Dadara; these had grown to 171 nests in 55 trees in 2014!

In a world that is selective about the species it chooses to protect – usually either the cute or the commercially significant – this story of the storks and their 'sister' is more than likely to become local legend.
After all, in it both a little girl and a big stork take flight. Together.
Wish to share your story?
Trending Now: