A freedom fighter started the Sri Ramakrishna Sevashram, leaving his business
G Singh
&nbsp | &nbsp Kolkata
29-June-2015
Vol 6&nbsp|&nbspIssue 26
There are at least fifty reasons why Sudhanshu Biswas will not meet you at noon, not even on a Sunday. They are the boys who live under his care, and they are his first priority.
It's prep time for their lunch and he has to oversee that first. The bell rings to sound 12 and the boys rush out of their rooms, pelting into the lunch room where they are served a satisfying rice, dal, chicken, mangoes and payesh.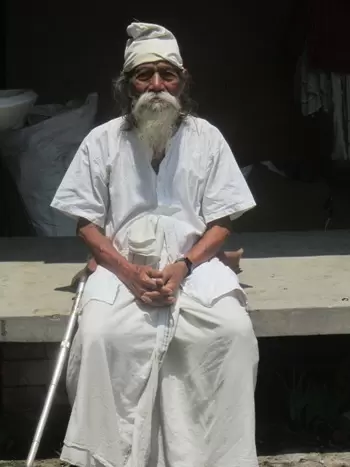 Sudhanshu Biswas is a follower of Sri Ramakrishna, the 19th-century spiritual teacher
This is not their parents' home, nor their grandparents'. But it's the only real home they have had. And it belongs to them - and to their collective Dadu (grandfather), Sudhanshu Biswas.
At 97, Biswas seems to defy age, clad in a white ganji (vest) and dhoti, a white cap perched on his head. But don't be fooled by his skinny frame and his walking stick.

He is indefatigable, and that is probably because of his heart – it's in the right place. And so is he – away from the hustle and bustle of the city in the green environs of a village, which he has put indelibly on the philanthropic map of India.

Here, in village Ramkrishnapur, South 24 Paraganas, West Bengal, around 35 from Kolkata, the nonagenarian runs a home, Sri Ramakrishna Sevashram, for destitute children and senior citizens.

Biswas asks the children to pipe down and offer prayers, before they eat, to Sri Ramakrishna, the 19th-century spiritual teacher of whose teachings he is a follower.

Once lunch is served, the Good Samaritan turns his attention to less important matters. Like journalists marking time in his office room.

It's worth the wait.

His life story reads like a film script. "I was born in this very village in 1918," recounts Biswas. "My family was closely connected with the Ramakrishna Mission and its activities.

"We led a very simple and pious life inspired by the teachings of Swami Vivekananda, Sri Ramakrishna's most dedicated and celebrated disciple."

At a very early age young Sudhanshu was sent to Kolkata (then Calcutta) for studies. However, it was a time of political and social turmoil, and Kolkata was the hotbed of the struggle for freedom from British rule.

It was not surprising that the young man came into contact with several freedom fighters and was forever touched by their fiery determination to free India from British subjugation.

"Though I was sent to complete my education in the city," he recalls, "my focus was on the freedom movement."

He fondly recollects his two meetings with Mahatma Gandhi, and one with Bhoodan-movement leader Vinoba Bhave when he visted Kolkata, and rues the fact that he couldn't meet Netaji Subhas Chandra Bose despite several attempts.

Biswas, like so many others in the freedom movement, was persecuted and jailed for his patriotism. After his release, he moved to a place near the Sunderbans where he started a business in plastics.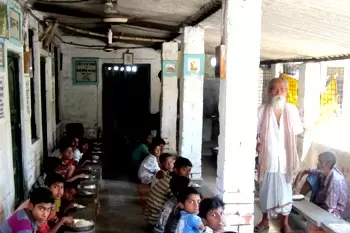 The Social Welfare Department of Government of West Bengal sends orphan and destitute children to Biswas' home
It was a successful enterprise, but he was deeply moved by the plight of abandoned children whom he saw in enough numbers around him.

He then put his earnings into 17 homes for the poor and destitute in and around the Sunderbans, which are still operating. In the early days, he maintained them, but now they work on their own.

"I remembered the teachings of Swami Vivekananda who had asked his devotees to work to uplift the marginalized," Biswas says. "In a moment, I decided to dedicate my life to the service of humanity."

However, finding it hard to juggle his social work and his business, he finally chose the latter and turned it into his life.
In 1973, he returned to his village and began to construct a home on his ancestral land.

"I always felt that education is the key for the better future of any nation," says the bachelor, "and I wanted to work for those children who were destitute and had no one to look after their education and other necessities. I began providing food and accommodation to homeless children or those who didn't have any earning member in their house."

These children are sent to the home by the Social Welfare department, Government of West Bengal. Boys like Ranajit Sahu, for instance, who was abandoned by his parents. He was brought to Sevashram when he was six. Now he is a happy 11-year-old studying in Class III.

"We take children who are around five years old and provide them with free education and bear all their expenses till they clear their higher secondary examination," says Biswas.

At present, no girls are admitted, as the home doesn't have the infrastructure to accommodate and look after them. The boys live in a dormitory system in the home, and are often seen bathing and splashing about in the four in-house pukurs (ponds) on the 30-bigha campus full of greenery.

Till class IV they are taught at the Ashram, after which they go to two nearby schools –Durgapur Krishnachandra High School and Bharu High School. Normally, they stay in the home till the age of sixteen.

Apart from children, senior citizens, such as Ira Chakrovorthy, also live under the same roof for a very nominal fee. They are also provided with food and medical facilities.
The senior citizen, a widow, does not want to burden her poor son and daughter-in-law. "I am happy here," she says, "and wish to live here till the end comes."

The care of 50 boys and 6 senior citizens- they plan to soon increase that number to 10 - requires minute to minute effort beyond even Biswas's untiring dedication. That's because his heart embraces all, inmates and outsiders alike, and inspires many.

Pragmatically, a 15-member executive committee has been put in place to look after the day-to-day activities of the home. The home-running requires about 1.5 lakh rupees per month. Some of which comes from the State Government, but irregularly. The home mainly runs on donations from well-wishers.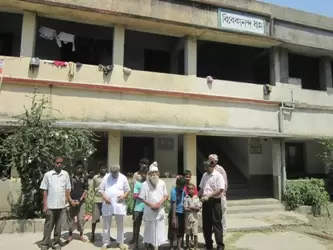 A 15-member executive committee manages the activities of the home
S.K. Bagchi, the president of the executive working committee and a physician by profession, says that they organise free health camps for villagers from time to time and provide an ambulance service for a small charge, besides running a course for health workers.

"We not only work for the children and senior citizens, but also for the villagers who seek our help," he says, while lamenting the fact that a half-kilometre patch connecting the home to Dakshin Durgapur railway station is in need of urgent repairs.

His comrade in compassion is Ashok Basu, the vice president of the working committee and a retired employee of the Steel Authority of India Limited (SAIL). He became associated with the home three years ago and says, "I decided to dedicate the rest of my life to those who need a helping hand."

Despite being senior citizens and suffering from ailments, both travel to the home every Sunday to look into the needs of those living there and chalk out future plans, most of them to do with education and empowerment of the underprivileged.

The clock sounds 3 pm, marking resting time for Biswas. He has been up since 5 am, the usual time he awakes to ensure that the boys have woken up in time for school. Short respites are all he gets.

His dream of having a temple dedicated to Sri Ramakrishna in the home premises is finally taking shape, but is only half complete due to the lack of funds.
The home is soon starting courses for paramedics, electrical wiring and mobile repairing for a small, affordable fee, to help young people from non-earning families stand on their feet. There are many things to do, many miles to go.

As Dadu leaves, and the sun follows him to set behind the mango groves, Sri Ramakrishna's beloved disciple Swami Vivekananda's words echo silently: "This is the gist of all worship – to be pure and to do good to others. He who sees Siva in the poor, in the weak, and in the diseased, really worships Siva, and if he sees Siva only in the image, his worship is but preliminary."

By all counts, Biswas is a true devotee – of both god and humanity.
Wish to share your story?
Trending Now: