Worker's gesture goes to inform that to give away, all you need is a big heart
Anil Sharma
&nbsp | &nbsp Jaipur
31-January-2015
Vol 6&nbsp|&nbspIssue 5
A labourer in Rajasthan's Jodhpur city has proved that you need not be very rich if you want to do charity. All you need is a big heart.
Shakur Mohammad, a 62-year-old who works as a daily wage labourer, had acquired six plots of land in 1984 for Rs.4,000. Now, he has donated three plots of land valued at over Rs.1 crore ($163,000) at current rates for setting up a hospital, a madrasa and a masjid and is to donate another plot for establishing a diagnostic laboratory.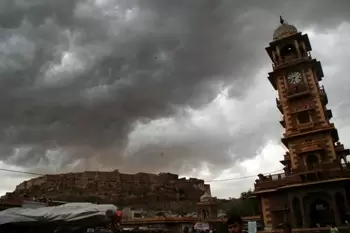 Shakur Mohammad, a labourer in Jodhpur, has donated land valued at over Rs.1 crore for worthy causes. Photo shows the Mehrangarh fort and clock tower in Jodhpur (Photo: Indian Photo Agency)
Each of these plots is of 150 square yards and is today worth not less than Rs.25 lakh each. Mohammad has given the remaining two plots to his two daughters.
He first donated a piece of land around two years ago for setting up a small hospital in his mother's name. Former Jodhpur mayor Rameshwar Dadich constructed a primary health centre there at a cost of Rs 40 lakh.
Now over 50 patients visit the centre every day to consult the doctors there.
"After donating land for the hospital, I became very satisfied and happy," said Mohammad.
"Since then I started this exercise of donating land. Though I am uneducated, I want children of my community to study and so I donated another piece of land that I owned for setting up a madrasa and now work is going on there," he added.
"On a third plot I am trying to construct a masjid for which I seek donations as I do not have funds," he said.
As he is short of funds, he himself doubles up as a mason - besides his normal work as a daily wage labourer - to construct the masjid. Wearing torn clothes and a worn out mojari (Rajasthan-style shoes also known as jootis) and with uncombed hair, he toils for hours daily.
"I am not going to stop here. I am going to donate a fourth plot to the government for setting up a diagnostic laboratory. Talks are on with the government in this regard," Mohammad said.
Speaking about the land, he said: "When I bought the six plots they had no value. I do not have any sons. I have two daughters so I gave a plot each to both of them," he said, adding that now he lives in the house of one of his daughters along with his wife.
"I do not crave for worldly things, I love a simple life," he added.
Asked where he had earned the money to buy the plots, Mohammad smiled and said: "Look at my face and clothes and worn out chappals; I earn money but I do not spend. I wear one set of clothes for days and only buy those things which are very necessary for living," he added. - IANS
Wish to share your story?
Trending Now: