Launching Samadhan helped the activist channelize her energies for helping women

Partho Burman
&nbsp | &nbsp New Delhi
24-January-2015
Vol 6&nbsp|&nbspIssue 4
It was a chilly winter noon. A crazy teenage biker, she was filling up her Yezdi at a petrol pump in Lucknow. That's when she noticed a sight that shook her to the bone; a 12-year-old girl was waiting in queue at a ration shop in the vicinity with blood oozing from beneath her frock.

At 15, Renu Singh, the biker, sensed that the girl was in trouble. She gestured to the girl to get on her bike. In the wink of an eye, the girl hopped on. She was desperately waiting to be rescued.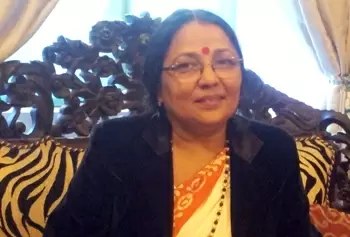 Renu Singh has rescued hundreds of women victims of violence in the last 35 years
They whizzed past the people around, some of whom could be heard shouting, 'pakado, pakado…bhag gai…' (Catch them, they are on the run). Holding the biker tight, the little girl in the pillion cried in fear, 'Didi hamaka bachaye leyo…' (Save me sister).

The duo made it safely to Renu's home. Daughter of Dr Shakti Dhar Singh, who was principal of a college, Renu was not an unknown face in the town.

A crowd that followed the girls landed at Renu's house and started banging the gate, shouting that the girl be handed over to her dad. It did not matter to them that the girl was a victim of incest. She had been raped by her father.

Khaki-clad men arrived. Tension flared up. The victim was forced to return with the perpetrator. The police refused to file an FIR.

Six months later, Renu learnt that the 12-year-old was married off to a 42-year-old widower only to be found dead in a village pond within a week.

"This gory incident was too much for me to digest. I suffered in silence for days together. I used to keep awake at night pondering over my incapability to save the girl.

"My mom would console me but to no avail. It was then I discovered the purpose of my life. Thus the activist in me was born," recounts Renu.

With the hearty support of her grandma Kuntala Devi, an activist herself, Renu, 51 now, launched `Samadhan' (Solution), a small work group of likeminded teens, investing a paltry Rs 10.

The number in the group swelled gradually. In 1994, a decade later, she realized the need to register it as an NGO.

"Our objective has always been clear and well pronounced – to be the crusaders of gender justice and toil for a violence-free globe for women and children," she says.

Ask her how many victims she has rescued till date, Renu says, "Approximately 3800 women victims of violence." They are from all age groups and a majority belonged to the marginalized communities.

Out of her 35 years of service, she asserts that every single woman in this planet irrespective of class and race would have suffered some kind of violence but only a very few gather courage to speak up.

"Many a time the victim herself is unable to realize she is a victim, for certain forms of sexual violence are subtle and sly but million times more fatal than the ones which are pronounced and identified," Renu opines.

Some of the girls Samadhan had rescued are now activists fighting for women's rights. Many are pursuing a career in law, says Renu, a lawyer herself.

On crimes against women, she claims conviction rate in India is a meager 13.7 percent while it stands at 97 percent in cases taken up by Samadhan where the survivor is not exposed to post-rape ordeal.

A recent initiative, Samadhan's Mobile Legal Clinic (MLC) aims to make women their own protectors. Survivors work as paralegal volunteers to provide legal aid for their community.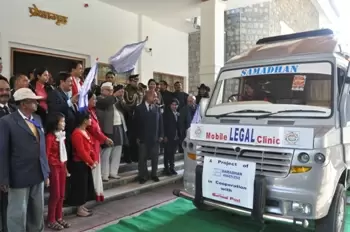 Samadhan's Mobile Legal Clinic takes legal assistance to the doorsteps of women in distress
"Over half of the women population in India has no access to criminal justice system. That is why our MLC chips in with legal assistance at the doorstep of women in distress," explains Renu, who is open to partnering with other NGOs to expand the initiative to south.

Samadhan is particular about fiscal probity. "We refuse donations from tax defaulters or persons with dubious background. We firmly believe that money used for a noble cause has to be clean money."

Renu's organisation is supported by highly-placed professionals including those in the Armed Forces.

Though hailing from the blue blood lineage of Rana dynasty of Mewar Rajasthan, her family does not live in luxury. Their living space, she says, is limited to 1000 sq ft, while three other floors with 7000 sq ft are dedicated to service.

She may be a lawyer, but she is proud of her identity as a social activist. "I could not have done anything better than what I have been doing, that is activism, in the last three decades. It is my blood and soul, my identity," she says.

Her husband Sanjiv Sarkar with whom she has a lot in common to share and debate is a pillar of support in her mission to offer support to distressed souls.

She personally attends all calls on the helpline 09897757509, without expecting her staff to do the work. This helps her steer Samadhan through thick and thin.
Wish to share your story?
Trending Now: