A teacher treks to a high altitude desert, only to reach out to underprivileged students

08-November-2014
Vol 5&nbsp|&nbspIssue 45
Three days of continuous walking after a ten hour mountainous drive will tire anyone out. When you do this in a high altitude desert where less oxygen demands you breathe slowly, it will exhaust you even more.

But what if, at the end of the journey, you are received with the warmest welcome, like loud clapping and cheers by hundreds of students who waited for five hours to greet you. It would in all probability bring a big smile on the most travel-weary face.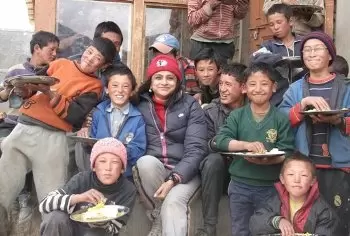 Sujata Sahu, the founder of 17000ft Foundation, chilling out in the mountains with Ladakhi children
This is exactly the reception Sujata Sahu got at a government school in Ladakh when she went to donate books, library stationery and school furniture for the very first time in July 2010.

Recalling her first solo visit, carrying 900 kg of education material, including books on 25 horses, Sujata Sahu, the founder of 17000ft Foundation was struck by the simplest thing.

"Ladakhis value what you give. They want their children to learn. They have food to eat, land to live, but no quality education. They send their children to faraway places for studies," says Sahu.

Sujata, introduced to trekking by her husband, is a mother of two who lives in Haryana's Gurgaon. She was a teacher at the Shree Ram School, a well-known elite school.

Even before starting her foundation, she loved visiting Ladakh and took the occasional science and mathematics class for the local children.

But the devastation caused by the 2010 flash flood to the region prompted her to increase her commitment to the Ladakhi people. Within a year she quit her job and decided to work for the children in Ladakh.
Setting up the Foundation in 2012, they signed a MoU with the Department of Education (DoE) of one of the two districts of Ladakh – Leh. An in-depth survey map led to a common goal - to train the schools to become self-reliant in 3 to 4 years and to build capacities locally.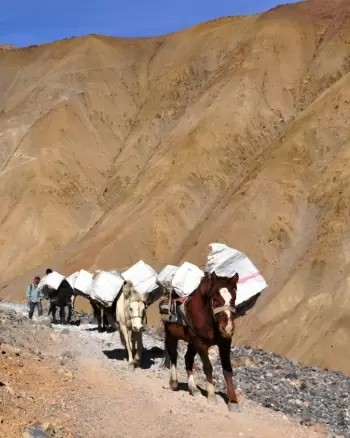 Horses are used to carry books and other materials to the remote schools
By 2014, 17000ft Foundation has been able to donate 50000 books. They have set up playgrounds in 15 schools and provided classroom furniture to roughly 20 schools.

According to Sahu, her foundation has directly been supporting 8000 students and indirectly approximately 30000. "Currently, the DoE, Leh District has made our Library Programs mandatory and is implementing them in all government schools there," shares Sahu.

The geography behind these statistical achievements is revealing. Spread across 65000 sq. km Ladakh has two districts - Leh and Kargil, with a total population of 3 lakh. 1000 government schools service them.

A local government allowing them to work hand in hand along with a society which culturally values learning makes Sujata grateful.

"We first adopted the schools in Leh district, 370 schools, including 60 private ones. At present, precisely 100 schools are being supported by us. Over 675 government teachers have been provided training.

"Our trained volunteers travel across the region to conduct workshops, share story-telling ideas, take library stock and collect the data for addressing any issues on immediate basis. We want to improve the existing infrastructure," she says.

The region where they work has limited or no access to electricity or telephone connectivity. It is open for six months and becomes inaccessible by road from November to March when snow takes over and temperatures drop to minus 35-40 Degree Celsius.

Sahu tells how her foundation got its name. "Breathing becomes tougher beyond 17000 ft. However, this area has the biggest school with 100 students, which reminds me that there are 17 more schools beyond this."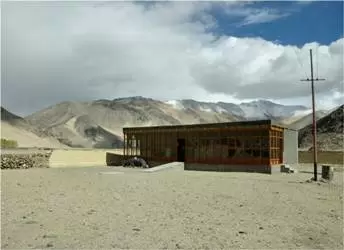 A school in a remote corner of Ladakh that is covered by Sujata Sahu and her team of volunteers
Sharing her surprise, she adds, "Ladakhi children are cricket and football crazy and are slowly taking to ice hockey as well. Do you know there is a village called Yurutse which has just one house with five people living in it? One of whom is a student, but there is no school here. It takes a two and half hour walk just to reach the next village. Nobody thinks of visiting these remote villages besides those interested in tourist spots."

Which is why in April 2013, they launched Voluntour. This project engages the tourists to stop at any one village and teach.

"Primarily, the aim of sending volunteers to remote schools is to increase exposure and conduct short multi-day day workshops on various subjects like Reading, Art, Conversational English, Science etc.," she clarifies.

Accommodation is provided by one of the village homes, so that the tourists can interact with the local culture in a homestay space.

"As of now, we have 180 volunteer tourists, going to any of the 100 schools.90 per cent of these are Indians.

"Schools which have a shortage of teachers communicate with the Foundation directly regarding their needs and long term volunteers whose credentials match the requirements are sent, to teach very specific subjects for specific durations," says Sahu.

How she intends to take this forward brings us to her upcoming project. "We are planning to introduce a Mapmyschool project. It's geo-mapping of all the schools situated in the most remote areas of Ladakh.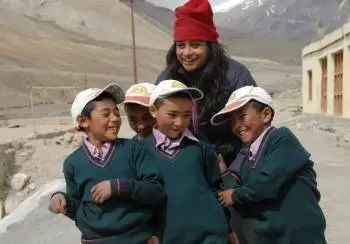 17000 ft Foundation is supporting 100 schools in Ladakh
For instance, if a traveller wishes to visit a tiny school with five students (he or she) can locate the school on the website and visit it."

Another project called Yountan on skill development for older school dropouts is being given finishing touches.

"We have recently entered into a MoU with the Kargil District administration to start our mapping and survey in their schools and are poised to set up a 100 more libraries in Kargil within the next one year," beams Sahu.

Since this is not-for-profit work, how does she fund the projects?

"Through personal references going to corporates and public sector banks like SBI, HDFC, KFC has helped the funding for material. 20 per cent of the funds have come from volunteer tourism. We have 10 permanent staff with salaries and a rolling count of 10 volunteers with paid stipends.

"Over 90 percent of our staff are young Ladakhi graduates whom we have trained. At present, neither my husband nor I take any salaries but hope to pay ourselves starting the next year."

Sahu says the nicest surprise for her has been to see financial assistance coming from strangers. Strangers who know how exhausting, yet fulfilling education work at 17000 ft. and beyond is like!

To know more about Voluntour you may visit http://17000ft.org/

Trending Now: