Resilient children teach their teacher lessons on strife, struggle, survival
Kulsum Mustafa
&nbsp | &nbsp Ladakh
26-July-2014
Vol 5&nbsp|&nbspIssue 30
What happens when a big city girl steps out of the comfort of an urban milieu and decides to spend a few weeks in one of the most isolated regions in India? She ends up imbibing some of the most unforgettable lessons about life, strife, struggle and survival – and that too from a bunch of six year olds.
When 20-something Sumitra set out from Mumbai to a quiet village on the Indo-Pak border in Ladakh, she was all geared up to teach English to second graders at the Jamyang Boarding School, home to over 300 children, a majority of whom have either been orphaned or are first generation learners from poor families.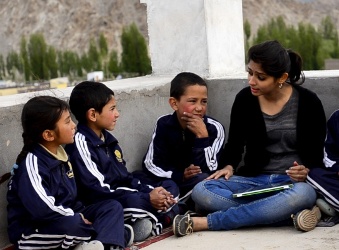 Sumitra spent a month at the Jamyang Boarding School on the Indo-Pak border in Ladakh teaching English to six year olds (Photos: WFS)
A month later, the teacher ended up becoming the student, as she not only got a closer look into their hard life but also came to appreciate all the basics that city children take for granted – a safe and peaceful neighbourhood, running water, proper sanitation, nutritious food, and most importantly access to good education.
"After I arrived at Jamyang Boarding School, which takes in children from Nursery to Class Five, I saw that it was nothing like I had imagined it to be. From cheerful classrooms and dorms with weather-friendly wooden interiors to solar electricity, the school was fitted with all the modern amenities.
"But what made this institution truly special were its bright students many of whom were orphans or came from impoverished homes. Despite the difficulties they had already encountered in their young lives, they were happy and eager to learn," she recalls.
Sumitra was given the responsibility of introducing to a class of 25 youngsters the joys of learning the English language. "In the beginning, I thought I would get to know my students better by asking them to talk about their families and share their likes and dislikes.
"But whenever I tried to initiate such a discussion they would just clam up. That's when I realised that besides imparting textbook knowledge I would have to work with them to boost their confidence and teach them some basic people skills that would come in handy as they grew up," she elaborates.
With this in mind, Sumitra prepared lessons that focused on conversational English. Each day, after a short ice-breaking session, she'd take up a general topic, like how to speak to a shopkeeper or how to conduct a telephone conversation in English, and engage with the children using audio-visual clips and attractive pictorial games.
"Occasionally, I'd take classes on the terrace where they were free to talk on any topic of their choice. Those were really fun times as we discussed everything under the sun – from how rainbows are formed to where dinosaurs have disappeared in the process of evolution!" she shares.
To make the process of learning even more enjoyable Sumitra decided to conduct a few out-of-classroom sessions, too. For instance, one time she took them bird watching so that they would know all about the local avian life – "we managed to spot around 50 different species". Another time, armed with telescopes, they did star gazing to gain practical knowledge of the solar system.
A couple of weeks into her tenure and the innovative teacher as well as her eager wards were finally comfortable in each other's presence. For Sumitra, however, the real breakthrough came when she put forth the idea of producing a short fiction booklet with the second graders.
She explains, "When I told them that we were going to work together to write and illustrate an original story they became very excited and immediately started giving ideas. I was quite taken in with their enthusiastic response. In no time, they had fleshed out the three main characters – a Chinese, a Pakistani and a Ladakhi man."
In the action-packed adventure penned by the children, the three protagonists always fought with each other. But even as the all powerful Chinese and Pakistani made several attempts to kill the Indian, he managed to triumph in the end.
The conclusion: the Chinese and Pakistanis are "evil" and should not be befriended. "Though I was thrilled that my students had become so involved in the project, the story that finally emerged was based on violence and hatred and that disturbed me a great deal.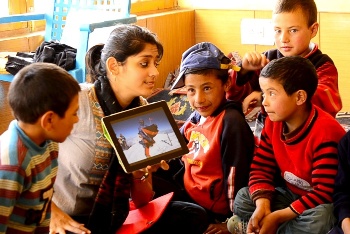 Making learning fun: Sumitra conducts a class using audio
visual clips and pictures
"I realised that this was the fall out of living in a heavily militarised region, under the constant threat of gunfire. It dawned on me how different my childhood had been and how much support, love and encouragement these children needed in their lives if they were to ever lead a normal existence," she says.
Sumitra got another a peek into the workings of their innocent minds when she asked them to form simple sentences expressing the one thing that made them happy, sad, scared and angry.
She recalls, "As they spoke, I perceived a range of emotions on their faces – from joy to mild resentment to outright fear. One boy said that he was the happiest when his parents visited him every second weekend. Another said that he became extremely sad when he ran out of money and couldn't visit the local shop to buy biscuits.
"A few of them told me that they were scared of heights, even as others said that they were scared of darkness and of India and Pakistan fighting. Where any ordinary city child would have been troubled by not getting to watch their favourite show on TV or be able to throw a lavish birthday party for their friends, here were children who had been forced to contend with real issues related to conflict and survival so early in life."
Time literally flew once Sumitra developed a bond with the children. "When my tenure came to an end I asked my students what they had liked best about our sessions together. Their honest feedback will stay with me forever.
"They told me that they loved listening to me because the knowledge I was imparting to them was priceless. With me, they felt free – free to share their hopes and ask innumerable questions!" she recalls.
On her last day at Jamyang, Sumitra and her students "sang and danced to our hearts' content; they taught me a few Ladakhi folk tunes, we clicked infinite photos, hugs were exchanged and we laughed like there was no tomorrow".
This was a remarkable, eye-opening experience for the young woman. "These resilient children have taught me valuable life lessons – always look forward, talk less, listen more and be a brave survivor no matter how difficult the circumstances," she concludes. - Women's Feature Service

Trending Now: