Targeting rural households that have no access to clean energy products

19-July-2014
Vol 5&nbsp|&nbspIssue 29
Ajaita Shah launched Frontier Markets (FM) in 2011 targeting the base of the pyramid (BOP) households in rural India that had little access to clean energy products like solar lights or smokeless stoves.
It was a decision that would better the quality of life in thousands of households which depended on polluting traditional fuels like kerosene to light up their homes, and also provide additional income to small retailers in the villages who would become franchisees for FM.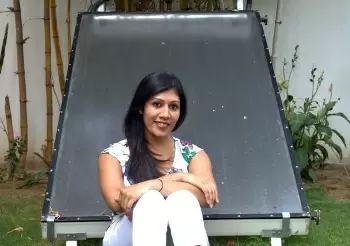 Ajaita works with 225 rural franchisees in Andhra Pradesh and Rajasthan
Based out of Jaipur, Rajasthan, they are currently operating in 700 villages, and have sold 20,000 solar solutions, which include products ranging from solar lanterns (priced at about Rs. 600) and solar inverters (costing about Rs. 20,000).
FM works with partner channels like microfinance institutions (MFI), self help groups and NGOs which have good grassroots presence, and locally trained field staff, to reach its target segment of BOP households.
The company does not manufacture products, but sources solar products in bulk and retails them through 225 franchised outlets that sport the brand name of 'Saral Jeevan'. These outlets form the backbone of their sales and service network.
FM had found the model of working with MFIs and local kirana shops very effective during a pilot study it conducted with Ujjivan Financial Services in Chitradurga, Karnataka, in 2009.
FM had introduced Whisper Choice Sanitary Napkins and Volini Gel, a pain reliever, to Ujjivan members. But Shah realized that it would be easier to sell products that customers valued more and zeroed in on clean energy products.
"FM is impacting every stakeholder in the BOP market. We sell to the BOP households through our wholesale and retail points. We move products by creating franchisees out of rural traders and small retailers," says Shah, who has been an active educator, collaborator, and catalyst in helping scale clean energy access globally.
Franchisees are given competitive margins and receive marketing support from FM.
"We started FM with a clear understanding of the actual model," says 29-year-old Shah, who was recently named in Forbes Magazine's Top 30 Under 30's Social Entrepreneurs of the Year.
Born in New York, Shah did her graduation in International Relations and International Development from Tufts University. While doing her under-graduation, Shah, who travelled to many places around the world, eventually landed in India.
Though she had been visiting India since her childhood days, she decided to work in India only after she started working in the US Congress on South Asia policy.
She applied for the America-India Foundation Service Corps fellowship program to work in India in microfinance and has never looked back since then.
Besides being a Clinton Service Corp Fellow (2006), she has been an Echoing Green Fellow (2012), Cordes Fellow (2013), and has also received the most influential award in Microfinance for people under 30.
Shah's background in microfinance – she had been in the field in India for about 4 years having worked with Ujjivan as a Credit Plus Manager and Director of Swayam Krishi Sangam – helped her to understand the BOP market and plan the strategies for FM's growth.
According to Shah, it has been very challenging to work in the clean energy sector. While Shah and FM provided easy and clean energy solutions, the villagers had problems in accepting the new innovation. They had no clue about solar energy.
"Rural consumers have low levels of brand affinity and low exposure to products. They also have unstable cash flows from their seasonal, agriculture based economies," says Shah.
This challenge was taken by Shah head-on, and she started educating people about the benefits of clean energy.
"Building brand affinity in the rural market requires high- quality products that can gain the trust of customers. Product companies must know what kind of product to introduce, at what quality and at what price. This is exactly where FM adds value."
Shah also started the 'Solar Saheli campaign' to empower rural women in becoming solar entrepreneurs in their communities and spreading news about solar products directly to other women.
"This program was inspired by the experiences of organizations like Solar Sisters (an international social enterprise), Mary Kay, and Tupperware (US based marketing companies), which believed in training, inspiring, and mentoring women to become income-generating entrepreneurs," says Shah.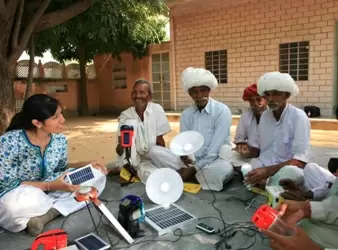 Frontier Markets has sold 20,000 solar solutions among BOP households in rural India
Shah believes each and every household deserves access to goods and services that will enhance their health, wealth, and productivity.
She calls FM a "for-profit business with a social mission" to eradicate deadly killers like kerosene and ensure a more energy-equitable future for millions of BOP households.
"Our brand is based on customer trust. Unless rural households can rely on us for dedicated service, education, and continued local presence, they will go back to using dangerous forms of energy," she says.
According to International Energy Agency's World Energy Outlook 2011, India has the largest number of people without electricity. About 33% of the total households in India lack access to electricity.
Many depend on fuels like kerosene for lighting and cooking purpose and are exposed to carbon emissions.
FM has partnered with five energy companies and has expanded into 16 districts in Andhra Pradesh and Rajasthan.
"With efficient distribution and superior service, we hope to light the lives of 10 million households in five years," says Shah.

Trending Now: