'Treatment must be equitable for all patients, rich or poor'
Manasa Ramraj
&nbsp | &nbsp Chennai
12-July-2014
Vol 5&nbsp|&nbspIssue 28
At 87, Dr V. Shanta runs one of the biggest and busiest cancer hospitals in India with the same passion and enthusiasm as she did when she had started out nearly 60 years ago.
Every morning, the ever smiling doc goes on rounds at the Adyar Cancer Institute in Chennai, which is known for its quality care and world-class facilities, interacting with patients and mentoring the doctors on call.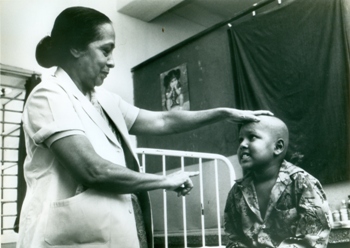 Dr V Shanta, the ever smiling doc, who has been conferred with the Magsaysay Award, cares for the ailing with immense patience and dedication (Photos: WFS)
Despite the fact that she comes from a family of scientists and Nobel laureates - S. Chandrasekhar and Dr C.V. Raman, who is her grand uncle - Dr Shanta decided to become a doctor, inspired by Dr Muthulakshmi Reddy, the first woman medical graduate in the country.
"I should say it is destiny. I don't know why I decided to become a cancer specialist, but I know why I chose a career in medicine. While naturally everyone in my family looked towards Dr C.V. Raman and S. Chandrasekhar for inspiration, I was driven more by the need to achieve something in life," shares Dr Shanta.
Recalling her early years, Dr Shanta says that for her the biggest take away from her teachers and family was to be selfless in her profession - "from them I learnt the principle 'to give and not take'."
Joining the cancer ward of the local government hospital was the big turning point of her professional career. "That's when I directly came under the influence of the late Dr S. Krishnamurthy, an idealist, visionary and a strict disciplinarian, who became my mentor. He had come back from the United States to set up a cancer ward in a government hospital," she says. Incidentally, Dr Krishnamurthy also happened be the son of her childhood idol, Dr Reddy.
From sound professional knowledge to a solid work ethic, Dr Shanta gained a lot from her association with Dr Krishnamurthy. And today, she is carrying forward this legacy as the Chairperson of Adyar Cancer Institute – founded by Dr Muthulakshmi Reddy – that has grown from a 12-bed, two-doctor cottage hospital to an institution that has a reputation for providing subsidised treatment to the poor.
"I feel privileged to be a part of the journey of the growth of this institution. We have gone through tough times but we have a sense of great satisfaction in what we have achieved. Our institute is unique in that we provide treatment free of cost to 20 per cent of our patients. We want to raise this number to 30 per cent.
"Of course, we need the funds for it as we don't have a big trust. I hope this institution can work on the lines of the Mayo Clinic in the US that provides affordable yet world-class healthcare. The Mayo brothers earned a lot of money, and wanted it to go from the rich to the poor," she elaborates.
As it is, cancer is considered a dreaded disease in India. Even today, there are several myths and fears associated with it, which Dr Shanta has been trying to dispel in her own way. The first thing most of her patients want to know is whether they can be cured?
"When people ask me this question I have to take a very sensitive approach. There are times when I can emphatically say yes. But in situations where the odds are not looking good, I try to couch my answer in terminology that gives some hope. The toughest is when someone comes to us in the advanced stages; it becomes very difficult to convey to them for how long they will live," she says.
Dr Shanta believes that "lack of awareness and a sense of complacency borne out of fear", especially among the underprivileged communities, is behind the escalating number of cancer cases, particularly those of women suffering from cervical and breast cancer.
"A combination of mindset and limited understanding has perpetuated myths about cancer. For instance, people are not aware that cervical cancer is curable and that there are seven symptoms to watch out for. I agree that cancer is a not a simple disease but people need to change their attitude.
"They have to be in the know of symptoms and approach doctors or experts when they show some warning signs," she cautions.
Of course, cancer treatment and care-giving has come a long way. Vividly recalling her early years in this field, she explains, "Surgery and radio therapy were the only options available for patients at the time.
"As detection of cancer was not an easy job, we inevitably got patients at an advanced stage, and many of them did not opt for radiotherapy because of the extreme side effects. There used to be some level of exploitation of patients as well and that was why Dr Muthulakshmi and Dr Krishnamurthy stepped in to set up a separate wing for cancer care."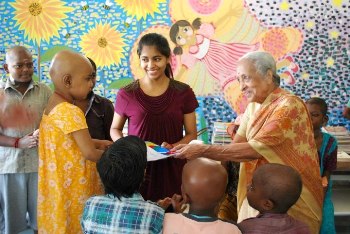 Dr. Shanta believes that treatment must be equitable for all patients, rich or poor
Having stepped into the shoes of her mentor and his mother, Dr Shanta found that running a cancer hospital was no simple feat. There have been many tough moments along the way, "Everyone imagines that the hospital is well established so it would be easy to run. Few people know of the difficulties that we face internally. Fund crunch is the biggest hurdle when it comes to providing quality service and we are struggling to get donations to meet our basic minimum costs."
Talking about the current status of cancer treatment in India, she says, "As far as patient care is concerned, India has attained global standards and our therapeutic facilities match the best in the world. However, initially we were a little slow in providing priority care. In fact, many people opposed the idea of Dr Reddy starting a separate cancer hospital.
"The general belief then was that a cancer patient will die. Moreover, the fruits of research are taking longer to reach us because of financial constraints. But I firmly believe in the mantra that treatment must be equitable for all patients, rich or poor. Unfortunately, the corporatisation of the medical world has changed the ethos and also widened the rural-urban divide."
Over the years, the good doctor has cared for her patients with a lot of patience and dedication – and her tireless service has not gone unnoticed. In 2005, she was conferred with the Ramon Magsaysay Award, better known as the Nobel Prize of Asia, and in 2006, the Indian government feted her with the Padma Bhushan, the third highest civilian award in the land.
But she doesn't plan to rest on her laurels and has a word of advice for her young colleagues. "I have worked to the best of my ability in cancer care based on ethics, values and, importantly, respect for human life. Doctors must learn to treat their patients as human beings and not as mere commodities. One must have pride in one's profession and see it as a mission," she signs off. - Women's Feature Service


Trending Now: