An injured kite on the road inspired the Delhi brothers to start treating wild birds

Asad Ashraf
&nbsp | &nbsp New Delhi
07-June-2014
Vol 5&nbsp|&nbspIssue 23
Almost twelve years ago, brothers Nadeem Shazad (36) and Mohammad Saud (32), residents of Chawri Bazar, a busy and congested area in the walled city of Delhi, came across a bruised kite lying on the road side.

They picked up the bird and took it to the nearby Jain Bird Hospital, the only place in the city for treating birds.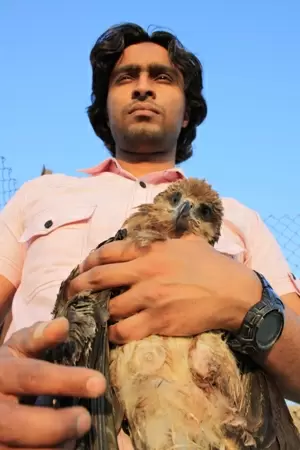 Nadeem Shazad and his brother have treated over 3000 raptors
However, to their shock the doctors at the hospital refused to treat the bird, since it was a carnivorous one, and Jainism prohibited meat eating. They managed to convince one of the doctors to visit their house and treat the bird. They took care of the bird, till it got well and could fly again.

After this incident, the brothers resolved to treat injured carnivorous birds themselves due to the lack of medical facilities for them in the city. Since their mission began, they have sheltered and provided treatment to over 3000 raptors, including owls, eagles, kites, hawks and even the endangered vultures.

Nadeem and Saud were extremely fond of birds since their childhood. "We would climb up our roofs to watch the birds. We would leave grains on our terrace. The birds would come and feed on them," says Nadeem.

Today, there are always few birds recuperating on the terrace of their two-storey house, which serves as a small veterinary hospital.

The brothers have received no formal training in treating the birds, but are now experts in fixing fractured bones using metallic wires, stitching wounds with absorbable threads and taking post-surgery care of the birds till they are fit to fly again. They have become as good as trained veterinarians.
In fact, their academic qualifications have little to do with animal science. Saud has a degree in history from Indira Gandhi National Open University and Nadeem is a graduate in Physics.

Six years ago they registered an organization called 'Wildlife Rescue,' but they do not receive financial support from any agency for their work. On the other hand, they spend about Rs.10, 000 each month from their own pocket for treating the birds.
The family has a manufacturing business of bathroom accessories, a business that was established by their father, which keeps them going.

The brothers have all the equipment to perform surgeries on the birds. Over the years they invested in the equipment, some of them quite expensive. For instance, a bundle of absorbable thread for stitching the wounds of a bird costs about Rs.20, 000, which they always keep stock.

Their humble scooter serves as an ambulance to ferry the injured birds.

According to the brothers, most injuries on the birds are caused by the manja threads used for kite flying. The manja threads are coated with crushed glass, which make them razor sharp and dangerous to both humans and birds.
Mohammad Saud with the birds under their care
Kite flying is popular in Old Delhi. The locals observe August 15 (Independence Day) as a kite flying festival. The brothers say they receive on an average around 30-40 calls on this day alone from different parts of the city.

Recently, the duo received the Wipro- Nature Forever Society Sparrow award for their work. As Nadeem remarks in a lighter vein, "we got the sparrow award, but we've been treating sparrow hawks, which prey on sparrows!"
Is there a memorable incident that they could share with us? Saud recalls "the worst medical case" they have encountered so far.

A caller from Surajkund had informed about an injured Stephanie eagle lying in the backyard of their house. They found her almost dead, with her wings chopped off and body full of wounds.

"It appeared that she was probably hit by a fast flying object. We never thought we could save her, but we still took her to our hospital and started treatment. We had to perform multiple surgeries on her body.

"Surprisingly her life could be saved. She recovered quite fast and was finally let off to fly back in a span of 45 days."
Apart from the 'hospital' for injured birds, they also have an 'orphanage' in their home for abandoned young birds. These young birds are under their care till they are capable of taking a flight on their own.
Saud's and Nadeem's wives and parents support their noble work.

Trending Now: