A retired cop starts a free English medium school for a marginalized community

24-May-2014
Vol 5&nbsp|&nbspIssue 21
A former RAW (Research & Analysis Wing) officer, J K Sinha, has a new mission in life, a not-so-secretive mission that is changing the lives of hundreds of children from the impoverished musahar community in Bihar.
Musahars have been known as the rat-eating community. ('Musa' means rats and 'Ahar' means food in Hindi.) They generally live in ghettoes in the outskirts of the villages of Bihar.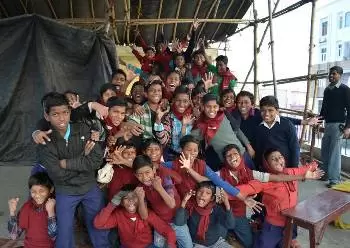 Sinha's school for children from the Musahar community is creating a silent social revolution
Their population is believed to be in the region of about 4 to 5 million. It is estimated that 99.5 per cent of the Musahars are landless, and literacy among them is just around 3 per cent.
"Musahars have been living in grinding poverty and sub-human conditions for centuries," says Sinha, a 1967-batch IPS officer, who retired from service in 2005 as Secretary to Government of India.
Deprived of hope and opportunity, Musahars began to join the ranks of the Maoists in Bihar.
"My first contact with the community came way back in 1969 as a young police officer when I was asked to raid a Musahar ghetto to apprehend a gang of criminals," says Sinha.
"Their sub-human existence, literally living alongside pigs, was shocking and a moving experience for an urbane youngster like me who had lived a privileged existence.
"The determination to make a difference was reinforced when I attended a talk of Mother Teresa," he recalls.
Her words, "Make us worthy O Lord to serve the people throughout the world who live and die in poverty and hunger," made a deep impact on him.
Post-retirement, his quest to do something for the community led him to establish Shoshit Seva Sangh (SSS) in 2005 with the objective of providing quality education to the Musahar children.
"To my shock, little had changed in the community in 40 years," says Sinha, who hurriedly got down to work.
He explains the importance of providing education for social change. "Knowledge has the power to liberate and emancipate. The obvious road ahead, therefore, was to provide quality education to the children of the Musahar community so that they could be empowered to compete with the best," he says.
After the formation of SSS, he started raising funds for the school, and in 2007, SSS collaborated with Samadhan, a Delhi based NGO and established Shoshit Samadhan Kendra (SSK), a fully free English medium residential school for Musahar children in Patna, Bihar.
The 'only boys' school is affiliated with Central Board of School Education (CBSE), and has staff strength of 17.
Starting with four students, the school has total strength of 311 students today. The school provides free boarding, lodging, clothes, healthcare, and other necessities to its students.
Sinha is confident that the students who pass out from SSK will be able to compete with the best lot and take full advantage of the reservations in institutions of higher education mandated by the government of India.
"The children who had no sense of the world today are speaking in English and asking tough questions," he says proudly.
The school has employed well-qualified faculty members "We have recruited the best staff to teach our students. They have degrees from the best institutions and have helped our students grow," says Sinha.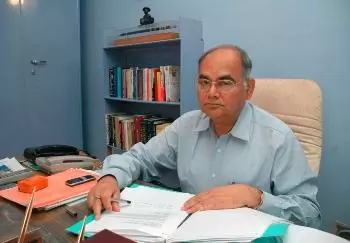 Sinha was greatly influenced by Mother Teresa's work
"To empower the musahar children to make a quantum jump in life and become a catalyst of change within their community, it will be absolutely essential to see them through not only high school education but also through higher education in reputed institutions of the country," he says.
The school equips them to the level of making them get into professional courses such as computers, medicine, engineering, law, and accountancy.
The academically less inclined are given vocational training, ensuring decent employment opportunities. "The SSS believes that it will have to parent the Musahar children till they reach their destined destinations," says Sinha.
Sinha shares an anecdote when a class 3 student had amazed the former president of India, Abdul Kalam Azad with three "mind-boggling" questions.
The student had asked him why Jupiter had the shortest day though it was the largest planet. Second, why all planets were spherical in size, and lastly, why do tears come when we cry.
"Kalam was surprised to the core, and we had to send the first two questions to ISRO to get an answer," shares Sinha, adding, "It was the best moment of my life."
The students are also given sufficient extra-curricular exposure. Recently, 10 boys from the school participated in a painting competition organized by the European Union. 50 students visited Delhi on an education tour organized by the Young India Fellows.
Calling them "ignited minds", Sinha says the children are agents of change. "When they come to us, they have no base. We have to start from the scratch. But here the Musahar children make a quantum jump in life.
"They are like stones being dropped in a stagnant pool, causing, in due course, the total churning of the pool," he says. "This movement will create a silent revolution to remove the national shame," he adds.
The school's first batch of four students graduated this year. "They have made their parents proud by growing up to be self-reliant individuals who are confident, and who do not resign themselves to fate," says Sinha.
"Our aim is to create a model for the neglected and the exploited Musahars, so that more and more people feel empowered," he says.

Trending Now: