Youth reach out to underprivileged children to address their problems
Shilpa Raina
&nbsp | &nbsp New Delhi
26-April-2014
Vol 5&nbsp|&nbspIssue 17
It is Sunday and in a park in south Delhi's Shahpur Jat urban village, a 17-year-old boy is talking about the environment, hygiene and sanitation to a discerning audience of children. It is not an unusual activity, but a weekly classroom session offering holistic education to the deprived and those studying in government schools.
The brainchild of Aakash Pawar, the initiative began when he started teaching "basic things" to three underprivileged girls from his neighborhood in 2007.
It instantly became quite popular and generated good response from children of slums and government schools who had no access to quality education. So he started his own NGO "Nei Tamana" in 2010.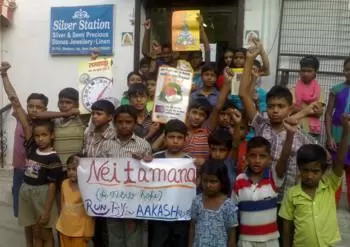 Aakash teaches underprivileged children basics of environment, hygiene and sanitation
Like Pawar, Maneka Sharma, 18, visited a slum area in Gurgaon and realised water is a scarce commodity for most poor people and decided to create an awareness drive among children to conserve the commodity.
To spread this message, she wrote a book on water conservation, 'Rohan on a Water Saving Spree', supported by vivid illustrations and simple text.
This self-published book became so popular that her own school ordered several copies. These initiatives helped their initiators to not only gain recognition but also earned them gold medals.
They were recently conferred the 'Pramerica Spirit of Community Awards,' - a school-level recognition programme for volunteer community service- and would receive certificates and medals in Washington and prize money of Rs. 50,000 each.
Speaking about his initiative, Pawar said: "My classes focus more on holistic learning that create awareness about social, environmental and sanitation issues."
"I don't use conventional tools of teaching," said Pawar, a class 11 student, who uses unconventional methods like games to help his students learn.
"I play spelling games, atlas games and mathematical quizzes with them so that they improve," he said.
Sharma also felt that awareness about the environment and sanitation should begin from an early age.
"If children have to learn about these environmental issues, sensitisation should begin at an early stage. This can't be done using textbooks because they are extremely boring. So, I thought why not use simple, innovative ways of spreading awareness," said Sharma.
She has also adapted her book into an easy to play "snakes and ladders" game that children can understand. Now, the Class 12 student moderates water conservation sessions in various schools and societies.
Both of them are very excited about the award.
"I would save this money for my NGO. Once I turn 18, I will be able to register the NGO on my name. Also, I would give half of the prize money to my brother who is studying engineering," said Pawar.
Sharma wanted to save the money for self-publishing and write more on such topics that are ignored in the school syllabus.
Undying support from their families keeps them going, but, at times, Pawar does feel opposition to his efforts.
"Some members of our neighbourhood don't like my teaching these children. So they complain to my parents, who then get worried and scold me for not studying. But they never disapprove of it either," he said.
"It is just they want me to study and do well in life. But all this does not worry me as I feel happy that I am doing my bit for society," he concluded. - IANS

Trending Now: