Arogya Finance, the three-year-old company that serves the poor and the needy

12-April-2014
Vol 5&nbsp|&nbspIssue 15
Where could the people belonging to the lower income strata go for financial help to fund their medical bills?
When a maid, a peon, a watchman, a plumber or an auto-rickshaw driver need urgent medical attention but have no money for the treatment they could well knock the doors of Arogya Finance.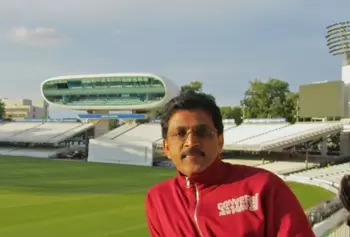 Jose Peter, CEO Arogya Finance, is happy that they are touching the lives of many people
The 3-year-old Mumbai based institution offers loans to people in the informal sector who are unable to pay for their medical expenses.
A non-banking financial organization, Arogya's business model is such that it directly pays the medical bills of the patient to the hospital or the healthcare service provider.

It is a family member of the patient - and not the patient - who borrows the money and repays the loan to Arogya in equated monthly installments (EMIs) at 12 percent interest per annum.

Conceptualized in 2010, Arogya's first medical loan was disbursed in January 2011. Arogya Finance has till date benefitted 400 people and disbursed loans worth around Rs 5 crore.

Arogya has received funding from social venture funds. "There is a huge need of finance for people with low income. We could make a big impact in this space and it also makes good business," said Jose Peter, CEO Arogya Finance.

Peter, 56, was working with Tata Motors Finance as Chief Financial Officer when he and four others also from the Tata Group decided to start a financial consultancy firm, Index Advisory.

Peter said they got interested in financing patients from lower income group while developing a patient financing program for a large multinational medical device company through their firm.

Arogya is touching the lives of many today.

Take Ramesh Bhagwan Waghmare, who earns about Rs. 16,000 per month from repairing footwear near Andheri station in Mumbai.

He treated his 14-year-old daughter Shreya at a specialty childcare hospital. Medical tests confirmed his daughter suffered from meningitis and doctors advised a surgery. But Waghmare delayed the surgery since he did not have the money.

He needed Rs 65000 and he was hesitant to borrow from private money-lenders who charged 5-10 percent interest per month.

"I came to know about 'Arogya Finance' from Mukund hospital in Marol and took Rs 45000 from them at just 1 percent interest per month. I am so happy and relieved, and my daughter has recovered too," he said.

Peter said the tenure of the loan varies from case to case and extends from 6 months to 3 years. The loan is given up to 75 percent of the hospital bill and should not exceed Rs 2 lakhs. Loans are disbursed taking into account the family income of the patient.

They charge a one-time 2 percent processing fee. The EMIs are calculated in such a way that it is not more than 25 percent of the family income and the first payment starts one month after the patient is discharged from the hospital.

Arogya has tie-ups with over 50 hospitals across the country. For every loan sanctioned for patients in these hospitals, the respective hospitals make a small contribution to Arogya.

For patients from other hospitals who avail loan, Arogya charges 1.25 percent interest per month on the loan amount.

Arogya comes as a boon to the poor people working in the informal sector, who otherwise have to turn either to private lenders who charge exorbitant interest, or the banks that insist on a number of formal documents.

There is a basic assumption that with no salary slips and assets to collateralize, lending to the bottom of the pyramid segment of the society is fraught with risk.

Arogya could well silence the critics, for it has a 97 percent recovery rate. Even the 3 percent defaulters are not actual defaulters, as Peter points out. There is only delay in repayment and he is confident that they will recover the amount.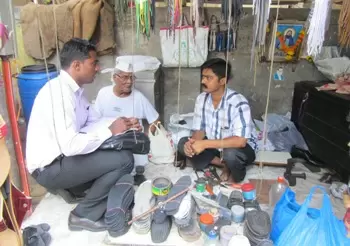 Arogya Finance Counselor with a borrower
When the Arogya team started, it researched and did significant innovation to operate the company. A normal financial methodology would not have worked for lending to the poor.

Some beneficiaries may not even have a bank account. According to the procedure they have evolved, a doctor diagnoses a patient and gives the line of treatment.

Then the patient's family meets an Arogya Finance counselor who interviews them. The decision on whether to finance or not is taken within 24 hours.

Peter said that a finance counselor is a person with some experience in credit processing. He is the one who assesses the borrower's repaying capacity, evaluates the loan and does all the paper work.

For testing a potential borrower they look for four traits like basic integrity of the person, his intention, his risk taking nature and his ability to pay.
Though documents like address proof, ID proof and proof of income is desirable, in the absence of some documents, Arogya is flexible and would work out other ways to assess repayment capacity.
The Arogya team has total strength of 15, out of whom 9 are finance counselors, each covering a city or town in the States of Delhi, Gujarat, Maharashtra, Kerala, Karnataka, Tamil Nadu, West Bengal, Bihar and Jharkhand.

As part of helping the needy and spreading awareness of their scheme, Arogya pates posters, distributes leaflets and meets with physicians to tell about their loan plan. They also hope the media would spread the good word about them among the poor.

In next five years Arogya Finance hopes to reach every part of the country and help one lakh families and disburse loans up to Rs 350 crores per annum.

Trending Now: