Helping rickshaw pullers pull out of vehicle owners stranglehold

05-April-2014
Vol 5&nbsp|&nbspIssue 14
Every month about 40-50 people become proud owners of new, sleek, aerodynamic rickshaws in Assam, thanks to a project called 'Rickshaw Bank' that was started in 2004 by a veterinary doctor, Pradip Kumar Sarmah.
Rickshaw Bank has distributed about 10,000 rickshaws so far, and the project is expanding to other parts of the country as well.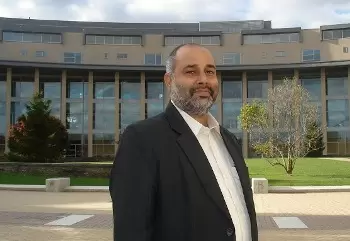 Sarmah's Rickshaw Bank project has benefited nearly 10,000 rickshaw pullers
Born and brought up in Guwahati, Sarmah worked as a veterinary surgeon for about three years.
Later, he joined a voluntary organization in its animal husbandry department. In 1994 he started his own veterinary clinic, Pet and Vet, to help people living in rural areas, where there were little or nil medical facilities for animals.
Sarmah trained local people as para-veterinarians to provide door-to-door facilities to the farmers. It was implemented in almost 35 villages at grass roots level. For his services as a veterinarian, Sarmah was selected Ashoka Fellow in 2001.
But things changed for him and rickshaw pullers in late 2002 after a conversation he had with a rickshaw driver in Guwahati.
"I asked him about his earnings and life in Guwahati. But his answers disturbed me and forced me to do something for people like him," says 51-year-old Sarmah.
The man told him he had been driving for 16 years and earned Rs. 80 per day, out of which Rs 25 was given as rent to the rickshaw owner.
This perturbed Sarmah, who did a survey on 300 rickshaw pullers in three months to know about their condition. To his surprise, almost 90 per cent of them had the same story.
The poor rickshaw pullers were always in debt and could never afford to buy their own rickshaw. "There was no social security or insurance, and getting the license was also difficult," he says.
Sarmah took the findings seriously and decided to do something for the betterment of rickshaw pullers. He made proposals, and approached banks. But the banks were not of much help.

Undeterred by the failures, he thought of creating a new design for the rickshaw and raise funds himself.
"I had friends in IIT Guwahati who made a new design for the rickshaw," he says. "It was aero dynamic, had larger space, top covered and center of gravity balanced." He went around asking the corporate houses to sponsor his new design in 2003. Three companies agreed.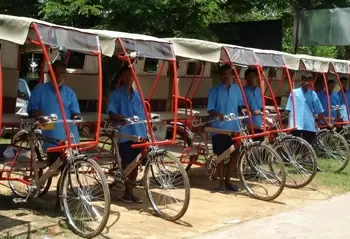 Beneficiaries with CRD's Deep Bahan rickshaws
"I managed to raise Rs. 21 lakhs for the idea. But the challenge was to manufacture it," he says.
Sarmah, who is also the founder of Centre for Rural Development (CRD), says no manufacturer had confidence in the new design. He had no choice but to set up his own manufacturing unit.
"We started the unit in 2004, recruited local youth and trained them," he says.
They soon became a team of 40 and a name was given to the new rickshaws- Deep Bahan. "By November 2004, 80 rickshaws were out on the roads in one day," he recalls.
But the problems did not end there. Getting a license, identity proof, and insurance for the drivers was another challenge. He got an insurance scheme customized for the rickshaw pullers in collaboration with an insurance company.
The basic model costs Rs.13,000, but with accessories of a solar panel, 3 lights, a FM Radio, insurance, license fee from municipal corporation, 2 sets of uniform, and a pair of chappals, the price is Rs.16,000.
By end of 2013, around 10,000 rickshaw pullers have benefitted from the scheme.
The project has also got support from many philanthropic organizations. In 2006, Sarmah invited 10 different organizations from different states to Guwahati for a workshop on their rickshaw. Today, the Rickshaw Bank concept has been replicated in cities like Lucknow, Varanasi and Allahabad.
There are an estimated 10 million rickshaw drivers in India providing the last mile connectivity to thousands of commuters in cities and towns.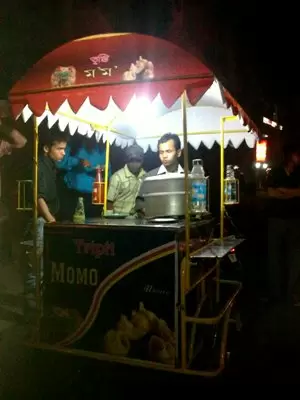 CRD also develops momo carts and carts for vegetable sellers
"Our aim is for holistic development of the rickshaw pullers. Even though some organizations in other states still use the traditional rickshaw, the financial model is the same," he says.
Rickshaw drivers repay in daily installments of Rs.50 and clear the loan within a period of 12-18 months.
CRD, which implements the Rickshaw Bank project, also helps the rickshaw pullers to get personal loans. "Rickshaw is their only asset. If they sell it in need, they will be back to square one," says Sarmah.
CRD has also developed manual carts, a momo cart, and carts for vegetable sellers.
Sarmah was invited by United Nations Development Program to give a presentation on his work with rickshaw pullers.
Today Sarmah is a contented man. He is happy that his work has helped rickshaw pullers positively and tremendously.
"They have become owners now. Their life style has changed. Now their children can go to schools. They have a proper contact with banks, valid ID cards, license and insurance," he says.
Sarmah has also been awarded multiple times for his services and has been invited by top-notch schools like Harvard, Yale, and Oxford to share his experiences.
Wish to share your story?
Trending Now: