A woman's fight for forest rights brought food on the plate of tribal homes
Shuriah Niazi
&nbsp | &nbsp Mandla
29-March-2014
Vol 5&nbsp|&nbspIssue 13
For tribal communities, the forest has traditionally been their habitat, their source of income and their nutritional lifeline. So protection of the green cover and ready access to forest produce are issues that are connected with their survival.
In India, while The Scheduled Tribes and Other Traditional Forest Dwellers (Recognition of Forest Rights) Act, 2006, recognises the rights of forest-dwellers over land and other resources, in reality there is a constant tussle going on between communities and forest officials.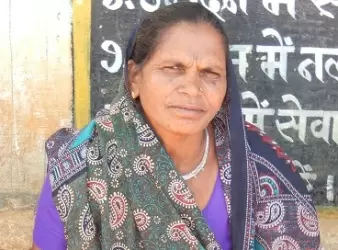 Santa Bai fought to ensure that tribals did not sleep hungry in one India's most food insecure regions (Photo: WFS)
In a state like Madhya Pradesh, which is home to the largest tribal population in the country, a woman sarpanch in Mandla district has led a local movement to conserve more than 100 hectares of forest land and secure people's rights under the community's forest rights.
Santa Bai, 45, head of Kanharikala panchayat, took up this cause to ensure that tribals, especially the dominant Baiga tribal community, never sleep hungry in one of India's most food insecure regions.
The situation in Madhya Pradesh is indeed quite worrying: while the India State Hunger Index has listed the state under the 'extremely alarming' category, according to the National Family Health Survey (NFHS) III, the state has one of the lowest nutrition and health indicators in the country.
The backward classes, including Scheduled Castes and Scheduled Tribes, are the worst affected because they have limited access to the public distribution system (PDS) as well as government health services.
Clearly, being a tribal in Madhya Pradesh would seem no less than a curse, although the concrete efforts being made to reverse this reality by leaders like Santa Bai provide a ray of hope.
Says Santa Bai, who is a Gond tribal, "Our communities are heavily dependent on the forest. If we need firewood we head there, if we have to supplement our diet we pick wild mushrooms or amla or tubers.
"Some of us sell minor forest produce to earn a little money and, more often than not, it's the medicinal plants that give us relief from illnesses. If the forest survives, so do we. But what is also important for us is to gain access to it."
In an area where women have always found it challenging to be heard and be active in the community, an articulate leader like Santa is rare. She has managed to succeed where many of her male counterparts have failed.
A school dropout, Santa began her political career in 1994 after her husband, Imrak Uiked, a deputy forest range officer, passed away. She first contested the panchayat elections on the request of the villagers but lost by seven votes.
In 2001, she stood in the fray and even won by 57 votes but was denied the post as the officials had declared the election null and void owing to alleged tampering. Finally in 2009 she became sarpanch, winning by a thumping majority.
As sarpanch of Kanharikala panchayat, she is responsible for the welfare of five villages – Kanhari Kala, Umariya, Kanhari Khurd, Surela and Jhulup.
The total population here is 1712 and the majority of the residents are Baiga tribals, although there are people from other castes, like Yadavs and Lohars. Most have only small land holdings and work as wage labourers. Of course, the forest remains an integral part of their lives even though getting access to it and ensuring its responsible use have not been easy.
Observes Sachin Jain of the Right to Food Campaign, which has included equitable land and forest rights among its key demands, "For a tribal, forest rights are essential. But it seems that neither the government nor the Forest Department is inclined to make sure they get their dues.
The tribals fulfill their basic needs with the help of the forest and in return they safeguard it from illegal mining and encroachment. In most places, while the Forest Department says it has not stopped any tribal from entering the forest, it doesn't issue the rights letters, which legally establishes tribal entitlement over the forest and ensures that they do not get evicted."
Adds Naresh Vishwas, a Mandla-based activist, "The tribals have been going into the forest to collect minor forest produce like musli, kodo, harra, baheda, yum, sal seeds, gond (gum) and nokhra to earn some money.
"Fruits, like amla, herbs, edible leaves and wild roots provide much needed nutrition. If the community is given rights over the forest land, then they can utilise these naturally available foods, which are good for their health, especially since government provisions are often insufficient."
Santa has rightly called for reforestation and securing the community's forest rights in a bid to achieve an elusive food security. And providing this industrious sarpanch with critical assistance is the Foundation for Ecological Security (FES), a non government organisation, which works towards the ecological restoration and conservation.
The FES has joined hands with Deutsche Welthungerhilfe of Germany under the Fight Hunger First Initiative that focuses on mobilising the communities to access rights and entitlements for specific government services, such as child nutrition, food supplies and primary education.
Before Santa decided to launch her fight for food and forest, the tribals here, like elsewhere in the state, were struggling to get two square meals for themselves and their families.
With the forest cover considerably depleted due to encroachment, mismanagement and misuse, it looked like they were going to run out of options. Santa managed to convince people to take to conservation just at the right time. A combination of awareness building, community meetings and the fact that the forest land is considered sacred, did the trick.
"The Siddhababa hillock, which is spread over 100 hectares, is revered by everyone so I emphasised the religious and cultural significance of preserving it. Moreover, as it is the women who chiefly go to the forest to collect firewood, herbs or to put their cattle to graze, I spoke to them about how they stood to benefit if it remained green," reveals Santa.
Today, everyone is with her. There are 90-odd women involved in greening the area, planting varieties of mahua, harra behara and bamboo. Apart from that they have also planted a few herbs.
To preserve the gains of their hard labour, Santa got together with the villagers and made a few rules. Today a fine of Rs 5,051 is imposed on anyone found cutting trees while the informer is given a reward of Rs 501. People are only allowed to use dead or fallen trees.

"Santa Bai has been motivating people to protect the forest. She has been successful in changing attitudes. Today, we all know that forest is necessary for our survival and we do our bit," sums up Gokul, who has seen for herself the benefits of the sarpanch's efforts. - Women's Feature Service

Trending Now: