He once used spy cameras and did sting ops, now he drafts the Lok Pal bill

Souzeina S Mushtaq
&nbsp | &nbsp New Delhi
22-March-2014
Vol 5&nbsp|&nbspIssue 12
He used to be the kind of cop you see only in films. In the pursuit of justice, N Dilip Kumar, an IPS officer, did not hesitate to use unconventional methods to get his job done while he was in service.
He used spy cameras and conducted sting operations to nab corrupt officials when he headed the anti-corruption bureau (ACB) of the Delhi government.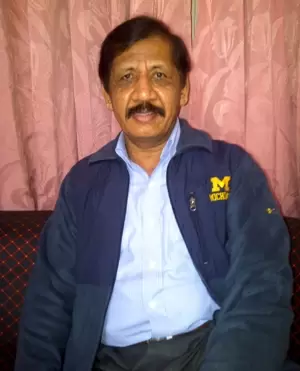 Dilip Kumar conducted over 60 sting operations during his stint at Delhi government's anti-corruption branch (Photo: Souzeina S Mushtaq)
Early in his career, while he was serving in Goa he hit the headlines after he arrested a gangster who offered him a bribe. He also served seven years in the CBI in various capacities and busted many scams.
However, his stint in the anti-corruption bureau was the most adventurous. Kumar was hand-picked by the Lieutenant Governor of Delhi and the Government to head the "virtually defunct anti-corruption branch" in 2007.
After he took charge, he transformed the 50-year-old institution into a professional organization in a short span of one year.
"I am just a lazy man," he quips, adding, "I try to find the simplest and the easiest solution."
Kumar used spy cameras to trap corrupt officials and conducted over 60 sting operations in his tenure of two years at ACB.
He recalls the transport case where fake licenses were being given without proper verifications. When he got the information, he fixed cameras near the driving test location and caught the culprits red-handed.
The operation was not as easy as he had perceived. Some of his own policemen were involved in corruption and leaked information to the touts before Kumar could go ahead with his plan. But Kumar persisted and successfully executed the plan.
He also secured the arrests of fraudsters in the Social Welfare Department, where funds allocated by the government for destitute women, children, beggars, lepers, were embezzled.
While efforts like RTI and PIL failed to expose the scam, Kumar suggested audio recording. The fraud was busted and three cases were registered.
Over a dozen accused including two joint secretaries, superintendents, and others were arrested.
In nabbing the corrupt engineers of MCD (Municipal Corporation of Delhi), secret audio recordings were conducted with help of a contractor. The engineers were arrested when one of them accepted bribe.
In another high profile case, the Crime Branch Inspector of Delhi Police was arrested along with a senior advocate and two other policemen in a case of conspiracy, demand and acceptance of bribe.
The conversations were recorded in video and audio recordings with the help of the complainant whose father was arrested in a murder case by the same Inspector, allegedly on framed charges.
Kumar joined Goa police in 1981 as Deputy Superintendent of Police. "Those days the Matka gamblers were active. As soon as I was posted, they approached me with money," he says.
Instead of accepting the 'protection money', he arrested the person. "It was breaking news in Goa; I was all over media," recalls Kumar.
He served in the State till 1996 during which period he cracked down on the drug mafia. He nabbed several narcotics dealers and seized hundreds of kilos of narcotics in different cases.
His record seizures are yet to be broken. For this and many other brave acts, he was awarded State Award in Goa in 1985.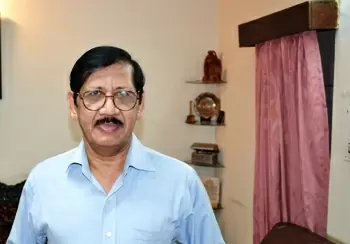 Kumar has written 3 books so far and plans to write more
"I was also awarded a PhD by Goa University for my academic work on the history of Goa Police," he says. It is now a publication and a reference book on the subject.
Kumar has also worked in Mizoram for 3 months in 1996, in Arunachal Pradesh for three years, and then in Delhi police from 2009 onwards.
Looking back, Kumar says he was just doing his job. "I don't like to accept defeat. My approach was different. If I come across a problem, I do not pass the buck on," he says.
For him, the word 'problem' is a negative word and creates fear psychosis. "Instead the word 'challenge' is a positive word and invokes one's intellectual (prowess)," says the former cop, who was featured in the special issue of India Today in 2010 on the theme of 'Action Heroes'.
Kumar says that his aim has always been reforming the criminals rather punishing them.
He has also been a key figure in Delhi's former Chief Minister Arvind Kejriwal's fight against corruption. He wrote the first draft of the Lok Pal and is advisor to the anti-corruption cell of the party.
Post retirement, Kumar discovered his passion for writing. He has penned a book called Bakasur, in which he uses mythology to explain corruption.
"Bakasura was a demon who had an insatiable desire to eat. He would wander in search of food from one village to another, eating everything given to him, and, the legend goes, would end up eating those who wouldn't feed him.
"The more he was fed, the hungrier he would get," says Kumar, adding, "That is how corruption is eating our society."
He has written three books and plans to dedicate more time to write. He laments that nothing has changed in the system so far. "Things have worsened. When people condone corruption, it gets promoted."
Kumar credits his success to the teachings of his father. "He was honest to the core and taught me the pleasure of earning through hard work," says the anti-corruption crusader.


Trending Now: