An extraordinary mission to help tribes fight illiteracy and poverty
Jatindra Dash
&nbsp | &nbsp Bhubaneswar
15-March-2014
Vol 5&nbsp|&nbspIssue 11
He is hailed as a "god" by children of poor tribals of Odisha, a man who sought to overcome the deprivation of his childhood to build an impressive institution that is now one of the state's pride and a beacon of hope for thousands of tribal families.
Achyut Samanta, who lived his childhood in dire poverty after he lost his father at the age of four, has been bringing out tribal children from their homes and educating them to ensure they stand on their own two feet.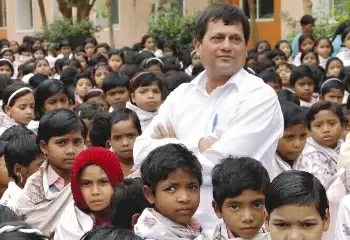 Dr. Achyuta Samanta with students at KISS (Photos: IANS)
About 23 percent of Odisha's 42 million population are tribals and they are considered among the poorest of the poor with high illiteracy rate.
Samanta started Kalinga Institute of Industrial Technology (KIIT) as a small industrial training institute in 1993 with Rs.5000 - the sum total of his savings - in a rented shed.

A year later, he launched the Kalinga Institute of Social Sciences (KISS), its social arm. Today, KIIT University has 28 schools offering more than 100 programmes and is one of the finest multi-disciplinary universities in Odisha.
KISS, spread over 80 acres with all modern facilities, is providing residential kindergarten to post-graduate level educational and vocational training for free to over 20,000 tribal children from 62 tribes, 13 of them primitive, under one roof.
KISS' monthly recurring expenditure is over Rs.6 crore ($985,000) and since its inception it has been running on voluntary financial contributions from staff, students, managements and well-wishers of KIIT University.
"All donate freely," Samanta said in an interview.
Samanta later set up a 1,500-bed hospital and developed a cluster of villages in his native place into a model one with all the amenities of a city, among many other humanitarian activities.
The more than 25 sq km complex which houses most of the institutions founded by Samanta here has been transformed into a modern township, just on the edge of Bhubaneswar, providing livelihood to millions.
He believes in the "Art of Giving" and does not own any land or building in his name or posses a bank account. He said the success of KIIT, fuelled by the general boom in private education, helped him to support his humanitarian activities.
Born on April 19, 1965, in a small village of Cuttack district, Samanta worked to support himself while attending school and eventually earned a post-graduate degree in chemistry before joining a local college as a teacher to lead a new life. This, however, did not satisfy him.
"This is when I decided to start KIIT and KISS," he said.
Tribal children often suffer from extreme discrimination. Left-wing extremists also lure them to swell their cadres. "If we don't provide them education many of them will end up as Maoists," Samanta said.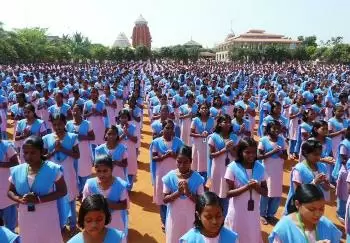 Samanta has plans to start schools in each of the state's 30 districts
A strict vegetarian, clad in a sky-blue jeans and a white shirt and wearing rubber slippers, people often find him working at a desk under a tree inside the institute garden and meeting visitors.
Seventeen-year-old Hadi Dhangada Majhi came to KISS when he was just eight. Today he has passed the Class 10 examination and has the distinction of being one of India's best rugby players.
Sixteen-year-old Madhusudan Badnayak was forced to work in the fields to supplement his family's income after dropping out of school in Class 2 before coming here.
Last year he secured 70 percent marks in the Class 10 board examination and became the first boy of his tribe to achieve such a feat.
Majhi and Badnayak belong to the highly-endangered Bonda tribe that lives mostly in the mountains of the worst Maoist-hit Malkangiri district.
"Samanta sir is nothing less than a god for all of us. We would have been doing labourers' job had we not been brought here," said Majhi, thoroughly drenched with sweat after jogging within the KISS campus.
"It is an example for all of us that gives hope and a pattern to emulate in the country," social activist and Magsaysay Award winner Aruna Roy said.
Roy is not alone. Samanta's model has a long list of admirers. Many universities in India and abroad have awarded him honorary doctorates. He also received several national and international honours for his social enterprising and philanthropic activities.
Samanta said he is in the process of setting up a KISS in each of the state's 30 districts and also in other states. Last year he set up one such in the national capital in collaboration with the Delhi government. - IANS

Trending Now: