'Innovation in arts and crafts can bring a revolution in the handicraft sector'

01-February-2014
Vol 5&nbsp|&nbspIssue 5
With an annual turnover of over Rs. 30 lakhs, Happy Hands Foundation, a Delhi based non-profit organization run by Medhavi Gandhi, has come a long way since its humble beginnings in 2009.
Medhavi was 22 when she started the NGO for working towards the revival and development of indigenous arts and crafts across the country.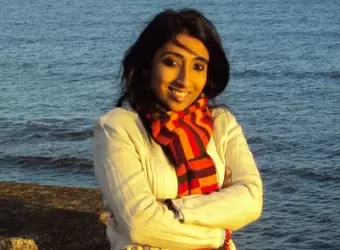 Medhavi works with over 1000 artisans spread across 13 states
"Happy Hands was formally registered in 2009 but it had started functioning a year before," says Medhavi.
Her organization works with over 1000 artisans from 13 states - Andhra Pradesh, Orissa, Karnataka, Bihar, West Bengal, Nagaland, Manipur, Gujarat, Rajasthan, Maharashtra, Madhya Pradesh, Uttar Pradesh and Delhi.
These artisans work on pottery, bamboo-craft, crochet, cherial art, pithora art, doll craft, coir, banjara jewellery, and other crafts.
Happy Hands encourages the artisans to sell their products directly to consumers. To push sales, Medhavi and her team members organize exhibitions in urban spaces like shopping malls and educational institutions.
An artisan from any part of India can tie up with them. There is no membership fee or any other charges.
Medhavi believes that it is important to educate the artisan not in terms of skills, but in latest trends in design. She works with design institutes and designers to train the artisans in this area.
How she got into working with the artisans in an interesting story. It was a two-month internship with UNESCO in 2008 that provided her an opportunity to interact with several artisans and learn about their problems.
It dawned on her then that the artisans had no market for their products. Many were living in poverty. The situation was causing many to leave the profession and take up labor jobs.
Moved by their condition and with a desire to help them, Medhavi along with two of her friends founded the Happy Hands Foundation with the aim of empowering the artisans and reviving the arts and crafts.
Innovation in arts and crafts can bring a revolution in the handicraft sector, says Medhavi, while stressing that education of artisans in designing is crucial for overall growth of artisans and the revival of the sector.
She believes that artisans ought to learn and develop a designer's perspective to empower themselves and hone their skills accordingly to meet the demands and requirements of the market.
"We team artisans with design institutes, designers, students, and brands to create in cohesion, and learn from each other," says the social entrepreneur.
The organization also provides grants to artisans to encourage them to innovate, as most do not dare to experiment on new designs because of the business risks involved.
"Young people help them with marketing facilities, and artisans don't need to stress over such things," she says. There are nearly 130 young volunteers working with her team.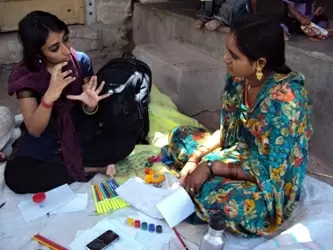 Artisans are trained to innovate and come up with fresh designs
Elaborating over marketing challenges faced by the artisans, Medhavi says "people just want to bargain for the sake of bargaining and they lack awareness" on the aesthetic value of the products.
Through their Cluster Development Program, they conduct workshops in rural spaces to nurture creative work among the artisans. They train them to keep pace with the market, help them in networking with their counterparts in other states, and give them innovative ideas.
They approach artisans, visit craft units, and introduce the artisans to the functions of the Foundation. "If the artisans show any interest, then they become part of the Foundation. This helps in building relationships," says Medhavi.
Happy Hands also offers a one-month residency program and workshops for the artists, and the artisans are free to experiment. "Artisans are coming on their own to avail this facility (residency)," she says.
Medhavi says, as a person, she has learnt a lot, vis-à-vis Happy Hands. She says she didn't know anything about the crafts, but now she has grown more mature and more patient.
"It retains humility in me. It has given me so much that I can't explain. As a person it has given me enough. I have met some wonderful people and get a lot to travel," reveals Medhavi.
The young and enthusiastic social entrepreneur completed her schooling from Springdales, Delhi; graduated in English Literature from Kamala Nehru, New Delhi and then moved to Pune to pursue her MBA in Communication Management from Symbiosis, Pune.
She was a finalist at the British Council's Young Design Entrepreneur Awards 2011 and received special commendation from the jury in the design category.

Trending Now: