Parents should focus on strengths and abilities of their children

20-December-2013
Vol 4&nbsp|&nbspIssue 51
In 2001, Kavitha was expecting her first child. Like any other mother, she was nervous and excited. Her son, Ananth was born. It was a happy moment for the family. But not with a fairly tale ending.
Eight months after his birth, he started getting seizure attacks, which later culminated into development delays followed by some features of autism.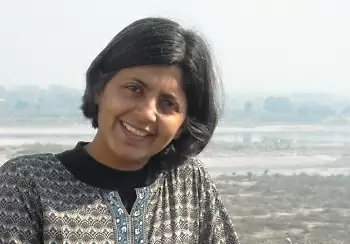 Kavitha Krishnamoorthi is changing the face of public parks in Bangalore making them accessible for disabled children
The endless circle of therapies failed to bring relief. "It was hard. We were worried about the future," says 44-year-old Kavitha Krishnamoorthy, founder of Kilikili, an NGO that aims to create inclusive play spaces.
It was when her son started growing up, her husband asked her a question. Why don't we ever see a child with disability in the public park? This question hit Kavitha, a Masters in Social Work.
"During sessions with therapists, I met lot of parents with similar questions. We wanted to do something about it," she says. Thus Kilikili was born in 2006.
Meaning the warbling laughter of a child, Kilikili was formed out of a desire to address the needs of children with disabilities.
The primary purpose of the non-profit organization is to create inclusive public parks that can be used by all children, with or without disabilities.
After going around the city of Bangalore, where she lives, Kavitha was shocked to find not a single park that was disable-friendly. "Few parks had ramps but none had special equipments for children with disabilities to play," she recalls.
Kavitha decided to do something about it. She asked a bunch of disabled children to visit Coles Park, one of the public parks in Bangalore and sought their opinion on what kind of facilities they wanted in a park. She also spoke to parents and physiotherapists.
The suggestions were pulled out, and architects, parents and special educators worked on a plan. The plan was later taken to Bangalore Municipal Corporation who helped them to implement the first 'inclusive play park'.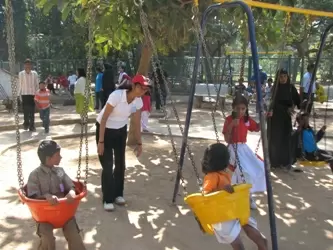 An 'inclusive park' with facilities for disabled children
With a ramp at the gate and pathways in the play area, safe swings, wheelchair accessible sand table, and a tyre tunnel, Coles Park became the first public park in Bangalore to meet the needs of disabled children, followed by Gayatri Devi Park in Rajajinagar and M N Krishna Rao Park in Basavangudi.
But why do they target parks? "That is where children play and those with disabilities feel left out. We thought of public parks as an important step in creating a society free of bias against children with disabilities," she says.
With the success and popularity of the inclusive parks in Bangalore, similar projects were implemented in other places as well. One public park in Mangalore and one in Mumbai were made inclusive. According to Kavitha, over 7000 children with disabilities now use inclusive play spaces.
Kilikili, a volunteer driven organization, has around 70 to 80 families involved with it in the city, besides 20 to 25 active volunteers. Now a part-time staff has also been hired to coordinate with kids in the parks.
Before starting a project, Kilikili contacts parents and other stakeholders to get their views on transforming an existing park into an inclusive one. Professionals at Kilikili then work on the designs. The designs are then discussed with concerned authorities who provide the financial support.
The cost to make a park inclusive for all children is around Rs 5 lakhs. "The municipality and their contractors decide the cost after examining the space. We do not develop the parks ourselves; we just help them in implementing the work."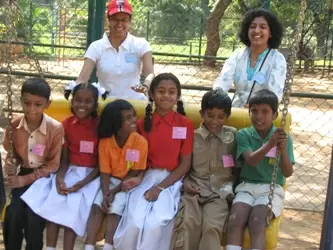 The inclusive parks are now being used by over 7000 children with disabilities
Kilikili has also started projects in schools for children with disabilities, in collaboration with Robert Bosch Engineering and Business Solutions Limited. "We are helping them to make the schools inclusive for blind and autistic children," she says.
Kavitha is happy; the response of the community encourages her. "The feedback is very good. These parks are an asset to the parents as much as they are to the children (with disabilities)," she says. Her projects have created general awareness among people and sensitized them to the issue of disability.
The organization also has events to create awareness among parents and other kids. They also conduct art related events where kids play, sing and engage in art and socializing with each other.
Her son Ananth is 11 years old and is "musically gifted", as Kavitha says. "He is fond of classical music and identifies ragas by their tunes." When asked if her son wants to be a singer, Kavitha laughs, "I do not know if he will become a singer or not, but music will always be an important part of his life."
For her, children are a blessing from God. "They teach us and help us learn to look at the positive side of life. As parents, we should also focus on the strengths and abilities of our children, and work on them."


Trending Now: