A campaigner for 'World We Want', she has come up with a 'Children's Manifesto'

Saadia Azim
&nbsp | &nbsp Kolkata
01-November-2013
Vol 4&nbsp|&nbspIssue 44
At first glance Rekha Kumari seems to be just another young woman with special needs. But this 22-year-old possesses unique powers.
She may have been on a wheelchair since she was two years old after she was struck with polio but today she stands tall as the key campaigner for "World We Want", an initiative that calls for equal rights and opportunities for children living with disabilities across the globe.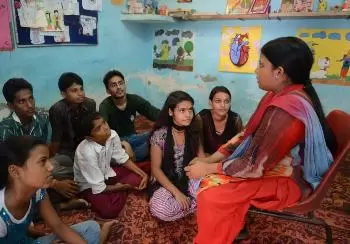 Rekha has been driven to make a difference based on her own experiences (Photo: Saadia AzimWFS)
She has spearheaded this movement, along with an 11-member team of children and together they have created a 'Children's Manifesto', which she took all the way to New York recently.
At the 68th United Nations General Assembly, Rekha drew the attention of the world leaders to their collective crusade, urging them to provide a respectable life to a significant section of the world population that virtually remains ignored by people and policy-makers.
Rekha has been driven to make a difference based on her own experiences. She shares, "Honestly, while I just felt I was differently-abled, I know how difficult it was for my little sister, who would have to carry me to school and take me from class to class.
"Sometimes, when she fell ill I would also have to miss school because I could not walk on my own feet. The school asked me to go because I needed assistance even to go to the toilet or drink water."
This daughter of a watchman living in Delhi's Madanpur Khadar area is waiting to finally clear her Class Twelve exams at the age of 22.
Surviving on her monthly government stipend for children living with disabilities (CWD) she says, "Despite having dropped out of school at 11, I resumed my education with greater determination than ever. Yet, the challenges existed.
"I got into a wheelchair but realised I couldn't drive to school because Delhi roads don't make for an easy drive for people like me. Moreover, the schools don't have disabled people-friendly toilets. That's when I decided to fight because unless I raise my voice for the cause of people like me, collectively we will always remain invisible."
Her mother Vidya Devi, who had been apprehensive of Rekha's future, has stood by her. She says, "Initially I had found it difficult to handle Rekha's condition but with time I realised how she herself is determined to overcome her limitations. That's when I knew I needed to support her wholeheartedly."
As the Convener of the National Forum of Children with Disabilities (NFCD), part of a global movement of Children with Disabilities, Rekha has brought together differently-abled children from across India to demand adequate space and equal rights and opportunities in education for them.
Considered to be a first-of-its-kind initiative in the world, they have come up with a Children Manifesto that calls for a world where "rights are real and not mere promises" and where children with disabilities were entitled to "a disability certificate, a safe childhood and a barrier free environment".
World Vision, an international non government organisation, has mentored this effort by supporting the creation of a powerful network.
According to Reni Jacob, Director Advocacy, World Vision, "Children are usually an unseen and unheard group. And their vulnerability increases with gender and disability. A disabled girl is three times more prone to be subjected to discrimination. This movement is their effort to make themselves be seen and heard at the tables where policies are made."
The story of Chinar Poddar, 7, who was given the option of either being detained or leaving school after she could not compete with her "able classmates" at a prominent school in Kolkata, West Bengal, is a fate that is common to children with disabilities.
The reason cited for giving her those impossible options was that she needed care and additional support to cope to the everyday pressures of the school. Yet, her parents argue that had she be given equal opportunity and had the school provided an inclusive environment, she would not have been discriminated against in this way.
Dr Mehnaz Warsi, Director of PremOAsha, a local NGO in Kolkata, which is working for the rehabilitation of vulnerable children, has seen many cases like Poddar's.
She says, "As per our data more than 90 per cent of children with disabilities from middle income homes drop out of mainstream schools because they cannot cope with the academic pressures and there are very few schools that are sensitive to their needs. Seemingly minor issues, such as availability of toilets, make it difficult for such children to access decent education."
As the Convener of NFCD, Rekha makes it a point to participate in many different forums and consultations in order to raise her voice for their collective cause.
Talking for millions like her she said at the UN General Assembly: "During rainy season I cannot make it to school on time by myself. During such instances I am accused of not following the rules. When I go to a hospital I am last in the queue and sometimes I do not get treated. We children with disabilities have rights, when will the world finally understand that?"
Eleven children from India, besides Rekha, who make up the campaign team, relay their concern at the indifference of the policy makers towards them. Not all of them are disabled and yet they want to stand by their friends in their call for a policy that includes their education, health and development needs.
Finally, Rekha shares her cherished vision, "I dream of an India that is inclusive, an India that is sensitive to the needs and aspirations of special children, an India that will hear and amplify the voices of children and an India that will keep children central to all its policies and decisions." - Women's Feature Service

Trending Now: