From LSE to Silicon Valley to rural Rajasthan, Safeena Husain has come a long way

Kavita Kanan Chandra
&nbsp | &nbsp Mumbai
25-October-2013
Vol 4&nbsp|&nbspIssue 43
Educating girls is her life's mission. Safeena Husain coaxes underprivileged girls to go to school through the NGO 'Educate Girls' she founded in 2002.
In Rajasthan, Safeena's NGO is working in 5700 schools in Pali, Jalore and Sirohi districts to give quality education to girl children and has brought about 50000 girls back to school.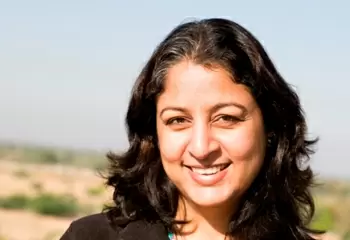 Safeena works with a team of young girls who have been trained to teach at schools
Not just stopping with enrolment, the NGO has also achieved higher attendance of girls in schools.
It aims to achieve its goals by encouraging 'community ownership' of schools and training young local girls to teach at schools.
But the task has not been easy, especially while working with the government with whom they have also signed an MOU.
It calls for great endurance to get things done. "It's like banging your head against the wall sometimes. So when I recruit volunteers I look for their levels of passion and tenacity," says Safeena.
Safeena, who holds a degree from London School of Economics, had early in her career worked at Silicon Valley in the US.
Not satisfied just working and earning she took to active volunteering and followed her heart by bringing succor to the underprivileged in Africa, South America, and Asia.
She has worked in different capacities in Child Family Health International and International Development Exchange in San Francisco. She had also worked with the underprivileged in Ecuador, Cape Town and among the HIV positive people in Durban.
Back in India, Safeena was shocked to see the standard of some rural government schools, where children studying in class IV could not write simple sentences in English or Hindi.
Children were being allowed to copy answers from blackboards during exams. She realized she had to think of out-of-box ideas to bring changes in the education system.

She addressed the issues one by one. "Most students (in rural schools) are first generation learners. Their parents can't impact classroom learning, so we had to empower them," says Safeena.
She thought of 'community ownership' of schools where parents could be involved in their children's education.

Parents were made aware of the basic infrastructure that schools should have. They were educated about facilities that should be present in a school, like toilets, and the things that need to be available in a classroom, like blackboard, tables and chairs.
Soon parents became aware of absence of basic amenities in schools and started demanding it from the authorities. It was found that only 40 percent schools had toilets for girls, which was a major reason for their poor attendance and dropping out from school.
Besides, school management committees were just on paper. So, Safeena ensured there was a democratically elected parents' council in schools.
To improve quality of education, Safeena introduced 'team balika,' a brigade of young girls in the age-group of 18-22 years, to teach children inside classrooms through fun and games.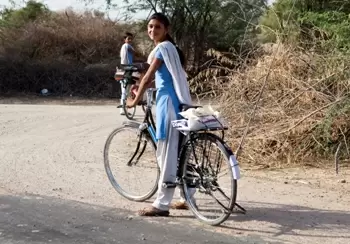 Attendance among girl children has improved in places where Safeena's volunteers are working
Initially 140 girls were trained, but now there are about 1500 girls who take time out from their household chores to teach at schools. The result has been amazing and attendance of girls has increased manifold.
"About 68 percent of team balika girls were 'child brides' themselves. Hence they know the difficulty of girls' education and are passionate about their work," says Safeena.
Safeena is very much contented today and recounts her meeting with a woman who was kicked out of her in-laws' home with a baby girl in tow. She was moved when this woman rebuilt her life from scratch just on the basis of the little education she had at school.
When the woman told her that "only education is yours that will remain with you forever," Safeena felt motivated.
"A hundred years ago women fought for the right to vote and today we are aspiring for girl education; every generation takes its generation a little forward," she says optimistically.


Trending Now: