For this man named after C N Annadurai, customer satisfaction is the prime concern

P C Vinoj Kumar
&nbsp | &nbsp Chennai
01-March-2013
Vol 4&nbsp|&nbspIssue 9
He is not an MBA or even a graduate. He says he passed higher secondary school and put a full stop to studies because he did not feel like studying anymore. But by going all out to please his customers, pampering them with added amenities at no extra cost, G Annadurai, a 28-year-old auto driver, is setting new benchmarks in customer service in Chennai.

Annadurai owns a 'share auto' that can carry six people. Step into his auto, and you would find over a dozen magazines and newspapers, neatly stacked on the sides and top, a wi-fi enabled environment, a mini TV set playing recently recorded news bulletins, a brand new tablet to browse and send mails, and a recharge facility for prepaid mobiles.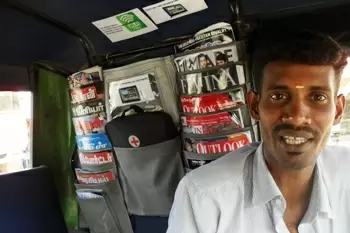 'Auto' Anna is a popular auto driver among IT professionals in Chennai (Photos: P C Vinoj Kumar)
Even upmarket hair salons or coffee shops do not offer such a wide collection of magazines and newspapers in Chennai. Even if they do, many just keep old magazines, but not Annadurai, who is meticulous about anything he does.

"I don't keep old magazines. The issues I keep in my auto are all recent ones," says Annadurai, who spends around Rs.4000 on buying magazines and newspapers alone each month.

He records news bulletins from leading TV channels during his lunch break and plays them for his customers.

"Mostly, major news of the day gets reported in the afternoon bulletins. When people reach their homes and watch the headlines in TV or see the morning papers, they would remember seeing the news in my auto," says Annadurai, who is popular among IT professionals who travel by his auto in Old Mahabalipuram Road (OMR).

Several IT companies are located on this road, and employees from these companies regularly take his auto. "Many have become my friends. People from other States introduce their parents to me when they visit Chennai. The parents are happy to meet a 'good auto driver'. Some keep in touch with me even after they leave Chennai. It gives them a secure feeling that they know someone they could trust in a faraway place where their children are working," he says.

His customers affectionately call him 'Anna' (short for Annadurai) which incidentally also means 'elder brother' in Tamil. Even older people love the pun and enjoy calling him that way.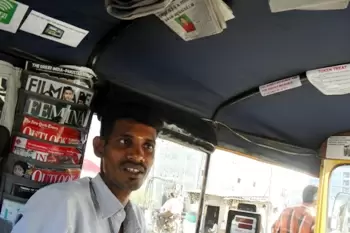 On special days and occasions, Anna offers discounts to his customers
It is his attitude of giving that has endeared him to many. For, besides the facilities in the auto, he finds other pretexts to 'give' and make people happy.

On special days and occasions, he offers discounts to people. On women's day, women above 50 years can ride free in his auto. On mother's day, he lets any mother who is travelling with her son or daughter, ride free. The offer is valid for both mother and child. On Valentine's Day, lovers can ride without paying in his auto.

On his own birthday, which falls on September 15, the birthday he shares with the charismatic DMK founder C N Annadurai – he was named after the DMK leader – he offers 50 percent discount to all customers and a 1 rupee chocolate to each of them.

Teachers are the only category of people who are offered free rides in his auto on all days of the year. "They are special people. You take any other profession, including doctors. Who made them what they are? The credit goes to teachers who taught them the subject. So, that's why the special honour for teachers," he clarifies.

The most interesting part is that he does not pitch his auto as a new age auto or a 'wi-fi auto' to attract customers. In fact, seeing the auto from outside, there is nothing to distinguish it from the hundreds of other autos you find on the road.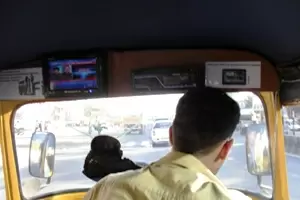 A mini TV set plays recently recorded news bulletins from leading channels
Query him on that, and he comes up with an original explanation. "Sir, I don't want to allure – (this is the literal translation, because he never said 'attract) – people. Whatever I am doing is part of my effort to satisfy my customers, because they are the ones who are paying me and making my livelihood."

Satisfied customers have offered him tips. But he does not accept a paisa more than the fixed fare, which ranges from Rs. 5 to Rs. 15 depending upon the distance covered.

"Seeing my work, many have realized the importance of giving and are doing their bit to help others. People are inspired that if a person like me who earns about Rs.15000 - even after spending around Rs.8000 on all my customer related activities – is doing these things, they need to do more," he says.
Wish to share your story?
Trending Now: