"My expenses are a small pot of snuff and a cigarette a day"

Sujit Chakraborty
&nbsp | &nbsp Agartala
01-March-2013
Vol 4&nbsp|&nbspIssue 9
Tripura Chief Minister Manik Sarkar, set to assume office for a fourth time after leading the Left to a huge electoral win, is the son of a tailor who still washes his own clothes.
An unassuming man, the 64-year-old got down to work no sooner than he was declared the winner from Dhanpur constituency. He met CPI-M leaders and activists at Sonamura, 60 km from here.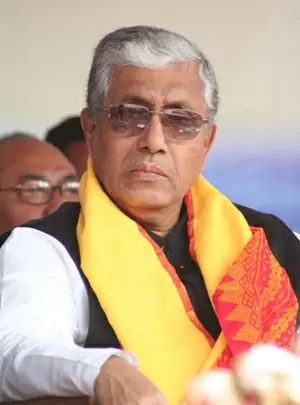 Even the opposition Congress does not level serious charges against Sarkar
The Communist Party of India-Marxist bagged 49 of the 60 seats while its ally Communist Party of India won one seat. The Congress finished with only 10 seats.
It was the best result for the Left since 1978 when the legendary Nripen Chakraborty-led CPI-M swept 56 seats. This time, Sarkar helped the Left Front increase its 2008 tally by one seat.

Undoubtedly the "poorest" chief minister in India, Sarkar, according to documents filed with the Election Commission, has just Rs.10,800 in cash.
In line with CPI-M rules, Sarkar gives away his salary to the party, which pays him Rs.5,000 a month. Sarkar is probably India's poorest chief minister and that rare politician whose honesty is extolled by even his staunchest political opponents.
The CPI-M leader, described by political pundits as the defender of the last red bastion, says his wife's pension sustains both of them. His wife, Panchali Bhatacherjee, a retired central government employee, declines the use of a government vehicle and commutes by rickshaw or walks.

Sarkar does not own a home, car or a bank balance worth mentioning. He does not even have a mobile phone and has never used the red beacon on his official car.

He had just Rs.16,120 in 2008. In 2013, according to his election affidavit, he has less: Rs.10,800.

His wife Panchali, 62, who retired as a government employee in 2010, has Rs.22,015 in cash and Rs.24,52,395 as savings. The couple has no children.
She said her husband still washed his clothes every morning.
"My wife's pension can sustain us. My expenses are a small pot of snuff and a cigarette a day," said Sarkar.
After the death of his mother in 2009, Sarkar inherited a small house worth Rs.200,000 in Agartala. He donated it to his younger sister.
Sarkar's father Amulya was a tailor and mother Anjali was an employee of the state health department.
Sarkar joined politics in 1967 and was elected secretary of the CPI-M's Tripura unit in 1993.
A bachelor of commerce from Calcutta University, Sarkar was first elected to the Tripura assembly in a 1980 by-poll and again in 1983.
He is the second in the northeast to be chief minister for 15 years or more after Gegong Apang of the Congress who ruled Arunachal Pradesh for 24 years over two periods (1980-99 and 2003-07).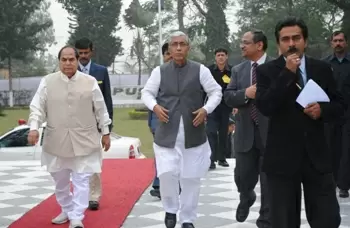 Sarkar has promised that his government will continue its good governance
Even the opposition Congress doffs its hat to his personal honesty, and transparency. "We could not raise any questions against Manik Sarkar's honesty and integrity. There might be some misdeeds in his government, but Manik is absolutely honest," said state Congress leader Tapas Dey.
"The value of his movable and immovable assets is less than that of a rickshaw puller. He is obsessed with the happiness and well-being of the people. He is not concerned about himself," said political analyst Sekhar Datta.
"His spartan lifestyle, extreme honesty and sincerity are the hallmark of the ruling Left Front," Datta added.

In the just concluded election, Sarkar defeated his Congress rival Shah Alam by 6,017 votes. In 2008, Sarkar's winning margin was 2,918.
"This is a verdict in favour of development, peace and stability besides good governance," Sarkar told reporters.

"The priorities of the seventh Left Front government will be to continue the developmental schemes, maintain peace and undertake more pro-people schemes," he said. - IANS


Trending Now: