A thoroughbred urbanite finds her passion in the wild environs of forests

Akash Bisht
&nbsp | &nbsp Ranthambore
01-February-2013
Vol 4&nbsp|&nbspIssue 5
A young nutritionist, who gave up a cushy job in Mumbai and shifted to Sawai Madhopur in Rajasthan where the famous Ranthambore Tiger reserve is located, is now changing the lives of Mogiyas, a tribe that was accused of wiping out half of the reserve's tiger population a few years ago.

Divya Khandal, 29, trains the tribals in making handcrafted products, which are sold at her shop, Dhonk Craft, in Sawai Madhopur. Her project has created jobs for the locals and the families of ex-poachers.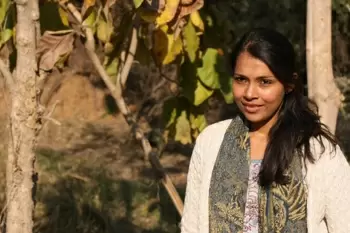 Divya left her job at Sodexo in Mumbai and moved to Sawai Madhopur
"At present we have around 20 people working with Dhonk," she says.

Surrounded by colourful hand crafted products, Divya revels in the atmosphere as she tells us the story of how Dhonk came into existence and about her love affair with the dense forests of central India.

A regular at various tiger reserves in Madhya Pradesh, she had witnessed the daily struggles of villagers living within and outside the reserve. "My uncle was a forest officer posted in Madhya Pradesh, so I would visit him from Mumbai, and that is how I got to see most of the reserves in the state," she recalls.

These visits provided her an insight of how difficult life was for the tribals and she felt their lives would improve if they were included as stakeholders in the thriving tourism industry.

But life took a mundane course after Divya joined a reputed MNC as a dietician. "I did my post graduation in Dietetics from SNDT University, Mumbai, and worked for five years with Sodexo. I was busy with my hectic routine of drafting diet and nutrition plans until I visited Sawai Madhopur and met Dharmendra Khandal, a conservation biologist," she says.

Swayed by Dharmendra's passion for wild animals and far sightedness on issues related to conservation, she decided to call it quits on Mumbai and join him in his cause.

In 2009, Divya became one of the founding members of Dhonk. She gave a major fillip to the project by developing it into a social enterprise business model, with profits to be shared by all the stakeholders, including the villagers.

"If these communities are not made part of the massive tourism business around Ranthambore then they would again be tempted to resort to poaching to make ends meet," she reasons.

Dhonk has given vocational training in printing, sewing, stitching, and other crafts to members of about 50 families. Though she has is happy with what she has been doing, she wants to help more families.

Since most of these villagers come from far away regions, it is difficult for them to meet their daily travel expenses. "If I could provide free transportation for them, I could reach out to more families," she adds.

However, Divya is satisfied that she has been able to bring about some change in the lives of families that are associated with her. She proudly narrates the story of one of her workers, Ajanta, who managed to send her daughter back to college with her earnings.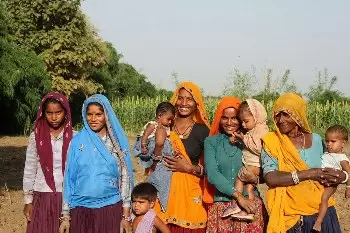 Dhonk has positively impacted the lives of several tribal women and their families
The daughter had to discontinue studies as the family could not afford her education, but after Ajanta started working with Dhonk, she put her daughter back in college. She recounts several other success stories that have made a positive impact on the lives of these villagers.

Talk about competition with other such handicraft stores and Divya begins to fume at the way business is being run in Sawai Madhopur. She says most stores make fake claims of employing villagers while they get their merchandise from cities like Delhi and Jaipur.

"There are several such shops that claim to sell products made by tribal women. However, the truth is far from reality and most of these products are made in factories by expert artisans," she alleges.

Divya also does not pay commissions to drivers and travel agents to bring tourists to her shop. "People pay close to 50 per cent as commission to these agents. This handicraft business has become very dirty in Sawai," she claims.

Divya has got used to the lifestyle in Sawai Madhopur, which is far different from that of Mumbai. Though she sometimes still misses her outings at McDonalds and Cafe Coffee Day, she believes that this is a small price to pay for the change she intends to bring.

Trending Now: