Check dam hero wows VITians
24-January-2013
Vol 4&nbsp|&nbspIssue 3
Anil Joshi, an ayurvedic doctor from Madhya Pradesh, was presented with 'The Weekend Leader – VIT Chennai Person of the Year' (2012) Award at a function held at the VIT University, Chennai Campus, Thursday.

VIT Chancellor G Viswanathan and The Weekend Leader's Consulting Editor Sam Rajappa presented the 'person of the year' trophy to Joshi, who had built about a dozen check dams in drought stricken villages of Madhya Pradesh by collecting one rupee each from villagers. The dams, each of which cost around Rs.100,000 to build, have become lifeline for thousands of farmers in the region.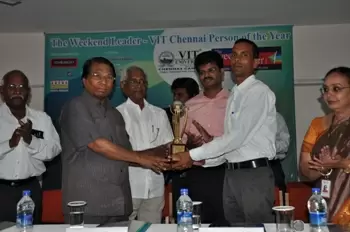 G Viswanathan and Sam Rajappa presenting the trophy to Anil Joshi
Appreciating The Weekend Leader for identifying the unsung heroes in the country and honoring them, Viswanathan said VIT University was conscious of its social responsibility and was involved in several social projects.

He mentioned about STARS (Support the Advancement of Rural Students), a program that the university had launched in 2008. The program offers free education in VIT for toppers from rural government schools in Tamil Nadu and has benefitted over 200 students so far.

Viswanathan revealed that VIT has adopted 340 government schools in the most backward Vellore district and is working towards developing the infrastructure and quality of education in these schools.
He also highlighted VIT's concern for the environment and its water conservation efforts at VIT Vellore campus. "There are about 2,000 tanks in Vellore. Most go dry during summer except the one maintained by VIT which helps recharge ground water in the area," said Viswanathan.He also emphasized on the need for innovations in the field of agriculture.

Rajappa spoke about the uniqueness of The Weekend Leader and lamented that the other media hardly wrote about the positive things happening in the country. He said this website continued to grow while keeping its focus on positive news and features.

G V Selvam, Vice President, VIT Chennai, who along with The Weekend Leader's Editor P C Vinoj Kumar, presented the cash award of Rs.10,000 to Joshi said, "Anil Joshi is a real hero. Working for the betterment of humanity should be done as a matter of duty. Not just as a matter of CSR and ISR."

Dr Anand A. Samuel, Pro Vice Chancellor, presented the citation to Joshi.

Thanking The Weekend Leader and VIT for honoring him, Joshi said he wished to purchase push carts for some widows with the prize money he had received. "They could sell vegetables and make a living," he said.

Dr. Kalyani Rangarajan, Director VIT Business School, Chennai, G Babu Jayakumar, Deputy Resident Editor, The New Indian Express, and U Karunanithi, Honorary Director, Outreach, The Weekend Leader also spoke at the function.

Students of the VIT Business School, Chennai, presented a beautifully choreographed dance drama on importance of the girl child.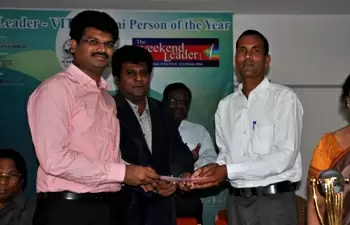 G V Selvam and P C Vinoj Kumar presenting the cash award to Joshi
At the end of the function, students mobbed Joshi and took photos with him.

Since its inception in 2010, The Weekend Leader has been choosing an unsung hero each year as its 'Person of the Year.' Last year the website chose V Venkatraman, who offers lunch at one rupee for about thirty poor people every day at his restaurant in Erode.

In the previous year, Tanishk Shyamya, an IIM graduate, who works with street food vendors in Ranchi, was given the title.

Shyamya had trained about 30 vendors in making food in a hygienic manner and supplied them with fancy food carts to improve their business. The project transformed the lives of the vendors and increased their monthly income. – TWL Bureau


Trending Now: