"I have to speak about my work today; hopefully a time will come when my work will speak"

04-January-2013
Vol 4&nbsp|&nbspIssue 1
Any given day the Goregaon station is abuzz with commuters. Lost in this crowd is a 52-year-old man waiting for the slow local heading towards Churchgate, the last station on the western line. With a backpack slung on his sturdy shoulders and a purposeful stride, he is about to start his day's work.
Meet Sandeep Manohar Desai, a former marine engineer, who later taught at the reputed SP Jain Institute of Management, before finding his calling as a social worker.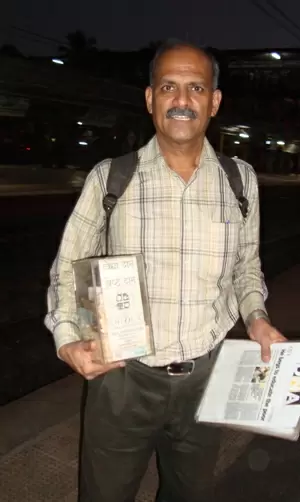 Desai raised Rs 27 lakhs through donations for education of poor children in 2011 (Photo: Kavita Kanan Chandra)
Desai is a familiar figure to commuters in Mumbai's suburban trains, where he is seen 3-4 days in a week with a donation box seeking funds to educate the poor. Though people viewed him with suspicion initially, many donate generously now.

The Shloka Missionaries (Public Charitable Trust) that he started in 2001 along with his mother Sudha and a friend, Noorul Islam, runs four schools - including one in Mumbai – where free education is provided for the poor.

Inside the train, Desai addresses the commuters in chaste Marathi on the virtue of donating for educating poor kids. Later, he switches to Hindi and English. "I collect Rs 3000-Rs7000 a day," says Desai.

He used to collect a few hundred rupees when he started this initiative about two years ago but now people know him and donate more. "Last year (2011) I was able to collect Rs 27 lakhs. It includes funds that I received through donations, cheques and also from Mumbai locals," he says.

In Mumbai, the school they run is housed in a slum rehabilitation building in Goregaon, and caters to children who come to the city from rural areas. Started in 2005, the English medium school provides free education, free books, and free uniforms to the children.

After providing them basic education Desai tries to accommodate them in regular schools that abide by provisions of the Right of Children to Free and Compulsory Education Act 2009 and admit children belonging to weaker and disadvantaged groups.

The other schools run by the trust are in Omerkhed (Yavatmal dist.), Kankavli (Sindhudurg dist.), and Sipur and Naijahr (Udaipur district in Rajasthan). In June, another school, to be named after his mother will be opened in Ratnagiri.

A marine engineer by profession and an MBA from a leading management institute, he has sailed the world with leading shipping companies and has had extensive experience in Marketing in MNCs. He later switched to teaching at the prestigious S P Jain Institute of Management and Research in Mumbai.

At the institute, students were sent to rural areas for their projects. Desai was impressed with the project reports of students relating to sectors ranging from health, hygiene, irrigation, agriculture and education. He felt that it would be of better use if he provided quality education to poor rural and slum children instead of teaching postgraduate students at a renowned institution.

He set up the Shloka Missionaries in 1997 with a motto 'Vidya daan shreshtha daan' (donating for education is the best donation), with his savings, and donations from well-wishers. He also generated funds from the numerous workshops he conducted on advertising, management and business communication.

"As we set up more schools I realized that our trust would require more funds and we had to establish a sustainable model for a steady flow of funds," says Desai, while recalling how he hit upon the donation box idea.

His friend Noorul was skeptical in the beginning till Desai convinced him to look at begging in train from a different perspective. "We are asking the general public to support us in a noble cause of education. If it benefits society then asking for money from commuters in local trains is not wrong," reasoned Desai.

He remembers the day when he first boarded the train from Goregaon one day in April 2010 with Noorul with the intention of asking the commuters to donate. "I didn't have the courage to take out the donation box from the bag till Santa Cruz station, but then I reasoned that it is now or never," says Desai.

A mission had begun and there has been no looking back since. In the earlier days, Desai would commute from Goregaon to Churchgate every day up and down for six hours in the humid second class compartments and people would open their hearts and purse for him. Money started trickling in and the size of his collections grew as days went by.

The experience is not without its downside though. Desai has to bear with ridicules and the occasional snide remark of a commuter. Once a lawyer challenged his modus operandi of collecting money, held him by collars, and took him to police.

He says there is a thin line between begging and soliciting contributions from total strangers for a noble cause. (Begging is prohibited on trains and the crime is punishable under section 144 of the Railways Act.)

He says that he explains his charitable work to the commuters and gives them his card and then seeks donations. As the good word about his work started spreading, the railway staff and even the police don't harass him now.

A carefree bachelor married to his social causes, Desai says he had decided early in life that he would not marry. He took care of his father who was afflicted with Alzheimer disease for ten years. He later lost his mother to cancer.

He philosophizes that the lord inspires him to do social work and those who contribute to his work have a reason to do that. "I have to speak about my work today; hopefully a time will come when my work will speak for itself," says Desai.

Wish to share your story?
Trending Now: