A woman's solo mission brightens the prospects of kids in sub-zero temperature

Shudip Talukdar
&nbsp | &nbsp Leh
14-December-2012
Vol 3&nbsp|&nbspIssue 50
Fascinated by the accounts of trekking undertaken by her husband in the Ladakh region of Jammu and Kashmir, its vast open spaces, sub-zero temperatures and stark beauty, Sujata Sahu, an infotech professional, followed his example and got hooked.
Every trekking trip made by Sahu since 2010 revealed facets of the harsh reality. Ladakhis eked out a bare existence in one of the world's harshest environments, steeped in poverty and illiteracy.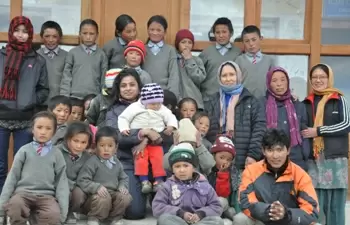 Sujata and her team have delivered 30,000 books and 120 bookracks to 100 remote rural schools in Leh
Realising the value of literacy, they even approached complete strangers to tutor their children in reading and writing skills so that they could get jobs and lead a better life.
Most of Ladakh's 981 far-flung schools did little to help, remaining cut off six months with winter temperatures plummeting to minus 40 degree Celsius. Even otherwise, they were in a shambles. The government did little to administer or operate such schools.
Sahu wondered how they could overcome such insurmountable obstacles and impart literacy to the children by reviving these schools, besides providing books, furniture and materials. Accessing any of these remote schools, lying at altitudes between 9,000 and 15,000 feet, necessitates a 9 to 10 hours' drive, followed by a two-day march from the nearest roadhead.
The gruelling trip on foot or on mulebacks involves crossing steep mountain passes, frozen rivers and sand beds, even halting overnight by pitching tents, given icy winds and inclement weather, with no roads or hospitals anywhere in sight.
Undaunted by these challenges, the courageous Tamilian woman, married to an Oriya, took the initiative to script one of the most remarkable stories through the 17000 ft Foundation which she set up in Gurgaon with like-minded corporate professionals and trekkers. Sahu named it after the highest point that her team had crossed to reach the remotest school.
The Foundation's three teams worked non-stop for two months, logging over 20,000 km mostly on foot, to geo-map, survey and assess all 369 schools of Leh District since May this year as part of the exercise to cover all of the region's 981 schools. "The highly motivated volunteers bore all the hardships cheerfully along the way," says Sahu.
"I stayed in a lot of villages, amazed at how these people survive with very little. It has fostered an attitude of helpfulness and cooperation. Tiny schools with 5 to 10 kids, nursery to fifth grade, used whatever resources they could find to put up makeshift structures for schools. But a lot more needed to be done. So we started with just a few schools. Today our programmes are already reaching out to over 300 of the remotest schools," Sahu said.
The solo trip that Sahu undertook to Ladakh in August 2010 marked the turning point. An attack of pulmonary oedema grounded her for some time. Flash floods and mudslides ravaged the region. Heeding an inner voice, she and her core team contributed to the massive rehabilitation work. They built kitchens and provided clothing and shoes to the affected schools.
Ladakh or the "Land of high passes," a part of Jammu and Kashmir, is divided into the administrative units of Leh and Kargil. Drass and Kargil have plenty of schools. But great distances, the nature of terrain, absence of roads or communication such as phones or mobile connectivity drastically limit the number of schools in remote locations.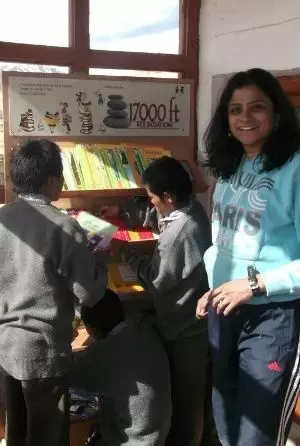 On a trip to Ladkah, Sujata's team carried 1.5 tonnes of supplies on muleback for a school
"The success of the experience in Ladakh prompted me to quit my job and seriously rethink my future. I taught information technology at the Shri Ram School (in Gurgaon). I looked for a job in the rural sector. Then I decided to work in Ladakh.

"My own folks said I must be mad and did everything to dissuade me. There were plenty of initial hiccups, though. Corporates told me flatly there was no point in investing since the area had no markets. Nobody seemed to have any stake. But I had found my calling."
On one such trip, Sahu's team carried 1.5 tonnes of supplies on muleback for a school. Villagers provided tarpaulins for overnight stay at 16,000 feet, guiding them across mountain passes with help of mobile phone lights when darkness fell.
The trip involved a continuous 12-hour march, because the mercury hovered at minus 20 degrees. On such occasions "we carry a stove and melted snow, local bread and butter solid, yak cheese, which is very pungent," Sahu said.
Some 30,000 books and 120 bookracks have already been transported to 100 remote rural schools in Leh, to be set up as libraries by the 17,000 ft volunteers. They also transported books and especially designed furniture on 25 mules, which included 400 colourful chairs, tables, trapeziums and library racks. - IANS
Wish to share your story?
Trending Now: