Wheels of change put lives of rickshaw pullers on the right track

14-December-2012
Vol 3&nbsp|&nbspIssue 50
In India everyone has had their cycle rickshaw moment. Be it the common folk of a mofussil town or a fashionista of a glitzy metro, we all have at least once travelled in these colourful tricycles.

However, few of us may have given a thought why despite 'shining' India's growth in the last few decades, the humble rickshaw seems to be frozen in time.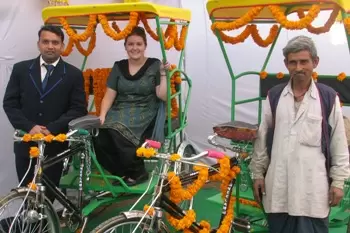 Naveen (extreme left) has the satisfaction of changing the lives of the poor rickshaw pullers
Seen as a giant technological leap from the hand pulled cart in the early 1940s, the number of cycle rickshaws in India have grown exponentially in the last several decades and have become an integral part of the public transport system. In Delhi alone, close to 10 lakh rickshaws crawl on busy motorised streets.

Belonging to the most marginalised sections of the society, these rickshaw pullers have been condemned to live in crowded dingy shanties while the poorer ones spend the night sleeping on the same rickshaw that earns them bread during the day and substitutes as bed during the night.

Subjugated by contractors, government officials, mafia and passengers alike, these men have repeatedly been neglected by various pressure groups and government agencies.

As a young boy, Naveen Krishna too grew up watching these rickshaws crawl through the crammed bylanes of Varanasi. His heart bled when he witnessed the daily ordeal of these simple and hardworking souls who were vulnerable and unorganised.

Naveen often thought about bringing a change in their lives. So, soon after he graduated from Banaras Hindu University, he felt the urge to help them in whatever possible way he could.

However, it was only after he got an opportunity to work with CAPART (Council for Advancement of People's Action and Rural Technology) in Guwahati that he got acquainted with an NGO which was working for the rights of these pullers.

He understood the problems of the rickshaw pullers and dreamt of starting a social enterprise that would help them. But he lacked funds for the project he had in mind.

A chartered accountant contributed Rs.50000 as start-up capital after much persuasion. Finally, Naveen launched his company, SMV Wheels Private Limited, in Varanasi in April, 2010. Few others also invested in the company soon after.

Naveen realised his dream. Today, his company sells cycle rickshaws on instalment to poor pullers, giving them an extended repayment period of up to 50 weeks. He also gets advertisements to be displayed on the rickshaws and shares the revenue with the pullers.
Till November 20, 2012, the company had sold 1000 rickshaws in Varanasi and Jaunpur and in the process has liberated many who plied their rickshaws paying high daily rentals to mafias.

The project has attracted overseas investors. Five companies from US, UK and Netherlands have invested in the company.

"Since we buy in bulk, we get a rickshaw worth Rs 13,000 at Rs 11,500. The puller has to pay a monthly instalment of about Rs 300 for 48 to 50 weeks before he becomes the sole owner. We charge Rs 2000 as service fee," says Naveen, explaining how the company works.

The company also provides identification cards to the pullers so that they are not harassed by the police. "If the police have any queries about any of the pullers, they can call us for verification," says Naveen, who adds that his venture has helped in curbing the mafia control over the trade.

"Earlier, these pullers would just rent a rickshaw from these mafia styled operatives and then be subjected to harassment. But, with our initiative the influence of the mafia has gone down considerably."

SMV Wheels also provides insurance benefits to the pullers. Naveen is in talks with insurance firms like Oriental and Max Life to display their ads at the back of the rickshaws.

"It gives them some extra income. Till the time the entire amount of the rickshaw is repaid, we give a share of the ad revenue to the puller. Once he becomes the owner, we share the revenue equally," says Naveen.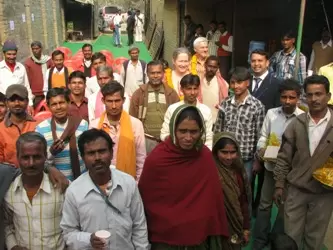 Hundreds of pullers now have their own rickshaws
It may appear that SMV Wheels is having a dream run, but the company is battling a host of challenges that has Naveen worried. He is miffed with banks that ask for 100 per cent collateral for loans.

"How will social enterprises grow if banks are not willing to provide loans and charge 14 per cent interest rate?" he asks.

Naveen has plans to expand in UP, Bihar, MP, Delhi, Rajasthan, West Bengal and some other states, but capital crunch is holding him back.
He is worried that nobody cares to improvise the rickshaws. "Nothing is being done to make these machines simpler. Though there have been talks about solar powered rickshaws and other alternatives, nothing much has happened," he laments.

However, Naveen takes great pride in having made a substantial change in the lives of hundreds of pullers.

"When I met these pullers initially, they had no confidence but after aligning with us their outlook towards life has changed. Pullers now want more facilities and are even ready to pay for these services.

"Earlier, they would just spend a day's earnings on booze and dope, but now they have started to save and have that feeling of ownership. This is a great change and I am happy that I have been able to bring about this change."


Trending Now: