Facing a timber mafia ravaging forests in the name of development is no easy task

26-October-2012
Vol 3&nbsp|&nbspIssue 43
Jaya Prakash Dabral, a successful corporate executive, found his calling in 2001 when he returned to Uttarakhand from where his family hailed to help the locals save indiscriminate felling of trees in Gaza, a village in Tehri Garhwal.
Turning aside from a lucrative career, he transformed from a corporate manager to an environmental activist fighting the dangerous timber mafia.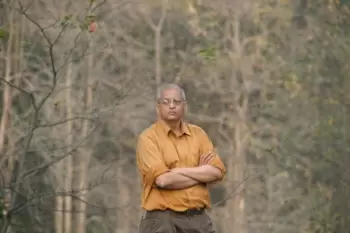 Dabral works for environmental issues through his organization 'Himalayan Chipko Foundation
The turning point came when he was informed that permission had been granted to cut 90,000 trees for installing electricity transmission lines from Tehri dam to the northern grid in Muzaffarnagar in Uttar Pradesh.
He mobilized the people in Advani, the village where Sunderlal Bahuguna's 'Chipko movement' originated in 1972. The villagers drove away the forest contractors who had already felled 5000 trees by then.
"It was a people's movement at that time," Dabral (57) recalled. But unknown to him the Gram Pradhan (village head) and his relatives had been given contracts and sub-contracts in the installation of transmission lines.
Soon the village youth were recruited in construction work and contractors started bribing the locals. Everyone deserted Dabral, and he was left alone.
Dabral realized that the timber mafia operated with clandestine support of corrupt politicians and bureaucrats, who had been looting the forest wealth in the pretext of development.
Left to fight the battle alone, Dabral ruffled the feathers of many powerful people in the process. There were threats to his life that forced him to leave Uttarakhand and he was also offered money to keep his silence.
Pitted against a ruthless timber mafia, Dabral vowed to fight the mafia-politician-bureaucrat nexus all alone.
For this MBA from the prestigious Faculty of Management Studies (Delhi), life had taken a totally unfamiliar course. He had a cushy job with the ITC before turning an activist.
But the desire to give back something to the hills that his ancestors had grown up in made him determined in his mission.
Having lived abroad in places like Addis Ababa, Damascus and Beirut in the sixties where his IFS (Indian Foreign Service) officer father had served, he was shocked to find there were no toilets in houses at his village in Uttarakhand.
His grandfather was a prosperous and a respectable man. He had settled in Lucknow and all his six sons were officers, but not one remained in Uttarakhand.
Dabral says he made a promise to his grandmother when he was barely nine that once established in life he would come back to his roots and work for the people there. His grandmother had said that it was a curse of the land that whoever gets educated leave it for good.
In the Tehri tree felling case, Dabral went to the Supreme Court and got relief. The Central Empowered Committee of Supreme Court restricted the felling of trees in Tehri.
It was a victory for Dabral as the apex court also instructed that trees could be cut while installing transmission lines only below the conductors and in areas where transmission towers are constructed.
Dabral's effort bore fruit as 85 percent of trees marked for felling were saved. He says that each tree in the dense Uttrakhand forest was 150-200 years old with an average height of around 20-25 meters.
"The wood from each tree fetch Rs 30,000, so one could imagine the multi-crore scam going on in the name of development", said Dabral. He says that Supreme Court directives are openly flouted on one pretext or the other and timber mafia is flourishing. He was able to unearth many such scams.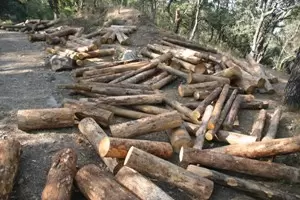 The timber mafia has nexus with corrupt politicians and bureaucrats
After he filed his first Public Interest Litigation, he studied law in 2006 to be able to professionally fight against the timber lobby.
As a protector of environment, Dabral raises his voice on various issues such as forest fires, resin-tapping in pine forest, misuse of the traditional system of Hak Hakook – a right for forest dwellers to take wood for their personal use – poaching, and encroachment in elephant corridors.
Dabral was able to stall cutting of Deodar (Cedar) trees in Tarakeshwar in Pauri-Garhwal, a unique micro-ecosystem at 4500 feet altitude.
However, life is not just dotted with success stories for Dabral. There are times when he faces setbacks in the legal battles to save environment.
In one instance, fourteen of his cases were dismissed by a single order. "The order was passed that these cases were dismissed and the petitioner had the right to re-file (the case) amending the prayer," said Dabral.
He says there are many obstacles even when the Supreme Court directs the Central Empowered Committee. Sometimes cosmetic changes would be made to the guidelines and at other times one is sent from one committee to another, or corrupt officers would find ways to stall the process.
But when persistence pays, success is sweeter. Earlier only people directly affected by environment exploitation could file cases in National Green Tribunal but Dabral contested that environment affects everyone. Now anyone could move a PIL, thus opening the scope of NGT in a big way.
Dabral now concentrates on policy decisions related to environment of Himalayas through his organization 'Himalayan Chipko Foundation.'
He has taken up a few initiatives in the Northeast. He has formed the Agarwood Growers Association along with Bikas Borah and has also taken up issues relating to rehabilitation of natives from the Dibru-Saikhowa National Park in Assam.

Trending Now: